UCT recently visited their manufacturing factory in China. The goal of the visit was to check the production facilities; learn more about the process of customized socks and ensure that it runs smoothly.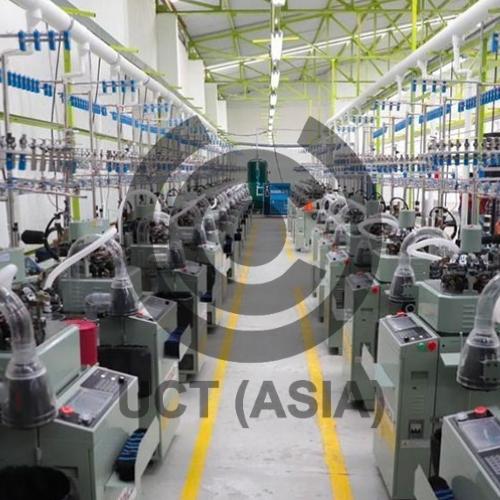 Step 1. Preparing the Raw Materials
The first stop was at the raw material supplier – which is specialized in making different types of yarn and dyeing it according to the Pantone colour. This is an essential step in manufacturing socks, as you need to have full control of the upstream supply stream.
The process of creating a new Pantone colour begins in the laboratory, where specialists use a computer program to calculate the precise amount of ink or colour that they will need to match the desired Pantone colour. Once the perfect proportions of chemical substances have been determined, they are carefully mixed together to create the desired shade. This mixture is then tested to ensure that the colour is consistent and will not fade over time. If all goes well, the new colour is then ready to be used in a wide range of applications.
The Pantone Colour machine helps to prevent designs from being printed or manufactured with incorrect colours. By having this, you can create your own colourful socks to any kind you want.
Step 2 .Dyeing the yarn
In order to customize yarn, the minimum order quantity for each Pantone matched yarn is about 50kg or about 2000 pairs of socks. A big container, like shown below, can dye yarn for nearly 200,000 pairs of socks. The containers are filled with different coloured dyes that are used to customize the yarn.
The reels of yarn are then placed on a special metal construction which loosens the yarn so that the ink can dye every part of the yarn evenly.By loosening the yarn, all of the fibers are exposed to the dye, resulting in an even coloration.
Step 3. The Production process
In the laundry process, it is important to first remove any remaining water from the fabric by using a spin dryer at high speed. This helps to cut down on drying time or turnaround time and prevents clothes from coming out of the dryer damp.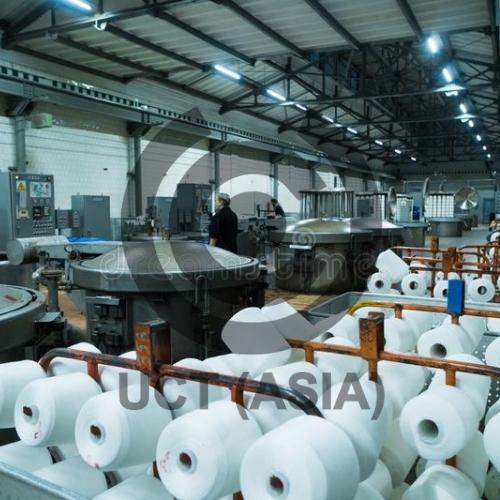 Step 4. Knitting the socks
The next stop for the production of personalized socks is knitting. Here, the reels are unpacked and fed into a machine that knits them into socks. The socks are then passed through a series of rollers that press and shape them. Finally, they are cut to size and packaged for sale. The entire process is automated, and the socks are churned out at a rate of hundreds per minute. At the end of the line, the socks are sorted by size and color, and then they are packed into boxes and shipped off to stores all over the world.
Step 5.Final stage
During this phase, factories create samples of the socks that they intend to mass-produce. These samples can be remade numerous times in order to get a perfect product. In order to create a good sample, factories adjust different specifications such as size, colour, and material. Once the factory has created a good sample, it can begin mass production. And with that, your pair of socks are complete!
The size of the sock can be increased by using a bigger needle-for example, 168N is the normal size for the western market to produce a standard sock. If your pattern has a large logo, it can be knitted using just 1 thread, which will make the logo neat. This is also important to do on a custom logo sock for marketing purposes.
Two important factors to keep in mind:
1.When comparing your pre-production sample to the mass production item, it is important to make sure that both samples are unstretched and brand new. This is the only way to ensure that the dimensions of the product are accurate.
2.When you first take your socks out of the package, you'll notice that they're slightly damp. This is because socks are made with a lot of moisture in order to keep them soft and comfortable. However, this moisture can also affect the size and weight of the socks. To account for this, manufacturers typically make socks slightly larger than their final size so that they shrink to the perfect fit after being worn a few times. So, if you're looking for an exact fit or want your socks to be as light as possible, it's best to wait until they've had a chance to fully dry before wearing them.
Contact us for more information!
Want to learn more about custom sock design?
At UCT, we have a wealth of experience in production processes in China, and our portal on this topic is a great resource for learning more about manufacturing in China. Whether you're looking for new and creative ways to promote your business with our design team, or purchase our existing promotional corporate gifts;Simply send us a request. You may also want to learn more on the production processes of custom sock production, so UCT is the perfect partner for you. Contact us today to get started.