When you shop at grocery stores, you usually see displays with colorful candy bars, ice cream cones, and chocolate-covered strawberries. But do you know why these displays work? And how you can apply the same principles to increase sales in your store?
Cadbury has been selling confectionary chocolates for nearly 200 years, and they owe much of their success to POS displays at their retail outlets and grocery stores. POS displays are an effective marketing tool that helps businesses increase sales and stay on top of the market. Let's take a closer look at Cadbury's POS displays and how they helped contribute to their growth and sales promotions.
If you want to learn how to enhance your grocery displays, read on!
Product Presentation
 The display is an excellent representation of Cadbury's branding. The supermarket display is decked out in a gorgeous shade of purple, which is the company's signature colour. It is sure to catch the eye of any Cadbury lover and entice them to the display.
Location
The display at the front of the store is a fantastic example of Cadbury's branding. Purple is the company's signature color, so the display is decked out entirely in the same hue. The custom colors attract attention and encourage shoppers to stop by the display.Eventually, by this appealing design, they'll be interested enough to purchase Cadbury's candy and chocolates.
If you want more custom POS display,contact UCT(Asia) as we have a team of experts and product designers that will create one for you to stay on top of the market just like Cadbury.
Personalized POS display
Grocery stores have unique challenges when it comes to their in-store marketing campaigns. They must meet the needs of consumers who shop there frequently yet still provide a memorable experience. That means that their displays must be eye-catching, functional, and affordable. At UCT we understand these challenges and can create a solution that fits within your budget. We can design something for you to fit your brand and budget.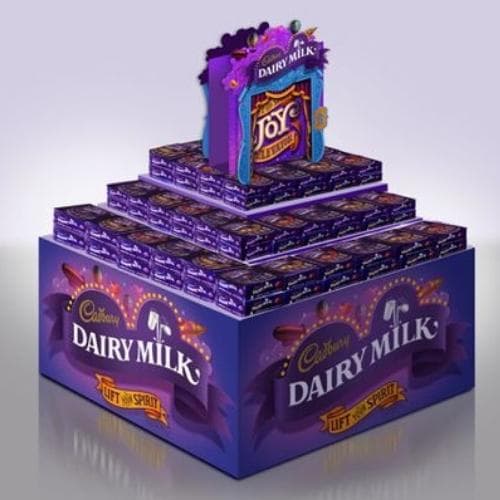 Product Placement
Cadbury's grocery store display is strategically placed in the front of the candy section, which is one of the most popular areas in supermarkets that is near the checkout counter. Placing it there makes sure that impulse buys are encouraged.
Shoppers who see displays such as endcaps, entryway displays,freestanding displays and window displays tend to be more impressed by them than others.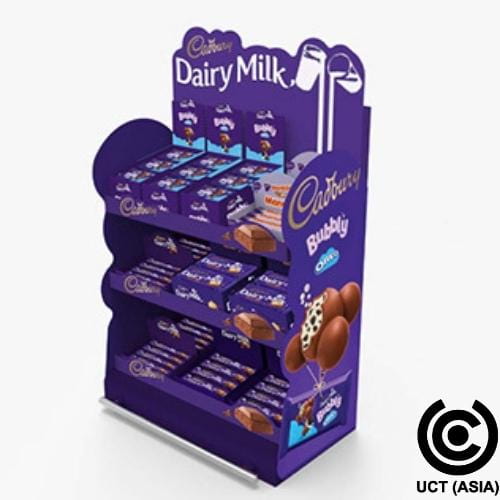 Key Takeaways
Display advertising can be extremely effective when done correctly. However, many companies fail to understand how to use these tactics effectively. They often neglect the basics such as proper placement, messaging, display labels, and creative design. As a result, their campaigns end up failing miserably. To avoid making mistakes like this, make sure to follow us for more advice on your marketing campaigns and advertisements.
Contact UCT(Asia) to stay on top of the market
With several years of experience in FMCG industry product sourcing, UCT(Asia) is well versed in the various techniques and skills required to create display solutions that give your brand the marketing boost it needs at an effective cost. We work with the best product designers and merchandise manufacturers in the industry. We also partnered with the finest marketing strategist and experts just to give you the best marketing directions you need for your business.
Contact us for your custom POS Display Design today. We also offer other on-pack promotions, Corporate gifts,retail displays, Point of sales Merchandise, all at an affordable cost.