Beverages are such an essential part of any party, and what better way to promote your product than by providing it for guests to enjoy? Beer is always a popular choice for any gathering, so this is a great opportunity to enhance brand awareness. You can even get creative with your branding by incorporating it into beer coasters or bottle openers.
These are great ideas to get started, but don't forget to think outside the box! There are endless possibilities when it comes to promoting your beer brand. Get creative and have fun with it!
How to get creative with your beer promotions
Attention-grabbing packaging is always a great way to make your product stand out from the competition. But why settle for ordinary when you can go for eye-catching and unique? Specialty-shaped bottles are a great way to get noticed, and they make great conversation starters too. So if you're looking for a way to really wow your customers, consider going the extra mile with a custom bottle shape.
Instead of the usual cylindrical bottles, Heineken promoted their drinks in square bottles The phases are branded so customers can see the logo from every angle. The unique shape makes it easy for customers to see them on the shelf.
A drink holder for bicycles is a great promotional product for summertime. It's a practical way to get people to use your company's name or logo while they're out and about on their bikes. This drink holder can be branded with your company's colors and logo, so it will serve as free advertising wherever it goes.
Pop-up stores are also a great way to promote your beer brand. They are convenient and allow you to bring your beer merchandise to your target market. They are also larger and more elaborate than mobile stores, and they can be used for a variety of beer promotions.
Beer merchandise is a great way to get your brand out there and increase brand recognition. It's a fun and unique way to promote your product, and people will love using your branded products.
Check out These 11 Clever Beer Promotions
1. Beer holder
This beer holder is ideal for carrying multiple bottles or cans of beer at once, making it perfect for busy waiters or bartenders. It folds neatly when not in use, and the arms can be branded with a logo or other design. It is a great way to promote your business while also increasing efficiency and convenience.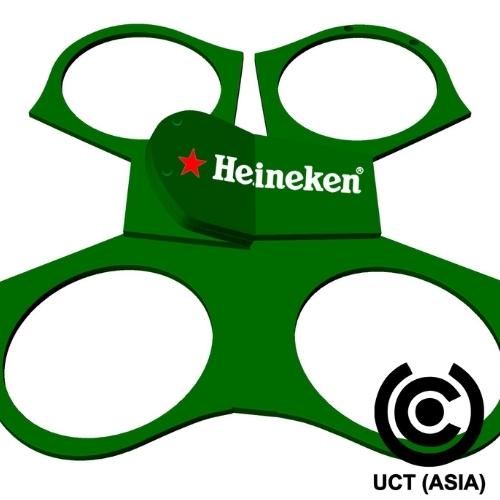 2.Heineken Cooler
A beer cooler is a great way to keep your drinks cold and refreshing on a hot day. Not only are they perfect for keeping beer cold, but they can also be used to store food and other beverages. beer coolers come in all sorts of different sizes and styles, so you can find the perfect one for your needs.
For example, the Heineken Cooler is a great option if you're looking for a beer cooler that can hold a lot of cans. Plus, its stylish design means that it'll look great at any party or picnic.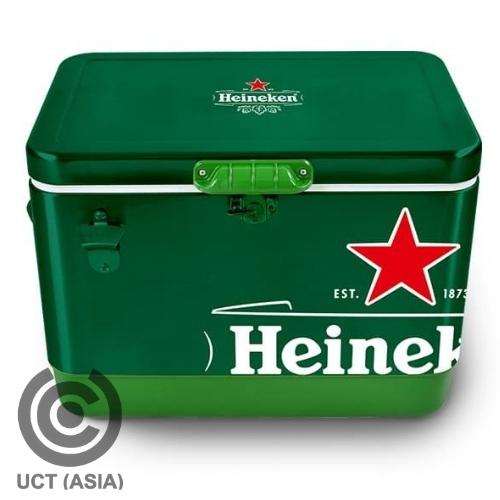 3. Branded Beer Box
Branded Beer Boxes are one of the most commonly used promotional items in the beer industry. They offer a great way to show off your brand at beer festivals or other events. Usually made from durable materials such as cardboard or plastic, they are easy to carry around and help you drive sales.
4. Customized Beer Glass
Next time you're planning a big marketing push for your beer brand, consider investing in some custom glassware. Studies have shown that people are more likely to remember or support the brand being advertised on promotional drinkware. So why not put your brand's logo and slogan on a few thousand-pint glasses and offer them up at events, in bars, or even in stores? With so many potential customers coming into contact with your brand, it's sure to make a big impact. And who knows? You might just find yourself with a few extra loyal fans as a result.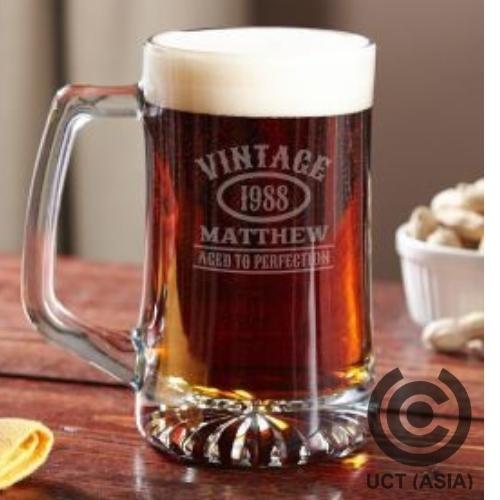 5. Branded Bar Mats
Bar mats are an underrated promotional tool. They're a great way to get your logo and branding in front of customers, and they can also help to protect your bar from spills. Branded bar mats can be used as giveaways or as a part of a promotion. For example, you could offer a free bar mat with the purchase of a certain number of beers.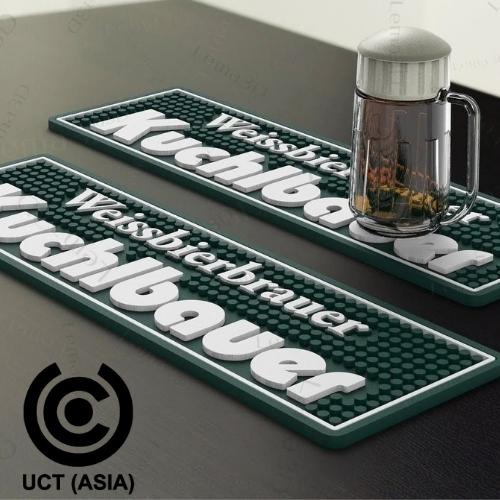 6. Branded Custom Dispenser
Have you ever noticed how, when you're seated at a bar, your eyes tend to wander around the venue? Well, this is actually a great opportunity for businesses to make a good impression by using unique POS displays and promotional products. Custom barrel shape dispensers are a great way to present your products. Plus, they're also a great conversation starter, which can help you get your foot in the door with potential customers.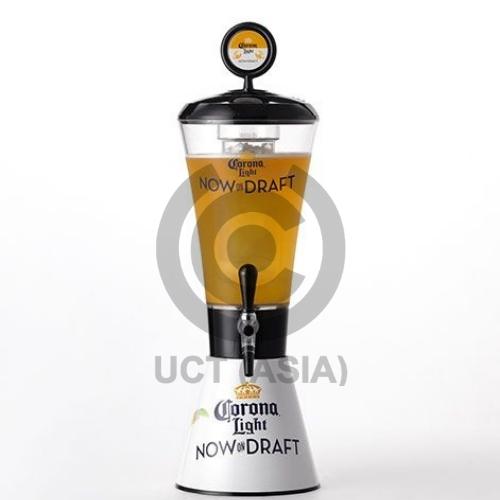 7. Bottle Openers
Who doesn't love a good bottle opener? Whether you're opening up a cold one at the end of a long day or cracking open a celebratory beverage, a bottle opener is always handy to have around. These openers are not only stylish and cool-looking, but they're also completely customizable. You can choose your own design, logo, and text to be printed on the opener, making it truly unique. So if you're looking for a cool promotional gift, these wooden bottle openers are definitely worth checking out.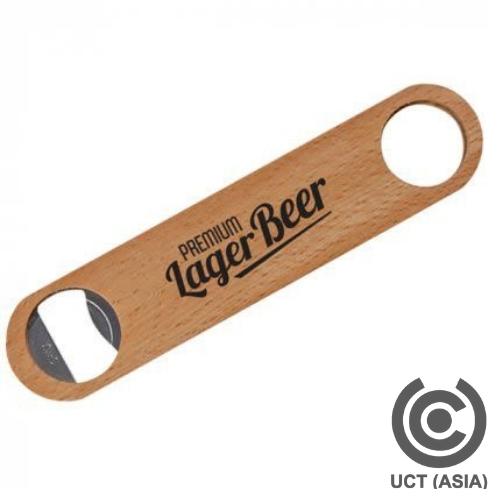 8. Branded Beer Foamer
Suntory's branded beer foamer can be clipped onto the side of any can or bottle. The Foamer will create a thick and creamy head on your drink, making it more enjoyable to drink. Suitable for any beer lover, the branded beer foamer is a great way to enhance your brand's image and make your customers happy.
9. Customized Beer Tap
There's no doubt that customized beer taps can be a great marketing tool for bars and restaurants. They help to create an instant feeling of sophistication and style, which can attract new customers and encourage them to come back again.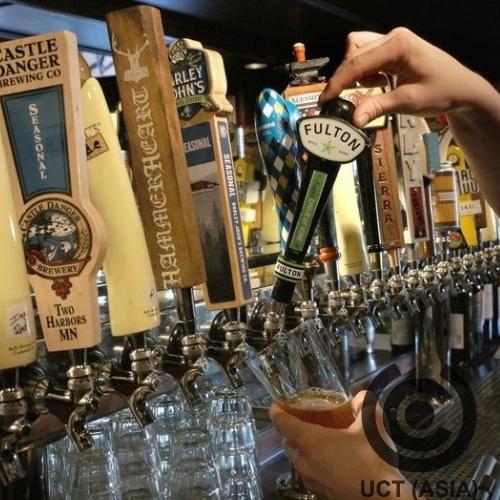 10. Ice Buckets
When customers are browsing the shelves for beer, they might not know what brand to choose. But if they see an ice bucket with a striking logo, they might be more inclined to purchase it. This simple strategy makes the product more appealing to customers and helps the brand stand out from its competitors.
11. Wooden Beer Flight
A wooden beer flight is a great option. Not only is it a stylish addition to your decor, but it's also a great conversation starter. Customers will be intrigued by the different beers on offer, and they'll appreciate being able to sample a few before making a decision. Wooden beer flights are also a great way to encourage customers to try new beers. With so many options available, there's bound to be something for everyone.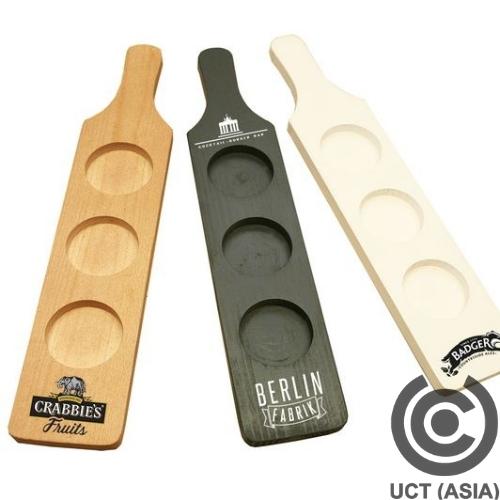 Contact UCT Asia
At UCT, we understand that when it comes to promoting your beer brand, you need quality merchandise that will make a lasting impression. That's why we offer a wide range of custom marketing gifts and promotional items, designed to get your brand noticed. From branded gift sets and coolers to coasters and bar accessories, we have something to suit every need and budget. And with years of experience in the industry, you can rest assured that your project is in safe hands. So, if you're looking for high-end beer merchandise that will help you to stand out from the crowd, contact us today.