End cap displays are a great way to draw attention to your brand and products. They are essentially shelves that are placed at the end of aisles, and they are often used to promote seasonal or special offers.
End cap displays can be very effective in promoting your products, as they are eye-catching and draw attention to the products that are being featured. They can also help to create a sense of urgency, as shoppers will know that the products on display are only available for a limited time.
If you're looking to create an effective end cap display for your brand, it's important to consider the layout and design of your display. You'll also need to make sure that your products are well-promoted and easy to find.
Nestle's end cap display for their Cerelac brand is creative and eye-catching. The prominent placement of the product near the entrance of the store draws attention to it, and the colorful graphics grab shoppers' attention. Additionally, the use of a variety of materials makes the display stand out from the surrounding shelves. This helps Nestle to effectively promote their Cerelac product to potential customers.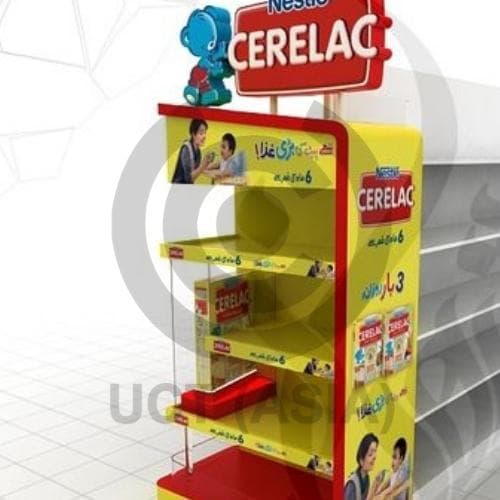 Nestle Milkpak created an effective end cap display for its brand in a grocery store in the Philippines. We like everything about this store fixture because it is meaningful, eye-catching, and professionally-designed. It is designed to promote the brand's milk products and features a large graphic of a cow on the front.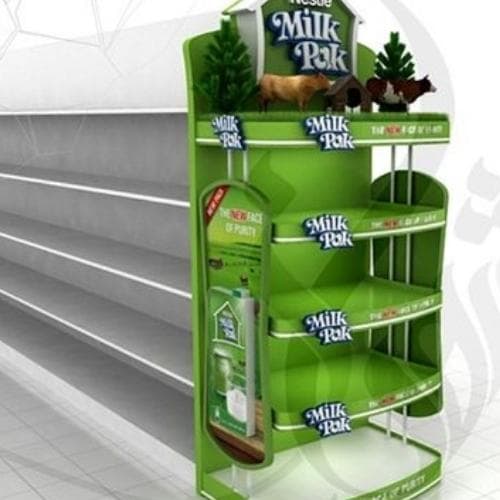 How to design an effective Retail End-cap display
Your end cap display should be designed to grab shoppers' attention and promote your products. To do this, you'll need to use colors that pop, shapes that stand out, and textures that are eye-catching. By using these elements, you can create an end cap display that is both effective and visually appealing.
Key takeaways:
-Choose Bright colors that will grab attention and offer a unique creative design that will give you a competitive advantage
-Use shapes that are unique and eye-catching and will promote your brand
-Include textures that add interest
For instance, you can use LED lights or 3D Displays to add dimension and make your POP Display more exciting and increase customer traffic.
-Make sure the overall design is cohesive and professional
Although the design is a prominent feature that will draw your customers in right away to the product, the placement of the product is also crucial. Your end cap display should take up retail space that is highly visible and easily accessible. This will ensure that shoppers can see your products and are more likely to purchase them.
Additionally, it's important to include information about your products on the display. This can include product descriptions, prices, and contact information. By providing this information to your customers, you can help them learn more about your products and make purchasing decisions.
By following these tips, you can create an end cap display that is both effective and visually appealing. If you're not sure where to start, consider working with a professional POS display manufacturer. They will be able to help you choose the best materials and manufacturing processes for your end cap displays.
If you do wish to create your own Custom end cap display, here at UCT(Asia), we can help to provide you with the perfect one to suit your business needs. Contact us today to get started.
If you would like to create your own custom end-cap display, contact UCT(Asia) for more.
We are well versed and equipped in POS display manufacturing, on-pack promotions, retail display, branded merchandise, and other promotional products all at an affordable cost.
Confused about what promotional item to choose? Or are you stuck on a marketing idea and don't know the way forward? Worry no more! We are here to guide you through every step of the way.Check out this link for more benefits about why end-cap display can be an effective strategy and visual appeal to your branding.