Are you tired of waking up to the same old breakfast? Waking up to a bowl of cereal or toast isn't exactly exciting. Why not try something new? This waffle maker will let you customize your waffles from scratch. Whether you like them savory or sweet, this nifty little appliance can help you achieve the perfect breakfast (or brunch, or dinner!) You can create a special waffle that looks just as nice as any store-bought model. It doesn't matter if you're a beginner or a seasoned pro, you'll love how easy it is to customize your waffle.
With this handy kitchen appliance, all you have to do is add your favorite batter mix and choose from a variety of custom waffle plates. Whether you like your waffles thin and crispy or thick and fluffy, this waffle maker will do the trick.
Promotional giveaways
One great way to celebrate International Waffle Day is by sending out waffle-related gifts. You can give customers and clients waffles when they visit your office using custom waffle maker plates that feature your company logo. This is a great way to show your appreciation for their business, and it's sure to be a hit!
Promotional waffle makers are also a great redemption gift for FMCG brands. It is a practical item for your household that can easily attract customers to your brand. The waffle maker can also be customized for special occasions such as Waffle Day, Mother's Day, or even Christmas! This is a great way to show your customers that you care about their satisfaction and that you are willing to go the extra mile to provide them with quality products.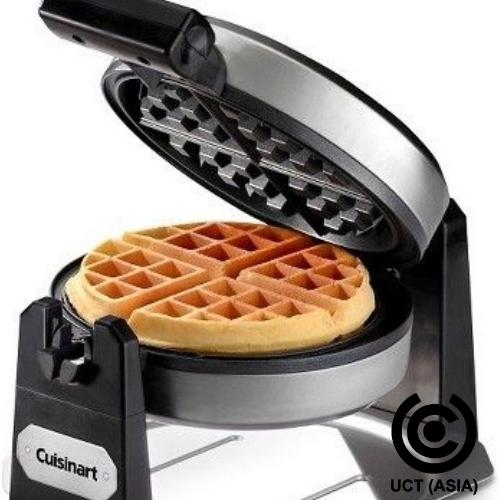 Get creative with various designs
Waffle maker plates come in a variety of standard shapes and can be branded with your logo or company name. They're a great promotional product for hotels, restaurants, and other businesses that serve breakfast. This becomes more appealing to customers when they see the unique designs that these waffle makers can offer.
There are a lot of options to choose from when it comes to these plates. You can go for the classic round waffle or go for something more unique like a heart-shaped waffle.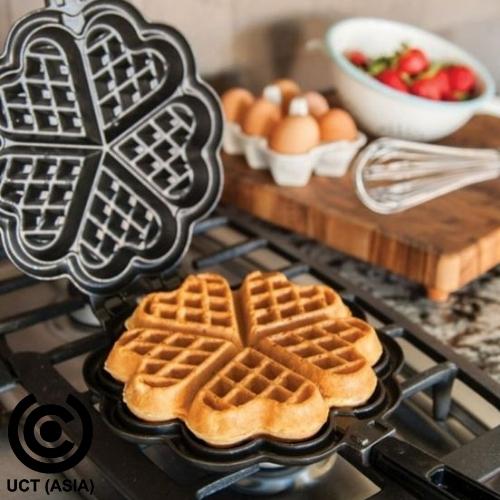 Why having a branded breakfast maker is beneficial
Quick and Easy to Use:
Anybody who has ever attempted to make pancakes from scratch knows that it is not always a smooth process. There is the juggling of multiple bowls and mixers, not to mention the careful flipping required to achieve that perfect golden brown. But with a branded breakfast maker, you can say goodbye to all that stress. Just pour in your batter, close the lid, and wait for perfectly cooked pancakes every time. No more ruined breakfasts or frustrated customers – only perfectly fluffy pancakes, hot off the griddle.
Saves time
If you're looking for a branded breakfast maker that will save you time and effort in the mornings, this is the product for you. The batter mix can easily be prepared the night before and left in your fridge. After waking up, all there is to do is pour out the batter onto the iron. It's a quick and easy way to get a hot, delicious breakfast with minimal effort. Whether you're feeding a family or just yourself, this branded breakfast maker is sure to make your mornings easier.
Stylish
What's better than a delicious, freshly-made waffle? A customized, freshly-made waffle, of course! With this personal waffle iron, you can design your own waffle shape to make breakfast even more fun. Just choose your favorite design and start cooking! Whether you're making a heart-shaped waffle for your Valentine's or a festive holiday waffle, your customers are sure to love this thoughtful touch. This is the perfect way to show your customers how much you care, and it's sure to make their day.
A custom waffle maker plate is the perfect gift with purchase for your customers. They can use it to make cooking simple and fun, and they'll have plenty of space for your logo to be printed or etched anywhere on the product. This practical and long-lasting item will definitely leave an impressionable impact on your customers.
Contact UCT(ASIA)
If you are in the food and beverage industry, you know that having a customized waffle maker can really set your business apart from the competition. And here at UCT, we can help you create your very own personalized waffle maker plates. Whether you want your waffles to be a certain shape or design, the options are endless! Simply request a sample of the waffle maker and we'll get started on creating your very own customized waffle maker.
With years of experience in design and product sourcing, we can create unique and innovative designs that will make your breakfast even more enjoyable. We use the highest quality materials, and you can be sure that your waffles will be of the utmost taste and quality.