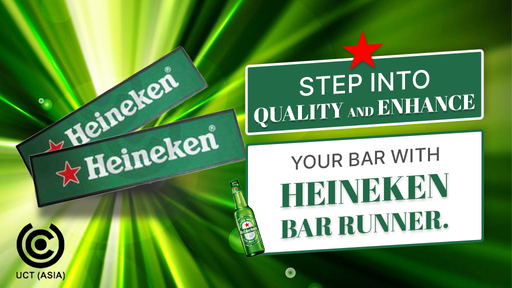 Founded in the mid-19th century, Heineken has emerged as one of the most beloved and recognizable beer brands globally. Shifting our focus from the refreshing brew to a richer bar experience, we delve into how the Heineken Bar Runner exemplifies quality and lends a luxe edge to your establishment.
Quality Embodiment: Heineken Bar Runner
A bar runner is not only a protective layer for your counter, but an integral part of the bar experience that speaks volumes about your attention to detail. This is where the Heineken Bar Runner seizes the limelight. This high-quality accessory aptly represents Heineken's iconic green brand color and logo, contributing extensively to the visual appeal while keeping up practical rigour.
Exemplifying Marketing Strategy through Quality
The marketing strategy of any business spins around a singular thread—quality. Reputed businesses such as Heineken know that and seamlessly integrate this perception into their products. In this case, the Heineken Bar Runner serves a dual purpose: enhancing the customer experience and amplifying Heineken's brand presence subtly but significantly.
Benefits of Using Heineken Bar Runner in Your Bar
Leveraging brand associations is an age-old marketing strategy that hasn't lost its spark. Featuring a Heineken Bar Runner in your bar not only boosts your aesthetic appeal but showcases an association with a top-tier brand, which can draw a crowd that appreciates this mutual commitment to quality.
Practically, the Heineken Bar Runner keeps your bars clean while enhancing the longevity of service areas, leaving a lasting impression on your patrons. This demonstrates that choosing quality over quantity has tangible benefits.
Tips to Exemplify Your Marketing Strategy Using Heineken Bar Runner
How can you ride the wave? Here are few tips to integrate the Heineken Bar Runner into your marketing strategy:
Narrate your story: Use this opportunity to tell your customers about your dedication to quality and your intentional alignment with Heineken.
Keep it consistent: Ensure your brand image is consistent with the high-quality experience that the Heineken Bar Runner signifies.
Wrapping Up
In an era where customers value experiences as much as the product itself, having a Heineken Bar Runner can significantly contribute to uplifting their bar experience.
Invest in quality, create delightful experiences, and watch your establishment thrive. Stepping up your game in quality and marketing isn't a solo task. UCT (Asia), a leading marketing expert, can guide you on this journey. We aid you in customizing products like the Heineken Bar Runner to help your brand stand out, creating memorable experiences for your clients. Reach out to UCT (Asia) today and see your marketing goals transform into reality. Embrace the quality, together!