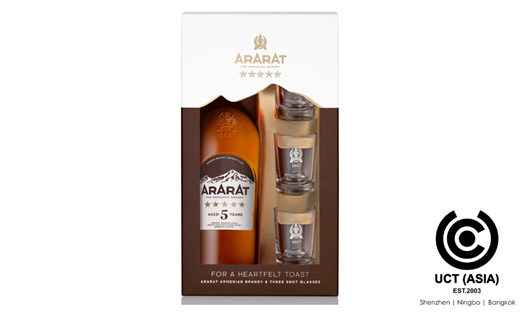 Whether it is Tequila, Whiskey, or Vodka, people enjoy a good drink using shot glasses. However, shots aren't only beneficial to drink lovers. When used as a gift-with-purchase item, shots are an incredibly effective marketing tool. Hence, your branded shot glassware needs packaging that not only protects your glass but also attracts customers.
Benefits Of Using Branded Shot Glasses
Ararat, a brand of Armenian brandy, took its marketing game a step higher with these branded shot glasses elegantly packaged in a group of 3 together with a bottle of Ararat cognac.
These branded shot glasses are an exceptional promotional gift for several reasons. Without further ado, let's bring you 4 benefits of replicating this special gift-with-purchase idea.
1. Useful Gift-With-Purchase Item
As with other giveaway items, branded glassware with your brand logo or name etched on it is effectively a moving advertisement. It's also a practical item that people will use, making it more valuable as a marketing tool.
A good number of people enjoy a nice drink every day, be it coffee, whisky, juice, or even water. Consequently, offering branded shot glasses as a gift-with-purchase item is an excellent marketing choice because they offer real value to the recipients.
Furthermore, the use of these shot glasses is not limited to any gender or class of people, which means that everyone and anyone can use them.
2. Allows You To Get Creative
One interesting thing about these shot glasses is that there are several ways to customize them. They can come in a variety of sizes, shapes, styles, and colors. You can also stand out by adding text and graphics. This allows you to showcase your creativity and class.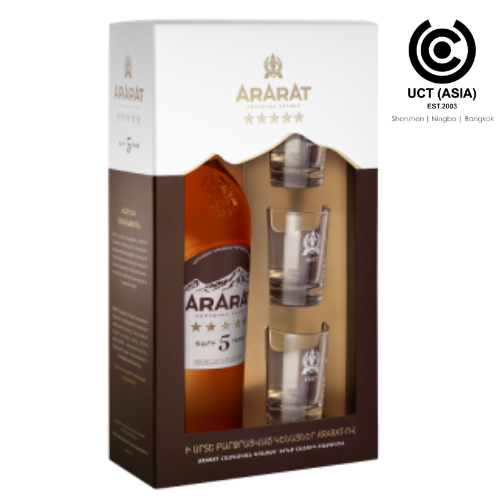 3. Compels Customers To Make Quick Purchases
Apart from the offer of a gift when they make a purchase, another factor that induces people to make a purchase is time. Offering shoppers this valuable free item with a "while stocks last" clause essentially compels them to act fast and make impulsive purchases in order not to miss out. It also makes them anticipate your next promotion.
4. Enhance Customer Loyalty
Your customers will get a feeling of loyalty when you offer them a product that complements their main purchase. This will make them feel they're getting something worth more than the main product when buying from you. This will go a long way to heighten their satisfaction and consequently increase their loyalty to your brand.
In Conclusion,
There are several lessons to learn from Ararat's branded shot glass. However, before you replicate this gift-with-purchase promotion, you need to consider a lot of things including the quality, materials, and how it benefits your customers.
That sounds like a lot, right?
Not to worry, at UCT (Asi), we can ensure your promotional shot glasses satisfy you and your customers.
With several years in the spirits and beverage industry under our belts, we're well placed with the right skills and partners needed to produce exceptional promotional products, gift-with-purchase ideas, and in-store displays that will give your brand a huge boost.
Reach Out to us today and we'll be pleased to discuss things with you.