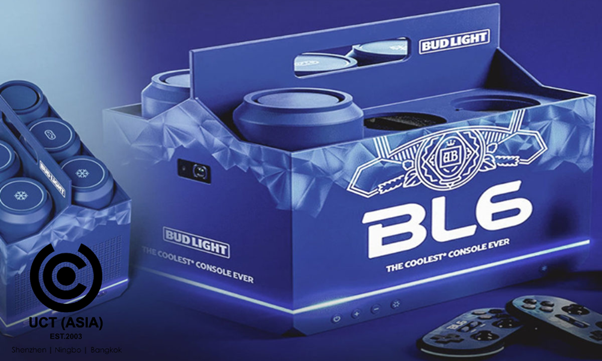 The gaming industry is an exciting and ever-evolving market. From the reign of arcade games to the much more recent console games, gaming has gradually become a mainstay in the world of entertainment.
With video games becoming a huge part of our modern culture and entertainment, so many people now own gaming devices and love to have good gaming sessions with family and friends. Engaging in this technological trend offers a great opportunity for brands to grow their awareness
But how can you do it? Let's take a look at this innovative gaming console promotion by Bud Light.
Bud Light, one of the most famous beer brands in the United States, amazes customers with an extraordinary gaming console. The console comes with two wireless gamepads and also has can holders for two cans of beer.
What's more? Made from thermoelectric peltier and polystyrene, the beer holders can keep the drinks cold. Additionally, the game console is portable, has a strong battery, and is the perfect device for drink lovers.
Why Is This Gaming Console Great For Your Brand?
1. Builds Brand Awareness
Let's begin with the obvious. People everywhere play games. Video games bring fun and enjoyment to people, whether as a pastime or a competition. Therefore, having a custom gaming console with your logo can work as an effective advertising tool.
Furthermore, people usually tend to invite their friends over to play games. Taking this into consideration, this means that your brand will be exposed to more people.
2. Huge Branding Potential
Gaming consoles can be customized and branded with any design or image. This means that gaming consoles used as promotional items carry a massive branding potential and offer many ways to improve your brand recognition.
Bud Light took full advantage of this benefit by making sure consumers get familiar with their logo, name, and color printed on the beer carrier, the cans of beer, and the gaming consoles.
3. Enriches Customers' Gaming Experience
Given the trend and the growing usage of technology, the gaming console provides an opportunity to engage with customers. With two wireless controllers and an in-built projector, this unique console has everything needed for a fun gaming experience.
Also, drinking beer and playing games go hand in hand, so the cooling holster and pre-loaded games will further enrich customers' gaming experience.
4. Ideal For Sponsoring Sport Events
This gaming console can serve as the ideal promotional gift item for sponsoring sports events. With the world cup around the corner and other video game competitions, a gaming console that doubles as a beer cooler would be the perfect promotional item to sponsor these events. This will spark positive conversations about your brand and ultimately boost your brand awareness.
Contact UCT (Asia) Today!
Here at UCT (Asia), we're always looking for new and trendy ways to make marketing campaigns better. We offer a wide range of promotional solutions perfectly tailored to suit your brand.
With our wealth of experience in the spirit and beverage industry and having worked with brands in the gaming industry, we're well-positioned to offer the best promotional product that will suit your brand.
So, contact us today to kick-start this gaming journey with us!