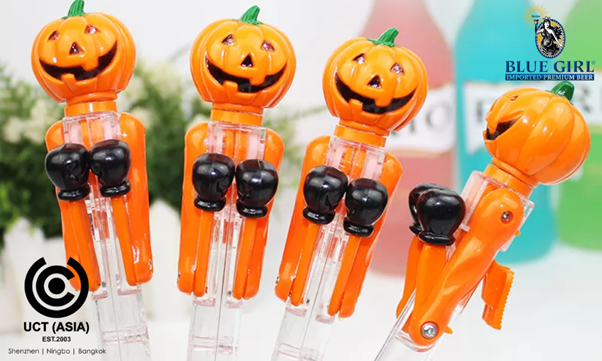 Blue Girl Beer recently organised a special Halloween promotion to boost sales. This promotional on-pack pen is designed to suit the season, enticing customers with an attractive pumpkin-themed design.
Pens are one of the top promotional gifts worldwide and marketing with branded pens is a great way to increase your brand's value and create an item that truly communicates not just what the season is about, but also your brand. They are mobile, refillable, efficient, and will take just a fragment of your budget!
So Why Is This Concept Instrumental To Gaining More Visibility?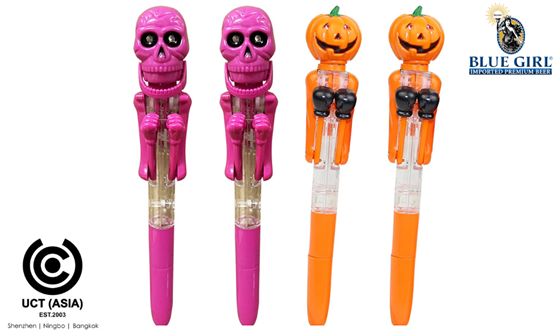 1. Broadens Brand Awareness
During the Halloween season, most people tend to show off their costumes. Interestingly, you can key into this practice by using Halloween-themed promotional pens to show off your brand.
When you give your customers a Halloween-themed pen, your brand receives massive awareness because the pens are seen and most likely used by several other people.
2. Makes You Stand Out
A well-designed branded Halloween giveaway like the one launched by Blue Girl makes your brand unforgettable. It makes your brand the focus of attention and ensures everyone talks about you.
Furthermore, personalising the pen could help recipients build a better relationship with your brand and improve their opinion of your brand. These creative pens offer a great way of gaining massive visibility and standing out from your competitors.
3. Usability
Almost everyone has them inside their bags or pockets. Since customers can use them anywhere they go, there is a high possibility for you to further your brand visibility and awareness.
Thus, if you're considering using branded Halloween pens for promotion, you have to make sure that you have your logo on them.
4. Offers Something Unusual
People are always seeking new and exciting ways to make their Halloween experience more interesting. Offering such an unusual item as a Halloween promotion will certainly attract customers.
Designed with a pair of hands and a pumpkin head that can light up, customers will be driven to make purchases, thereby boosting sales.
In The End,
Pens are used every day by the majority of people. This is why it is a great promotional choice. Each time your branded pen is used, it places your brand before people's faces. Pens are also flexible, which allows you to key into the Halloween season or any other season.
People usually tend to lend their pens to others for quick use. This increases the exposure your brand name gets and ignites positive conversations about your brand.
How Can UCT (Asia) Help?
Do you need help with your next on-pack promotional campaign? Are you unsure about the ideal seasonal promotional product for your brand? You're at the right place!
UCT (Asia) has worked together with several brands to manufacture their promotional products. We are vastly experienced with producing suitable products for any season or target market. Our products and services are high-quality and meet our customer's expectations.
We also have a team of talented designers who will collaborate with you to create unique and captivating product designs.
Contact us today to get started!