Festive periods are enjoyable periods for companies, families, and friends. Everyone is always eager to give their loved ones a special gift as a token of their appreciation and love. Companies also love festive periods because it opens an opportunity for them to give discounts, free promotional gifts, and on-pack purchases. This is to appreciate their customers for staying loyal and more importantly, boost sales.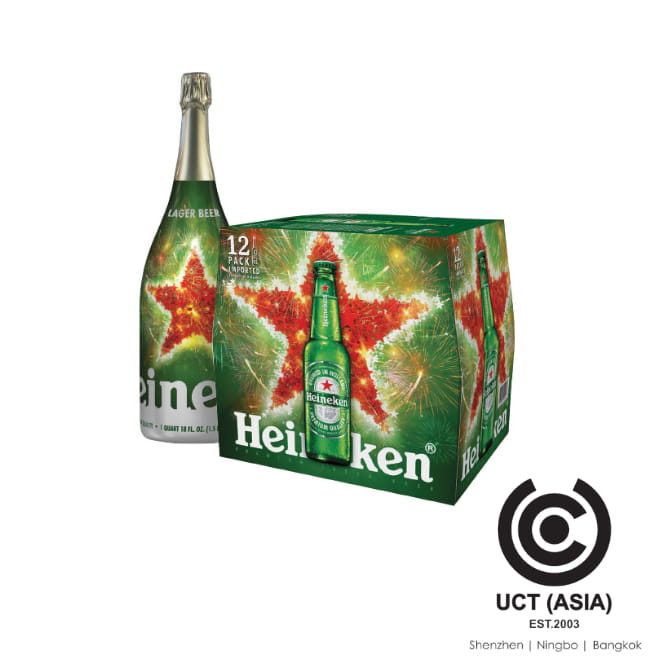 During one of the festive periods in the USA, Heineken created a thrilling idea to excite its customers and also boost its sales. One of the leading Heineken brands, White Plains, collaborated with technology experts to produce a different breed of product promotion. This was done by creating an innovative technology that functions with a great algorithm and also has the power to produce digital printing with great speed.
The innovative technology was used to create different artistic designs for every Heineken bottle that was sold. Millions of varieties of designs were created while still maintaining Heineken brand colors. It ensured that every bottle design was unique and numbered.
This technology-inspired campaign was one of its kind and excited consumers. More people purchased more Heineken drinks, curious about what design they'd get. Heineken took a step forward in its marketing by including the " you're one in a billion, now win a million" campaign. The campaign gave consumers the chance to win a 1 million cash giveaway and other promotional gift items such as a case tracker, tree display, and pole topper. This attracted a lot of consumers to participate in the campaign, they redeemed their giveaway items through the numbers and QR Code placed on drink packs.
How Unique Bottle Designs And Promotional Items Boost Sales
Lead Generation – It is rare to find someone who doesn't appreciate free items, especially when it is useful. The creation of different color patterns and designs for every bottle is a technology-inspired way of marketing. People are excited by the change in marketing trends, they're curious about the sorts of designs they'd get in their beer packs.
The distribution of free promotional items makes new consumers get interested in the brand. They are motivated to do more research on the brand and try out its products. Also, there are higher chances of consumers giving out a pack of unique bottle design beers to their neighbors, friends, and family. This improves the brand's visibility, creates awareness, and the conversion of new customers.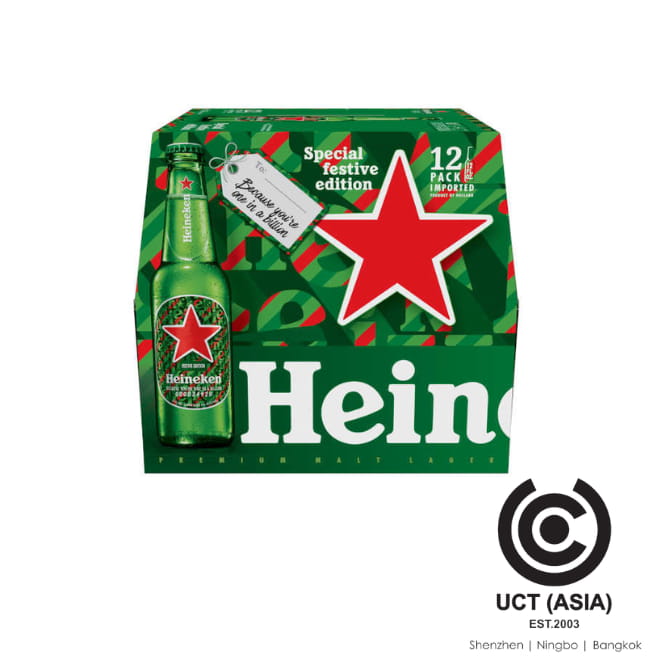 Healthy Customer Relationship – Getting people to keep patronizing a brand goes beyond just selling and marketing your products. It goes beyond advertising on every available channel just to get your products in customers' faces and get their attention. The question is; How do you retain customers that have once patronized your brand? How well do you nurture your relationship with your customers?
The answer is very simple. You can easily achieve that by continuously showing that you appreciate their loyalty. A great example of such appreciation is this thrilling campaign done by the Heineken beer company. You also can achieve this by giving out promotional items from time to time.
UCT (ASIA) can help you achieve this by brainstorming with you the different marketing campaigns you can carry out. We would also help you to choose and design the best promotional products for your brand. Contact Us now and let us get started on your new brand promotion journey. Cheers to a new beginning!