As marketers, we always need to be on the lookout for new and innovative ways to promote our brands. Holographic advertising is definitely one of the most cutting-edge and exciting new developments in the world of marketing. These displays have the ability to project high-quality visual content, making them perfect for grabbing attention and delivering your brand message in a truly impactful way.
The holographic advertising display is also very customizable, and you can personalize it based on your brand's signature colours or designs. This makes it a great option for businesses that want to create a strong visual presence.
The Benefits of Holographic Advertising Display
With holograms, the future of advertising is looking more and more exciting! Not only will you be able to see your favorite products in a whole new way, but you'll also be able to interact with them in ways never before possible.
Hologram LED Advertising Display offers various features and benefits that make them an ideal choice for both indoor and outdoor advertising. Perhaps the most obvious benefit is their three-dimensional visual, which allows your brand to really stand out from the crowd.
LED Bottle Glorifiers
It's no secret that the alcohol industry is a competitive one. In order to stay ahead of the competition, many brands are turning to new and innovative ways to market their product. One such way is through the use of LED touches. A bottle glorifier with a hologram LED display can really set your product apart from the rest.
Check this one out from Absolut Vodka: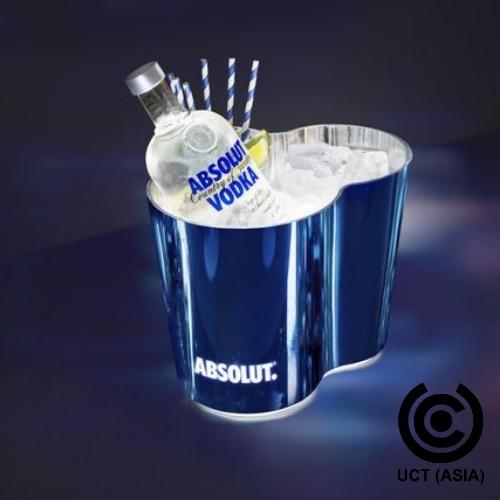 Application of Hologram Display Advertising
As this advertising becomes more advanced, it's important to understand how to use it to its fullest potential. Here are some tips to get you started.
Increase Booth Traffic
Whether you're at a trade show or hosting an event, using our hologram display will make your products shine! You'll be able to show off what they can do and their benefits without any help from the marketing team.
Create Luxurious Appeal for High-End Products
Holographic displays are a great way to create luxurious appeal for your high-end drinks. By adding an extra layer of visual flair, holograms can show off the features and details of your product in a more engaging way. This can help to increase sales by making your products look more attractive to customers.
Entertain People
LED displays are quickly becoming a popular way to entertain customers in stores and other public places. These displays can create animated films that connect with your brand and may help bring in more customers to malls, shops, and events because customers find appeal in your display.
Raise Awareness
Looking to raise awareness for your next charity event, music fest, or sports fest? Look no further than holographic advertising displays! These are perfect for getting your target market's attention, as they are both visually eye-catching and grabs attention. Since these can also be customized to suit your brand's needs, you'll be able to create a truly impactful campaign that is sure to raise awareness.
How can UCT(Asia) help?
UCT Asia has years of experience in the field of manufacturing and advertising. Our team is here to help you out from planning all through the production stage. We make sure that your hologram LED displays are made according to desired size, shape, branding, and style. UCT Asia can also help with ensuring that your products are quality controlled and compliant with international safety standards with our years of expertise. So Contact us today to find out more!