Carlsberg saw its first beer brewed in November 1847, and the first export also began in 1868 with one barrel.
This brand has been a giant in the market due to clever marketing and promotional promos like what was spotted in Chinese supermarkets_ with Carlsberg's' clever on pack drink promotional object which rewards purchase with complementary sandals. Or their recent campaign in UK going back to their roots, as probably the best beer in the world.
Apart from complimentary sandals, the brand uses other items and a branded POSM beer pitcher is one of them. A pitcher is a container used to collect and pour liquid. It's used among beer lovers. Ordinarily, a pitcher of beer encloses 60 fluid ounces, roughly 3.75pint of beer served per pitcher.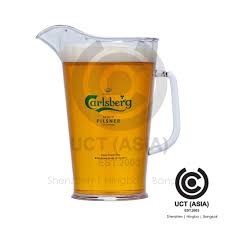 There are different designs for a pitcher ranging from fancy ones to creatively shaped ones. Purchases that come with an added gift are a common marketing movement.
Using a pitcher as a promotional item involves enhancing the pitcher with a customized brand logo for more impression in bars, hotels or restaurants. Branded products are essential for both existing and new brands seeking natural growth because, like Carlsberg branded POSM beer pitchers, it is easy to increase identity and customer base.
It's effective to promote a business using giveaways or freebies because it spreads a message quickly and captures a wide number of people. Carlsberg counts on branded POSM beer pitchers due to their benefits in conveying its message. A pitcher is among the most used kitchenware or tableware products any brand can think of when it comes to promotional items because:
• It is economical
Marketing presence, especially for Carlsberg, involves handling branded pitchers to bars, hotels, restaurants and individuals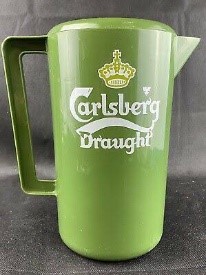 It is an inexpensive means of advertising to beer lovers compared to advertisements on printed ads, TV or Radio. Therefore depending on your funding, small brands can also use this strategy to increase their business presence.
• Continue exposing a brand
Branded beer pitchers are reusable, and when constantly used, they attract a larger audience. Carlsberg is a brand that knows the larger the number of people their promotional product attracts, the better it is for their brand. People easily remember their brands and other additional information labeled on them. According to Food52, an aesthetical neutrally toned pitcher blends with things on the dining table.
• Beer Pitcher has longevity
A pitcher can last decades before it starts to fade and is not fit for use. Therefore in the case of Carlsberg, their printed logo and information last and continue to do its promotional job as long as the pitcher lasts. Few advertisement strategies will help you promote to buyers for five years and more into the future.
Conclusion
Using a beer pitcher requires bringing it close to the mouth, and this proximity leads to the subconscious mind quietly processing the information on it. The closeness can't be compared to promotional bags that we carry by our sides.
Carlsberg is an intelligent brand, and with their POSM branded beer pitcher, their impression is always guaranteed in bars, restaurants and hotels. Therefore, contact us for similar designs because we are gifted in providing brands with promotional items that expand their business reach.