BEER POS Displays are one of the most effective ways to market your business. They can be used in many different places including retail stores, restaurants, hotels, gas stations, etc. These displays have been proven to increase sales by over 50%. With so many benefits, it's no wonder why these displays are becoming increasingly popular.
Heineken has a long history of being an innovative company that is always looking for new and better ways to improve their products and services. In fact, they were the first beer manufacturer to use purchase display in their marketing campaign.
Now, they're using them even more than ever before!
Heineken's Beer POS Display
Heineken has used this promotion to promote its new Christmas themed bottles. They've designed a special POS display that incorporates the bottle's design. The message "Great Gifts Don't Need Any Wrapping" was also printed on the front of the unit. These in store displays were placed at various locations throughout the UK.
3 main key takeaways
Location Placement
Beer POS displays are ideal for increasing sales. They make your beer bottles readily available to consumers, which increases the likelihood that they'll buy one. In addition, placing your POS near the checkout counter means that customers can see it immediately when they enter the store. This gives you a distinct competitive edge over your competitors.
Increase Brand Recognition
POS displays have become increasingly popular over the past few years. They've been utilized by numerous brands and have been shown to increase brand awareness and sales. As such, they're a smart choice for businesses looking to market their products.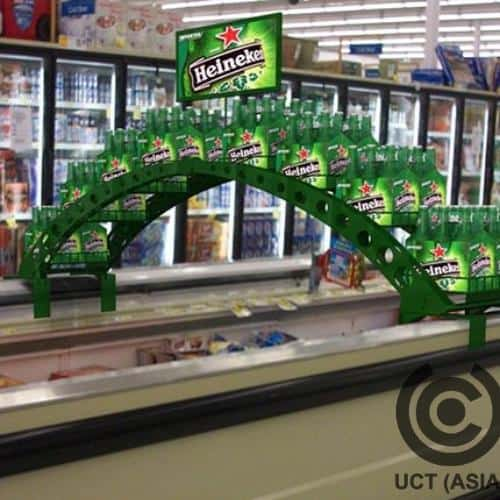 Functional
Beer displays are designed to be attractive and eye catching. They are usually placed at strategic locations within the store so that customers can see them easily. These displays are often used by retailers to attract attention and increase sales. However, they must be sturdy and reliable because they are exposed to extreme weather conditions.
These factors combined will definitely increase the appeal of the brand. As a result, beer POS displays will definitely help increase your sales. Therefore, your revenue will increase, and your profits will rise.
Contact Us
With several years of experience in the Beverage and Spirit sector, UCT(Asia) has gained expertise in the creation and design of marketing products that range between on-pack promotions, POS Displays, Corporate gifts, retail items, and point of sales Merchandise, all at an affordable cost.
So, are you finally ready to stand out from your competitors? Or do you want to create an emotional connection with your customers with our shelf space and other retail display?
If you're interested to market your products similarly with BEER POS Displays or any other custom displays, we can help you with it.
We've gained a reputable success over the years as you can see by the reviews on our page and what our clients/customers are saying. So, don't miss a chance and send us an enquiry today to get started!