In order to protect your brand, it's important to have a proof approval policy. This document should include all specifications for your products so that there aren't any surprises when it comes time to ship out your goods. Once approved by the client, you must follow these guidelines in order to avoid any problems down the road.
UCT(Asia) must work closely with factories to ensure that all products meet specifications. They must also ensure that the final product meets the client's expectations. As such, the approval sheet should include all of the necessary information. Clients may have concerns regarding their order after receiving the completed product. An approved approval sheet ensures that there aren't any problems with the final product.
What a specs sheet should have:
A spec sheet includes all the technical specifications for a product. The most common types of specs sheets include hardware specs, software specs, and manufacturing specs. Hardware specs include things like processor speed, memory size, storage capacity, etc. Software specs include things such as operating system requirements, programming language, database compatibility, etc. Manufacturing specs include things like production date, warranty period, etc.
When referring to manufacturing, product spec sheets are more detailed specifications. 
A description project specification is what you want people to see when they are looking at your listing. This is how potential customers find out what your item is and why they might want to buy it.
The components section tells buyers what makes your item unique. For example, "This watch is water resistant." Or "Made in America." Or "No plastic parts."
Usability describes how easy it is to operate the product. "One button controls volume," or "Easy to read numbers."
Handling explains how to clean or maintain the product. "Washable leather strap," or "Cleaning instructions included."
Disposal tells consumers where to put the product once they're done with it. "Recyclable," or "Plastic bag included."
In addition, there are some other types of specs sheets that you may encounter in your career:
Design specs — These specs are used to describe how a design will look when it is completed. Design specs can be very detailed or they can be simple lists of features. They are mostly used for electronic components and such. 
Plus, there's also another kind of specs sheet called a specification management tool. Specification management tools allow you to create a specification document from a spreadsheet or word processing program. You can then use this document to communicate with vendors about their products.
An ethically designed spec sheet is certainly going to influence the business world, specifically in terms of marketing. These documents provide customers with detailed descriptions of their products, which enables them to make informed decisions when purchasing. They also serve as advertisements for companies. Therefore, spec sheets should be designed as attractive as possible. Good-looking spec sheets will increase customer traffic and lead to more sales.
Here's a template of what a sheet specification should look like: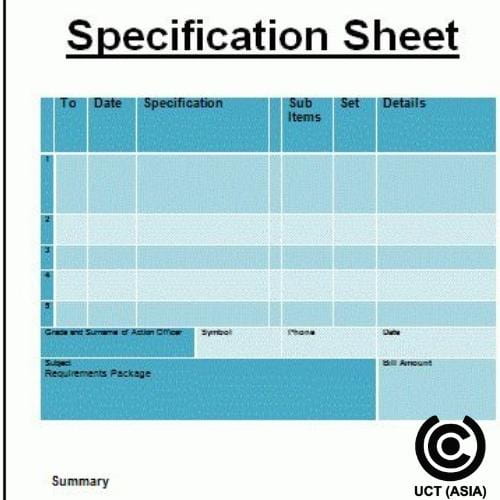 Here at UCT(Asia) we have a team or design professionals and group of experts that can create a design spec or product spec for your next product. We have the best services that are promising and whom you can trust to deliver the exact details you need on the spec sheet. We will continually monitor and update you for if any changes were to occur thus you can be guaranteed there will be no errors. If you want to find out more on our products or other services we have, please don't hesitate to contact us then.