How Chang Beer Became One of the Most Popular Brands in Asia
Chang Beer is a pride of the nation in Thailand. It has become a drinking occasion favourite and has captured the hearts and taste buds of the Thai people over the years. Chang stands for smiles, golden sunshine, and sharing good times with friends.
Chang Beer Tower is quickly becoming a must-have for any occasion. Not only does it increase brand visibility, but it can also be used as a marketing tool to bring people together and create unforgettable memories.
Beer towers can be custom in different shapes and styles to fit the occasion. Whether you're looking for a tower that is sleek and simple or one that is festive and fun, Chang Beer has you covered. With a variety of colours and designs to choose from, you can create a tower that is perfect for your event. They even come in trophy shapes to be sponsored at sporting events. Moreover, you can print messages and brand logos on it to make it more personal.
Here are 5 reasons why Chang Beer Tower is selling like crazy:
1. The unique shape of the Chang Beer tower resembles a Thai temple, which is auspicious and revered by many Thais.
2. The tower can hold up to 24 cans of beer, making it perfect for parties or large gatherings.
3. The tower is made of high quality materials, ensuring that your beer stays cold for longer.
4. The design of the Chang Beer tower is both stylish and functional, making it a great addition to any home.
5. Chang Beer towers make great gifts for any occasion, whether it be a birthday, holiday, or just because.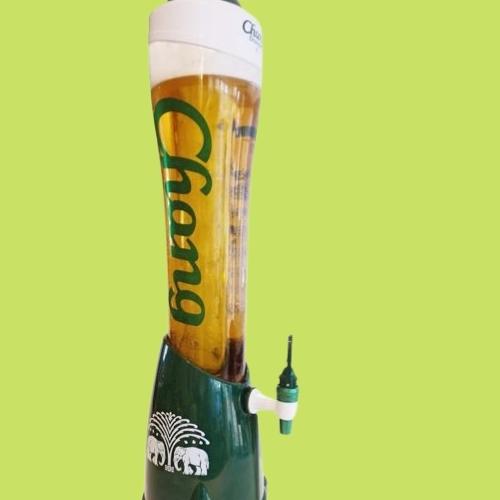 Chang Beer towers make great gifts for any occasion, whether it be a birthday, holiday, or just because. They are stylish and functional additions to any home, and make it easy to enjoy your favorite beverage. With so many different types of towers available, it is easy to find one that fits your needs and budget. Chang Beer has become one of the most popular brands in Asia, and its towers are sure to be a hit with anyone who receives one.
Suitable for all Target audiences
There are many tourists coming to thailand such as from the UK, US, and Australia who love to buy beer towers as gifts for their friends back home. Not only is it a great conversation starter, but it's also a unique and thoughtful gift that will be cherished for years to come. These custom beer towers are unique and fun for just about any audience.
If you're looking for a unique and memorable gift, or simply want to enjoy beer the Thai way, then a Chang Beer tower is definitely for you. We have more advice on how to choose the right tower for your home and the different types of towers available which you can check out on our page. You can also check more of what UCT(Asia) has to offer as we provide an array of promotional gifts for you to choose from. There are beer towers, bar mats, coasters, trays and other accessories that will suit your business needs. Contact us today to get one for your brand.
Related blogs
You can also check more on other beer promotional products you can use.