In the world of alcoholic beverages, Bacardi is a top brand that has maintained its leading position due to its marketing strength. Although the competition in the liquor industry is quite high, Bacardi has been successful in expanding its customer extensions.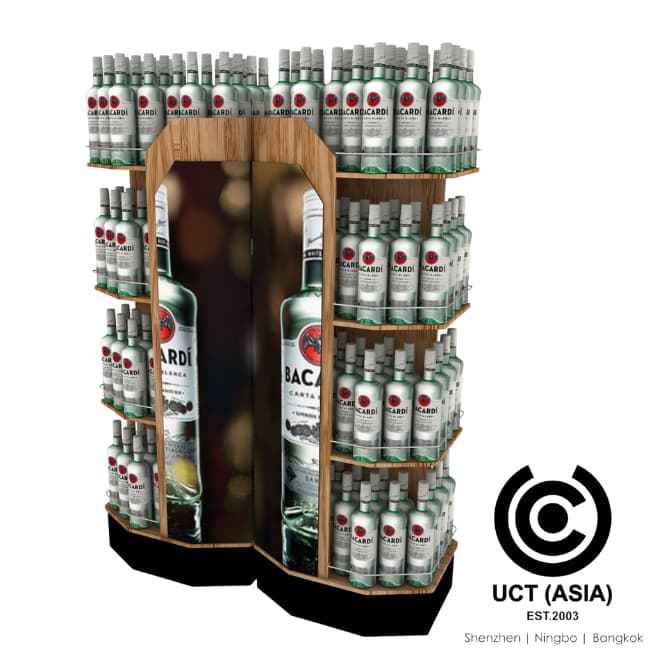 One of the incredible ways they boost sales is with this product packaging design and display rack for stores at strategic spots. The end cap display is made from a corrugated cardboard material which is of high quality that has a "new spicy" label and Bacardi's bottle and glass image.
An end cap is a POSM placement shelf that is usually at the edge of an aisle in stores. When products are placed on the retail end cap, it attracts buyers more than products on regular shelves. Brands use this spectacular shelf to promote their chosen products or when a product is just newly launched into the market. Therefore brands that are seeking impulse sales usually take advantage of the Retail End Cap to gain customers' attention.
Effect of End Cap POS on Advisement
The retail end cap display gives a shopping experience similar to billboards. It serves as a signpost where brands can advertise to their customers and shoppers. Therefore, a brand in the liquor industry can choose a retail end cap display because it's innovative, noticeable, and simple to comprehend.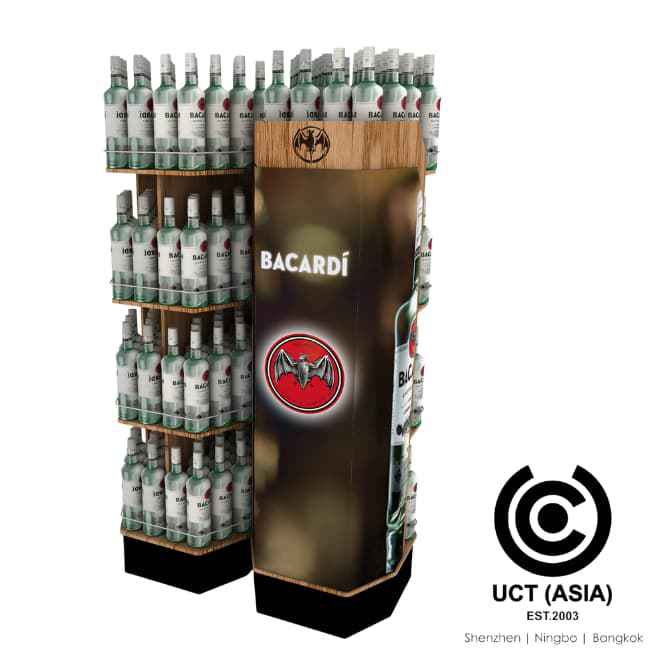 The end cap brings the best out of a product regarding branding. It is also used when you have a special offer for your customers.
Rules Of Using an End Cap POS?
A rule to follow when using a retail end cap pos in the visual merchandising game is to utilize it so that consumers won't just walk by it without noticing what the end cap is promoting. To achieve this, the brand using the end cap must already have a marketing scheme so the end cap won't fall out of space.
Since the retail End Cap POS is similar to a billboard, it is advisable to keep the arrangement of products simple. A simplistic retail End Cap would be more effective in gaining more customer conversions.
How Does End Cap POS Boost Advertisement?
End cap boost sales of products placed on it because it has the following qualities:
It grabs people's attention
It is sited where it is almost impossible for buyers in retail stores not to notice. Its strategic location makes it visible and thus boosts sales of its products. Bacardi's advertising team understands its impact on product awareness; why shouldn't you do the same?
It's an intelligent design
They are flexible in design and can be made in various shapes and designs to catch the buyers' interest.
It inspires impulse buying
Being in a strategic spot makes room for impulse purchases since buyers can easily spot them, leading to more sales.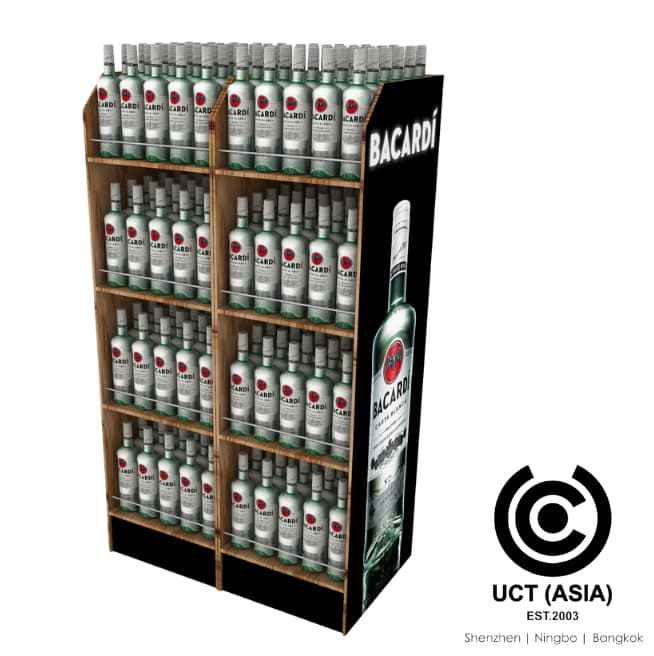 How Can UCT Asia Help?
For better retail store marketing, get in touch with the UCT Asia team and let us develop unique and effective display stands for your brand. We work on a scheme that gives your high-quality brand marketing and corporate gifts for your business exposure.
At UCT, we have the design means to manufacture outstanding POS because we are always one step ahead when manufacturing current and innovative products or displays to assist your marketing campaign and promotions.