Beerlao's branded products are numerous and can be found in homes and offices in Laos. Umbrellas, bottle openers, ice buckets, and beer glasses are only some materials with the Beerlao logo printed on them and coloured with the yellow, green and red colour of the Beerlao brand.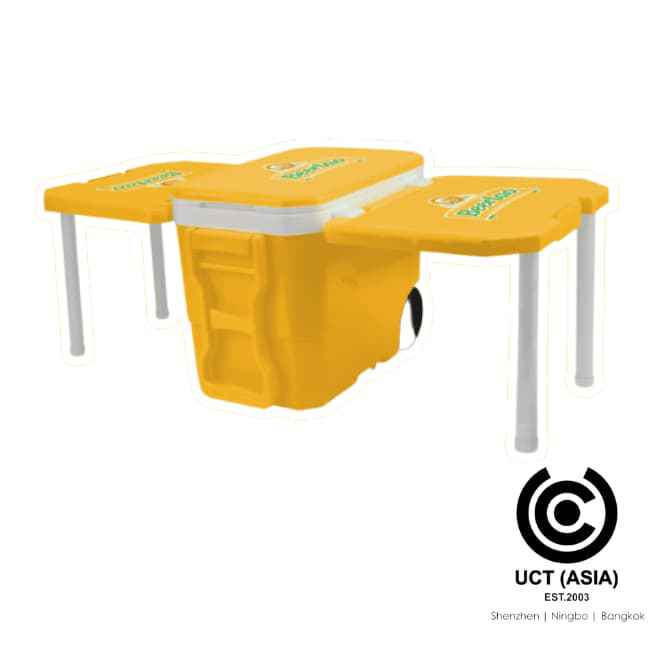 The use of branded products for marketing is a strategy used regularly by the Beerlao brand, and it has worked effectively in expanding the Laos brand to all of Asia.
Founded in 1973 by Laos business people and foreign investors, the beer brand has expanded into a multi-continental brand, supplying beer to Australia, Canada, Cambodia, and other countries. Branded promotional products have played no small part in their expansion.
The branded picnic table is a unique promotional product for two reasons:
The Built-in Movable Cooler: The picnic table is a complete package as it comes with a built-in cooler that can be used for food and beverages. The cooler is also movable, which makes it convenient to carry around.
A Great Idea For A Beer Brand: Using a picnic table for branded advertisement for a beer brand is a no-brainer! Picnic tables are used in areas where some people are gathered, giving the brand more attention and creating brand awareness.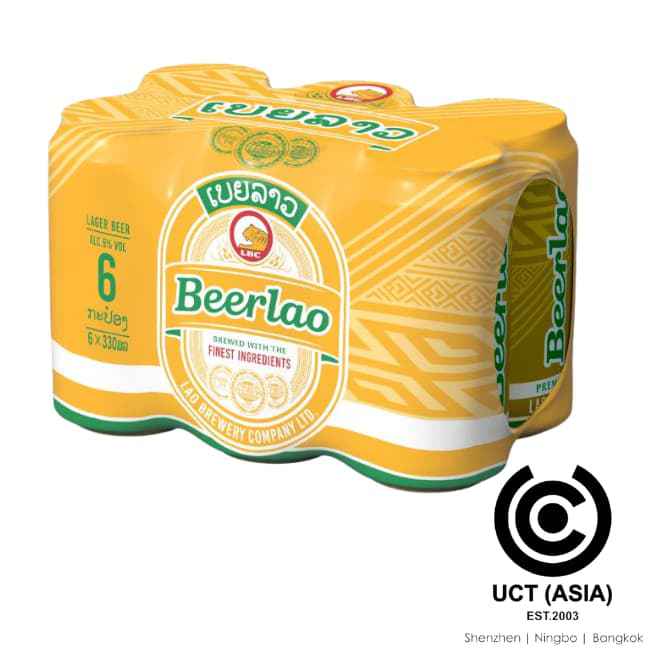 To participate in the promotional contest, customers were expected to follow these steps:
Post an old photo of themselves in the Beerlao music zone, or the ambience of Laos new year's play, on Facebook with the hashtag #missyouBeerlaoMusicZoneLNY and make this post public.
The post should be commented on the Beerlao promotional post on Facebook.
Customers who complete these steps stand a chance to win one of the ten unique picnic tables and a pack of Beerlao beer.
How The Branded Products Help Beerlao Stay Ahead
Brand Integration
Using promotional products integrates the brand into the regular lives of the consumers. A picnic table, aside from being used in picnics to keep beverages, can also be used in homes for small gatherings or a makeshift reading table.
The coolers could also become functional in more ways for the consumers, leading to more integration of the brand into the lives of the consumers, breeding loyalty and dependence on the brand.
Increases Sales of Beerlao Beer
Branded promotional products increase brand awareness and hence generate leads and boost sales. Using a Beerlao picnic table and cooler will endear consumers to the brand.
Using social media in the promotion is also a great idea as it gives Beerlao a wider audience, and a wider brand awareness invariably leads to more sales!
UCT (Asia) Can Help!
Branded products are a more economical but no less effective option for advertisement. They strengthen the relationship between brand and customer while reaching out to prospective customers.
UCT (ASIA) is in the business of delivering innovative and high-quality services for your brand, including design, procurement, merchandising, and logistics, among many others. So contact us now for your branded promotional products!