A napkin holder will save you from the stress of dealing with unorganized and scattered tables. Beerlao as a brand is informed that bar tables must be kept tidy, particularly during special occasions with Beerlao's drinks.
And that's why Beerlao's napkin holder is an effective marketing tool in bars, as it helps to style up the bar's internal decoration while also providing massive brand visibility.
Beerlao, a well-celebrated national beer performing excellently at the local and international levels, has received numerous international awards for its unmatched qualities. Based on our professional view at UCT Asia, a customized napkin holder is another creative way of marketing your brand flawlessly without expending too much cash!
The napkin holder is an essential item in bars. Therefore, their customized napkin holder is targeted at bars, restaurants, and hotels. This Beerlao marketing is also targeted for kitchen usage.
Impact of Napkin Holder Promotional Item on Beerlao Brand
Simplicity is the father of all inventions. Beerlao brand knows the impact of making a simple promotional item that works. It shows how direct the brand is towards getting its name in front of people.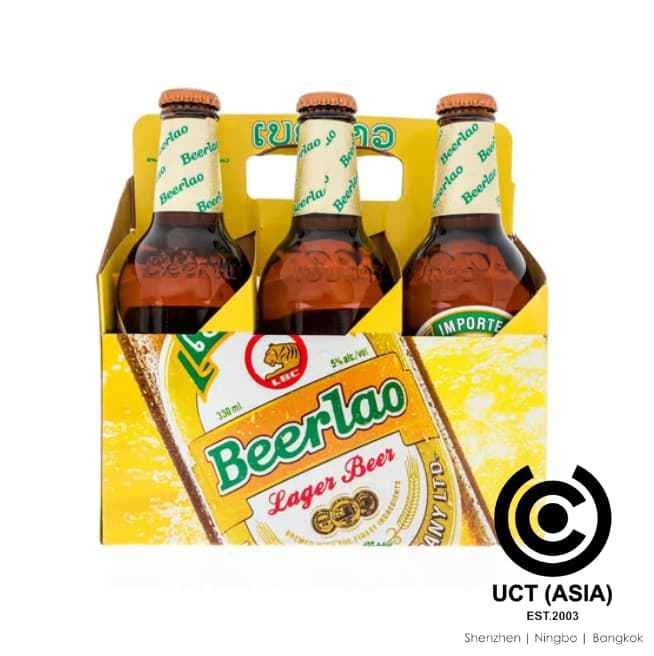 It's glaring that the promotional item is simple in its design, making it cost-effective. Beerlao plastic napkin holder design compared to glass or metal holders, UCT Asia can tell you it is cheaper, and we can help you produce more in large quantities.
Napkins are helpful in bars, hotels, restaurants, and their holders. Therefore, if you want to put your brand out there, it should be a simple promotional product that you can easily place on tables during events.
Why Should You Adopt a Napkin Holder for Your Brand?
It's no longer new when you give free products to your customers. Your brand won't be the first and the last. Therefore getting inspiration from the Beerlao brand is what you can consider even if the napkin holder looks simple in design, it goes a long way in showing how much you care about their loyalty to your brand. It's good for a brand to reciprocate the love that their customers have for them. In addition, during your company's event, you can make your employee feel loved with a simply branded napkin holder.
You can trust us at UCT Asia that you can have the impression you are seeking with a branded napkin holder. The more valuable an item is, the stronger its impression. Judging from Beerlao's customized napkin holder that has been proven helpful in bars, restaurants and hotels, you are definitely on the right.
How Can UCT Asia Help?
It's with confidence that we say, at UCT Asia, we have your back regarding the marketing idea. With several years of experience in the Beverage and Spirit sector, UCT (Asia) has gained expertise in the various techniques and skills required to manufacture branded items that market your brand exceptionally, giving your brand what it needs to stay ahead of competitors.
Our product designers and manufacturing team are the industry's best. We also partner with the best marketing strategist to set you in the right direction to grow your business.
Contact us for your branded napkin holder today!