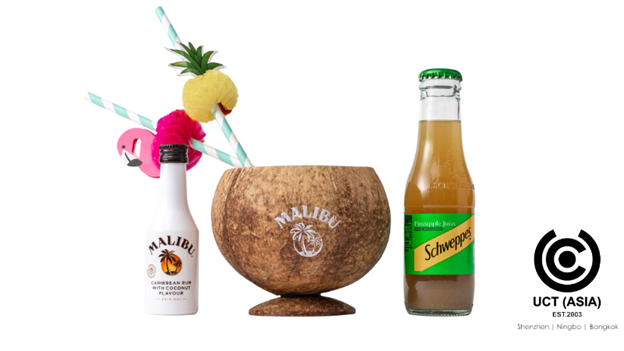 It's our favorite summer again, and we know you can't wait to pick your summer apparel and ride the tide with a resounding scream for a cocktail!
As the oceans heat up, people spend more time broiling in the sun and grilling outdoors, and yes, Malibu Rum wants to share the ocean breeze with you with your mind at ease with its charming on-pack summer gift! Aren't you excited?
Malibu Rum, a coconut-flavored liquor, is regarded as one of the world's best-selling Caribbean rum with a natural coconut flavor and an excellent sweet taste.
UCT (Asia) sighted this charming Malibu Rum on-pack summer gift in a supermarket to celebrate the season's euphoria with its customers!
This on-pack summer gift is a gift set promotion with super customized cardboard packaging that sparks curiosity in shoppers, promoting its conspicuousness in every store.
Also, at the center of each Malibu Rum is the primary gift of the season – the coconut cup, which serves your chill cocktail in grand style. A cocktail straw is effortlessly the complement for a cup of cocktail, which is why Malibu Rum is at the crux of the business. The summer cocktail straws come with pink flamingo and yellow pineapple toppers.
Why Do We Admonish Malibu Rum's Promotional Summer Gift Set?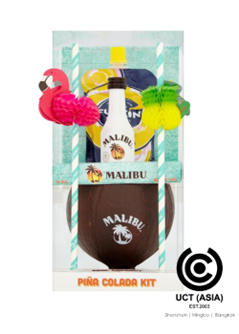 Malibu Rum has many marketing ideas, from its eye-catching packaging to its refreshing content. Every purchase by a customer starts from a brand's outward appearance and packaging.
We once bumped into the supermarket and couldn't help but imagine the clear goosebumps on our skin and the breathtaking view of Malibu Rum packaging on the supermarket's shelves. It's a sight for sore eyes, indeed!
The intelligent branding of its promotional on-pack gift still has the Malibu Rum signature. With this, shoppers can have a good look at this marvelous gift set.
A more reason to patronize Malibu Rum is the generous quantity of its content. The on-pack gift set still clasps the same 50ml alcohol bottle of Malibu original. As one of the most valued take of customers, the premium on-pack gift makes the offer irresistible and alluring to customers.
How Does This Elevate Sales?
Its Attractive Packaging
The first thing that sparks an attraction at first sight is appearance.
Malibu Rum's exceptional packaging of its products and its on-pack gifts is a crucial factor that dignifies this brand globally. Brands should spend more time and resources on their packaging and product aesthetics.
While at the supermarket, we often notice the pure admiration of some perfectly customized commodities by shoppers, and this piques the interest of customers to buy such products. Making a perfectly outward rebranding of your products, as well as on-pack gifts, are the surest ways to propel sales.
Brand Popularity
When shoppers are aware of your product, then they can purchase it! You can fire up your sale by spicing up your brand's presence to the public.
Have you ever imagined why some products thrive in the market despite their inception for decades, yet newbies remain obscured? That is because, for years, they have been steadily creating an indelible imprint in the minds of their customers.
In Conclusion,
Make a difference in the market as a brand by making something different. Pioneer and mastermind a marketing strategy to ramp up your sales – customized promotional items are luscious marketing tools to increase.
How Can We Help You At UCT (ASIA)?
Are you wondering where to promote your subsequent sales or get promotional items and ideas? Great! You don't have to stress your brain anymore because we at UCT (Asia) have your back on this.
We help brands build a walk-through in their merchandise with our branded on-pack promotion, customized gift sets, and promotional giveaways.
Contact us today at UCT (Asia)!