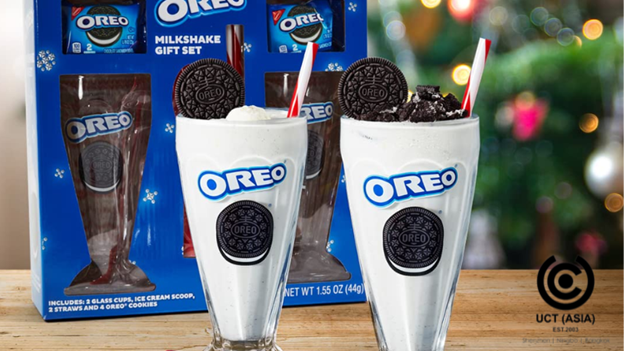 Let the countdown roll in because the season is set on the beat! It's our favorite season again, and we know you can't wait to tie the season with your Christmas promotional sales and gifts!
As Christmas lurks, supermarkets and grocery stores are bubbling with Christmas gifts and promotions, but Oreo has got it all this time with its exceptionally affordable campaign!
Oreo is a brand owned by Mondelez International, consisting of sandwich cookies of two wafers with a sweet creme-refilling taste. Oreo has brought us good tidings of the season with its milkshake Christmas set. Let's unveil the puzzles in this gift set together!
Oreo milkshake gift set consists of 2 ceramic cups, an ice cream scoop, 2 straws and 4 Oreo cookies.
Why Are We In Love With Oreos' Christmas Gift Set?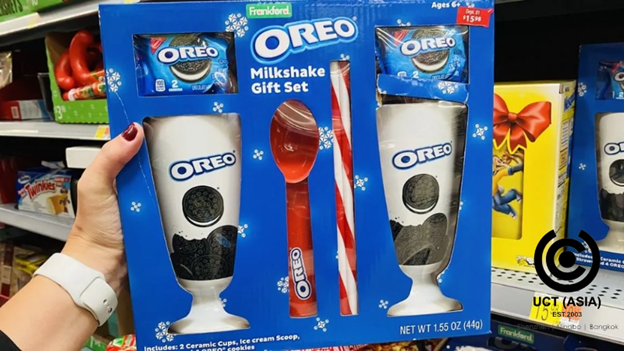 1. Exceptionally Attractive And Eye-Catching
Customers will more frequently visit supermarkets than ever this season, and conspicuous brands are the targets for customers shopping.
Oreo's custom packaging of its product in a window box packaging is an offbeat strategy to ramp up sales. It makes the product's visibility feasible to customers at a glance without much ado.
2. Brand Awareness
Awareness is an inevitable factor in the marketing industry. All your promotional strategies must be targeted at brand awareness to a great length.
Gifts like the milkshake gift set by Oreo provides customers with the recourse to engage with the product and the opportunity to recall such a product, which invariably promotes future repurchase and patronage.
3. Value And Appreciation
Nothing is as thrilling as appreciating someone with a token of a gift for a kind gesture.
The Oreo milkshake gift set is a value-added gift. It's a form of gratitude to customers for their kind patronage throughout the year. It invariably adds value to your brand because customers will forever remain grateful for having them in mind.
4. Sales Booster
Since the market would be bustling with people during Christmas, you must ramp up your sales strategically. Promotional gift sets are blockbusters for achieving enormous sales.
The Oreos charming milkshake gift set is a game-changing marketing idea for Oreo. Its custom packaging, window box packaging, ceramic cups, ice cream scoop, and cookies are all-inclusive promotional ideas that leverage competitors.
5. Simplicity And Engagement
A cursory look at the milkshake gift sets would showcase their simplicity in its purest form.
The pack arrangement allows customers to view all the package components at a glance, hence promoting customer engagement.
Finally,
The simple, fascinating, and practical arrangement of the Oreos gift set is an uncontested marketing idea to build your brand and set the pace for other competitors in the market.
We Can Help You Recreate This At UCT (Asia)!
Does this marketing campaign arouse your interest? If yes, you are definitely on your way to becoming a better brand.
UCT (Asia) can help you promote your business locally and even globally with our promotional ideas, marketing campaigns and customization, eco-friendly packaging, and many more.
So, contact us today to kick-start this journey with us!