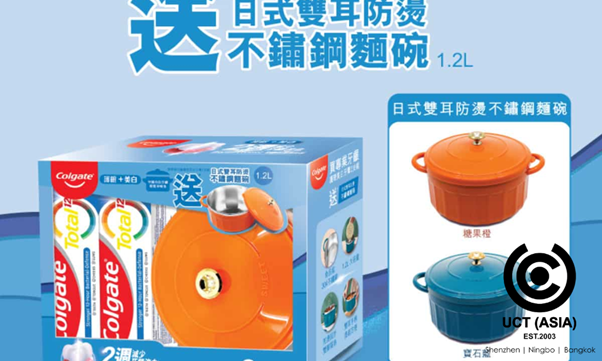 Using freebies is a great idea when it comes to increasing your brand's awareness and developing a healthy relationship with your customers. When used right, they can serve as valuable tools for your marketing strategy.
Colgate gives us an excellent example!
Selling in over 200 countries around the globe, Colgate is the largest toothpaste brand in the world and a leader in the production of personal care products.
In recent years, we have highlighted several exciting giveaways from the company, and have shown the effectiveness of their on-pack promotions and gift-with-purchase offers. To add to the list, let's talk about this amazing promotional noodles bowl they launched in Hong Kong.
What Is This Promotional Giveaway About?
In this amazing giveaway, Colgate is giving out two Colgate Total Gum Care Toothpaste and a Japan-themed noodles bowl. Made from top-quality stainless steel with an anti-burning feature, these bowls are ideal for hot noodles, soup, and more.
With a capacity of just over one litre, the noodle bowls come in orange and blue colours. Also, they have a stylish design that makes cleaning and maintenance easy.
So What Makes This Free Gift Promotion Impressive?
1. Durability Equals Enhanced Brand Exposure
Investing in these noodle bowls is a marketing plan that yields rewards over time. The stainless steel design means it's durable and will survive years of use without damage, thereby remaining useful.
With the right strategy, this dishware can help your brand remain in the minds of your customers. Also, because they can be used to entertain guests, it has the potential of helping you gain new customers.
2. Applicable To Your Target Audience
Food is an important aspect of our lives, and it's not surprising that brands are always seeking unique ways to promote their brand using food-related merchandise.
Noodles are one of Hong Kong's most popular meals. In this promotion, Colgate shows they have a good knowledge of its target audience by offering gifts that are relevant to its demographic.
3. Added Value To The Purchase
Everyone loves a gift. So when they can get useful items as gifts for making a purchase, they love it even more. These free noodle bowls are not designed beautifully for decorations on the table; they offer real value to the recipients and also help your brand promotions.
4. Builds Customer Loyalty And Retention
Practical promotional products such as this amazing dishware help to build customer loyalty. The more they use this household item, the more your brand pops up in their minds.
Consequently, this makes it easier for them to come back to you when they need any product or service you offer.
To Conclude,
Giveaways are one of the most productive methods of promoting your brand. It leaves customers eager to make more purchases from you in the near future.
Additionally, recipients of these gifts will more likely refer your brand to others using word-of-mouth advertisement which is one of the most effective forms of marketing.
How Can UCT (Asia) Help?
Motivated by this amazing giveaway campaign by Colgate? Allow us to help you in the planning and launching of your next gift-with-purchase promotion with the best promotional merchandise for your brand.
UCT (Asia), together with our incredible team of designers, will make sure you always stand out with creative and exhilarating merchandise for your marketing campaigns.
With several years of experience in the FMCG industry, we offer nothing short of excellent products and services.
Contact us today!