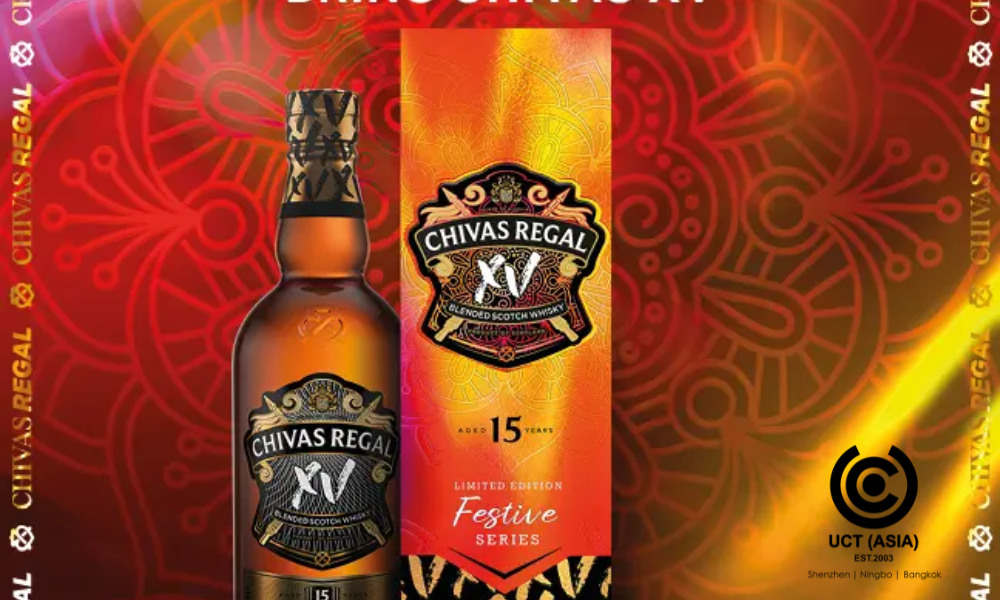 Packaging is the silent salesperson of your product. It's the first thing that potential customers see, and it can make a big difference in whether or not they decide to buy your product.
Imagine walking into a dimly lit bar and seeing a bottle of Chivas Regal Whiskey that glows in the dark. It's sure to catch your attention, right? That's the power of Chivas Regal's latest packaging concept.
In this article, we'll explore what makes this packaging concept so profound and how it can help brands steal the limelight.
More on Chivas Regal Liquor Packaging
So, we were at this airport retail store when our attention was drawn by an eye-catching packaging in the liquor section. We moved closer and learned that the special pack was by Chivas Regal. And that the bottles are made with a special ink that absorbs light during the day and then emits a green glow at night. We also gathered that they're available in two different sizes and colours.
The captivating design of this limited-edition packaging is a perfect example of how packaging can be a marketing powerhouse.
What Makes This Concept a Profound Hack for Stealing the Limelight?
Here are three key reasons why Chivas Regal's glow-in-the-dark liquor packaging is a profound hack to steal the limelight:
1. Nightlife-Ready Brilliance
This packaging is tailor-made for the nightlife scene. It glows vibrantly in dimly lit environments, making it an instant attraction in bars and clubs. It turns your product into a conversation starter, gaining attention both online and offline.
2. Unforgettable First Impressions
In a crowded marketplace, your product's packaging is often the first point of contact with potential customers. Chivas Regal's glow-in-the-dark packaging ensures an unforgettable first impression that leaves a lasting mark in the minds of consumers.
3. Versatility
Chivas Regal's glow-in-the-dark liquor packaging is a marvel to behold, both day and night. In daylight, the packaging's design is visually appealing and complements the product's aesthetics. The black and gold colour scheme is classic and elegant, and the glow-in-the-dark ink adds a touch of whimsy and intrigue. At night, the packaging comes alive, casting a mysterious glow that is sure to attract attention.
The versatility of the packaging is one of its most impressive features. It is equally stunning in both daylight and darkness, making it a perfect fit for any occasion. Whether you are enjoying a drink at home with friends or attending a glamorous party, Chivas Regal's glow-in-the-dark packaging is sure to turn heads.
Conclusion
Chivas Regal's glow-in-the-dark liquor packaging is a marketing masterstroke. It proves that packaging isn't just a functional element; it's a canvas for storytelling and creating memorable brand experiences.
Harness Our Creativity at UCT (Asia)!
Are you ready to make your brand shine like never before? Take a page from Chivas Regal's glow-in-the-dark packaging playbook and illuminate your brand's future with UCT (Asia). Let's turn your marketing campaigns into captivating experiences! Contact us today to get started.