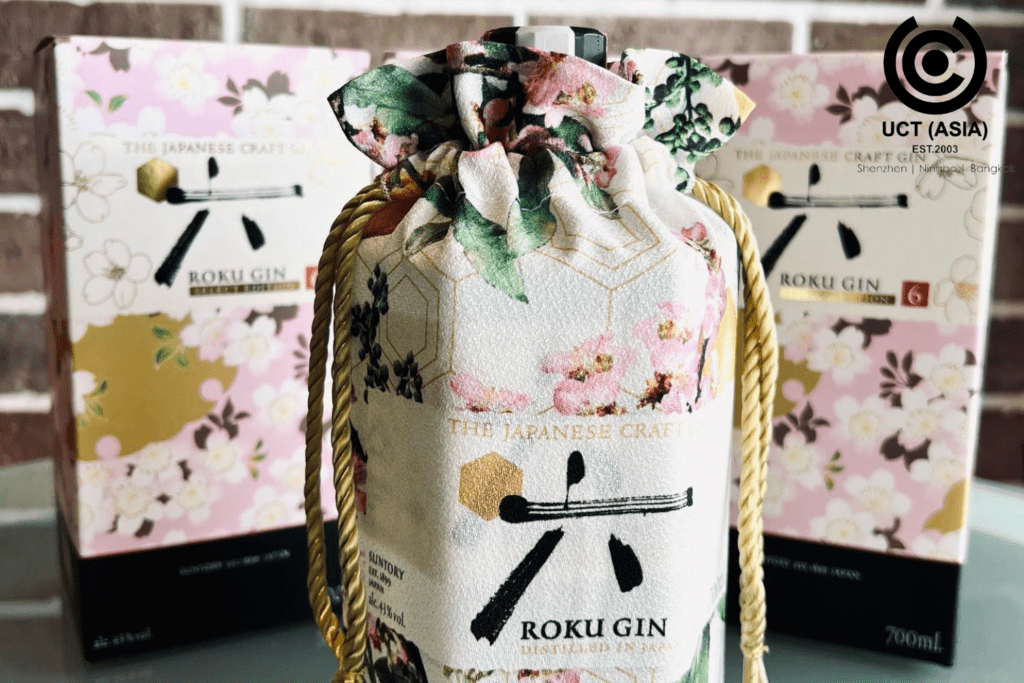 Global warming is a cause for concern in our contemporary world today. The threat posed by the depleting ozone layer is an eyesore for humans and animals at large. However, a more significant part of the causes of global warming is a result of man's activities in his environment.
Which invariably can be avoided or controlled by man. To avoid this environmental menace, brands must package their products with eco-friendly materials. UCT (Asia) featured Roku Gin recently to craft this quality fabric packaging bag that is eco-friendly and ethereal.
Roku Gin is a Japanese gin crafted using six unique Japanese botanicals and eight traditional botanicals. These botanicals are distilled, infused and blended by the Japanese artisans of Suntory spirits in Osaka, Japan, giving the gin the bossman vibe!
What Is So Exceptional About This Fabric Packaging Bag?
Eco-friendly packaging has been a legislative mantra for brands over the years, yet; many brands still prefer to use non-eco-friendly fabrics.
However, not only are the eco-friendly fabrics environmentally friendly, but they are also sustainable and handy for consumers' comfort. Not so bad is the era of cardboard and paper as packaging materials for consumables, but adding a spice of creativity would do it better and give you an edge in the market.
Roku Gin has held the market spellbound with this undaunting sustainable packaging idea. This bag is not only eco-friendly but luscious. Its eye-catching features carve a niche for it in the market.
Benefits Of This Quality Fabric Packaging Bag!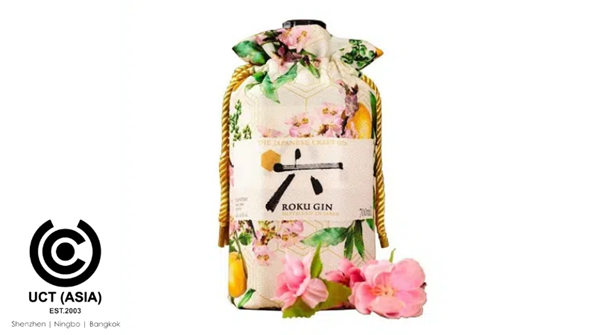 1. Comfortable and handy
The handy and straightforward nature of this fabric bag makes it a must-use for all customers.
The adrenaline rush that comes over consumers each time they shop for consumables may be alarming.
That is because most consumers' bags are made of low quality, thereby reducing their durability. Customers are indirectly scared of shopping for fear of their bags not tearing on the way.
2. Stylish
The stylish nature of Roku Gin's fabric bag and its customization is at the top of the list for customers. The style is the epitome of what the Japanese tag as furoshiki. Furoshiki is a traditional Japanese wrapping technique for goods and the elegance of it all.
With its varying resplendent colors and cherry blossom prints, this fabric packaging is unnegotiable.
3. Eco-friendliness
What better attribute do we say of Roku Gin's quality fabric bag than this?
This brand's packaging is not only beautiful to behold but safe for man and his environment as well. Roku Gin has carved an indelible niche for itself in the marketing world today!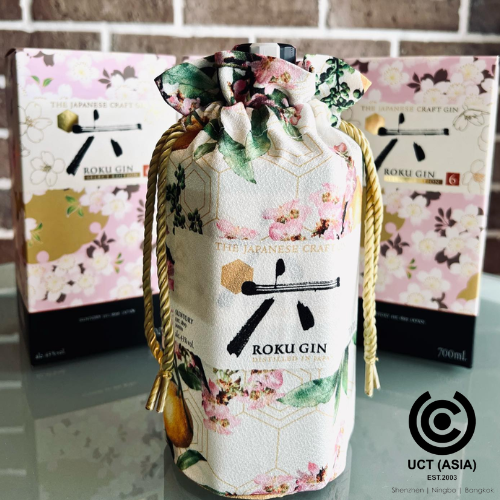 4. An Excellent Gift For Loved Ones
Roku Gin stylish bag is the perfect gift for your special ones! Get an eagle-eyed view of Roku Gin when you next visit the grocery, and it would make a perfect gift for him.
The elegant appearance of this product on the shelves of a supermarket makes a lasting impression on prospective customers.
Ultimately,
The creativity of Roku Gin can not be overlooked. From its reusability to its sustainability, Roku Gin is a perfect prototype for your next promotional idea.
Let's Help You At UCT (Asia)!
Together, we can make our world smile again with the Renaissance of our ecosystem. We can help promote your brand with our eco-friendly fabric packaging.
Contact us today at UCT(Asia)!