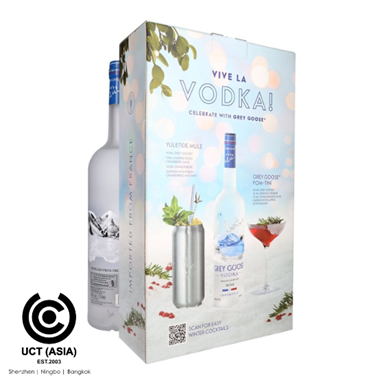 From nosing whisky glasses to wine glasses to beer tumblers, most brands have favoured custom glassware when it comes to choosing the best promotional merchandise to pair their drinks products with. Grey Goose, however, wows consumers by offering free custom soda cans instead.
Here's why we love this simple, yet clever promotion!
Grey Goose, a French brand of premium vodka, offered consumers custom soda cans as gift-with-purchase items paired with their favourite vodka. Consumers are also invited to know more about the drink's recipe through the QR code they can scan from the product packaging.
5 Reasons Why We Love This Fascinating GWP Idea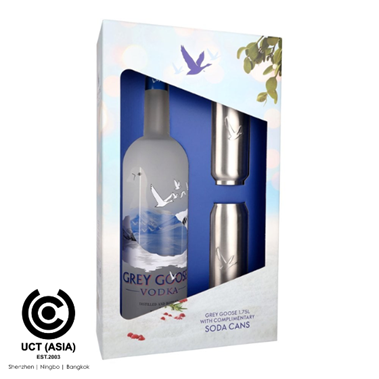 Known for being pacesetters, Grey Goose once again defies the norm with these thoughtful and practical custom soda cans. Here are 5 reasons why we love this fascinating idea:
1. They Go Well With The Product
Gift-with-purchase items are generally complementary to the main product and help consumers enjoy their experience with the product.
This is why the two custom soda cans are a perfect promotional idea. These soda cans complement the premium vodka and go well with it.
2. Special Drinking Experience
Drinks are best enjoyed with friends and loved ones. By offering two custom soda cans, Grey Goose encourages consumers to share and enjoy the drink with other people.
When used together with friends and family, these custom soda cans can create top-of-mind awareness among consumers.
3. Nicely Branded
We love the clean lines and simple form of branding on each can. Each customised can look elegant, which suits Grey Goose's target market. Likewise, we love the "flying goose" logo of the brand which represents the brand's idea of flight and lightness.
Additionally, these cans are easy to customise, which allows brands to create designs that suit them.
4. Quality
The quality of your products earns you customer loyalty and helps build strong brand recognition.
Made from stainless steel, the custom soda cans are durable and of top quality. This assures consumers that the brand had them at heart when they chose the gift.
5. Useful Gifts
Of what use are beautifully designed gifts if they're not useful to your customers? The gifts attached to the product should be compelling enough to make people want to buy. And one way to do that is by offering gifts that will solidly impact your customers.
These soda cans, for example, gradually become a part of them with every use. Also, the cans can be used for cocktails and are designed to stop your ice from melting.
In Conclusion,
When used effectively, custom soda cans are great promotional items. It assures customers that the brand has their best interest at heart and opens up massive marketing opportunities for the brand.
Work With UCT (ASIA)!
UCT (ASIA) is an expert company that deals with the production of promotional merchandise and the creation of innovative displays and packaging.
We work closely with our clients to give them the best quality services tailored to meet their marketing needs.
Contact us today to get started!