A top-selling brand like Heineken is known for its superb marketing strategies and customer retention capabilities. With over 150 years of dominating the beer industry, it has stood the test of time and won the heart of men. A brewery known to produce bland and decent beers consistent in quality, taste, production, and distribution across different countries.
Carrying out various marketing campaigns and the implementation of different promotional items has helped its brand development from the beginning of time. One of the promotional gifts that promote Heineken brand's awareness is the promotional keychain featured by UCT(Asia) in Denmark.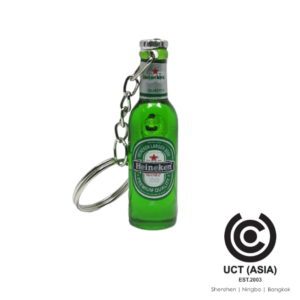 A keychain is a valuable item that helps to save time and energy. Corporate individuals who have a lot of properties and duties usually own three or more keys which are required to always be available with them just in case the need for them to use any of the keys arises. Owning multiple keys without having any tool to help organize them or keep them together makes life a bit difficult and that is where the promotional keychain becomes effective. Below are the highlighted importance of a keychain;
Serve As A Decorative Accessory – Personalized keychains serve as fashion items that help to organize keys. Oftentimes, people like to add a fashionable accessory to their purse, wallet and bag just to make them feel more stylish. Some other individuals like to add fashionable accessories to their outfits to reflect their personality or to represent what they stand for.
Serve As The Best Souvenir Items – Souvenirs are means of showing loved ones the level of our affection and serve as a constant reminder of our care. Traveling to a new location or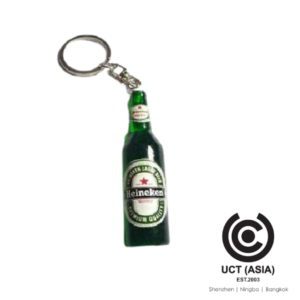 visiting one's favorite museum or going mountain hiking for the first time? Getting a personalized keychain that keeps the memories of the special visit or event, and also gifting them to our loved ones shows the level of affection we have towards them.
The various benefits of keychains are not the only focus of this article, we also have to ask questions such as; How do promotional keychains promote Heineken's brand awareness?
How do promotional keychains promote Heineken's brand awareness?
High Utility Value – Branded keychains give value to its recipient and serve them a lot of beneficial purposes which helps to increase their retaining abilities. The utility value of this item makes it almost impossible for recipients to include it in their daily activities, thereby giving Heineken a great level of visibility. A well-visible promotional item leads to a higher brand awareness which in turn leads to a higher percentage of new lead generation.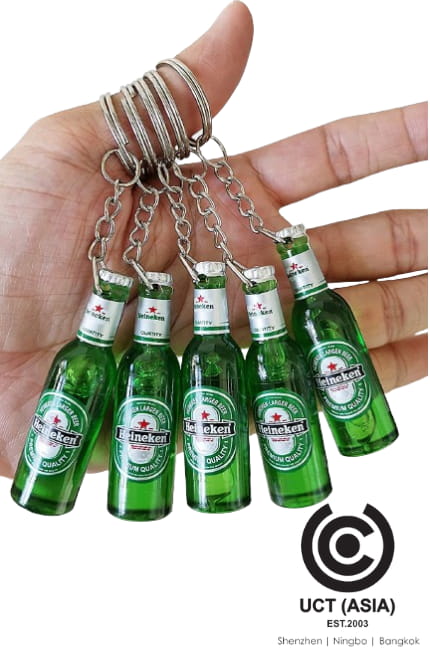 Increase In Customer's Trust And Loyalty – The continuous perception of Heineken logo in their homes and environment subconsciously increases their trust in the brand. It automatically increases the chances of customers getting Heineken products over other beer brands due to their familiarity with the brand. They instantly feel a connection whenever the exquisite logo is sighted, therefore increasing sales and customer retention.
How Can UCT (Asia) Help?
Confused about what promotional item to choose? Or are you stuck on a marketing idea and don't know the way forward? Worry no more! We are here to guide you through every step of the way.
With several years of experience in the Beverage and Spirit sector, UCT(Asia) is well versed in the various techniques and skills required to manufacture promotional items that give your brand the marketing boost it needs at an effective cost. We work with the best product designers and merchandise manufacturers in the industry. We also partnered with the finest marketing strategist and experts just to give you the best marketing directions you need for your business.
Contact us for a branded plush beer today.