Yes! It is exciting to be present in a beautifully multi-colored lighted and designed bar, especially, the ones complemented with attractive neon display signs that shout out how interesting and fun-filled the bar operates. Although Pub bar signs are quite old and popular, it doesn't change the fact that they boost bar traffic magnificently. So, if you're a bar owner or restaurant owner looking for the most deserving promotional item for your bar/restaurant, this might be your last bus stop.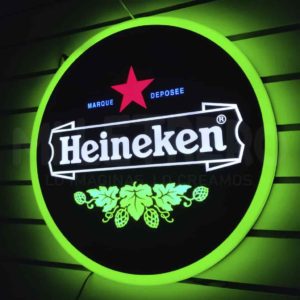 Due to our extensive years of experience in the beverage and spirit sector, we are well updated with the latest trends in the market to effectively boost your brand's values and public awareness. UCT(Asia) thought of creative ways to sufficiently boost sales in pub bars with unique promotional items, hence, the production of the Heineken branded pub bar sign.
So, What are you waiting for? Reach out to our team today, and let's get your bar marketing campaign started!
What's The Secret About Heineken's Pub Bar?
Nostalgic – As a pub owner, one thing you want to ensure is that your customers feel reluctant to leave your bar and feel nostalgic enough to always want to come back. Ensure that you do everything in your capability to satisfy your customers to the extent that they develop an affectionate feeling of pleasure towards your brand. A good way to achieve this is by adding this exciting branded pub bar sign to your bar.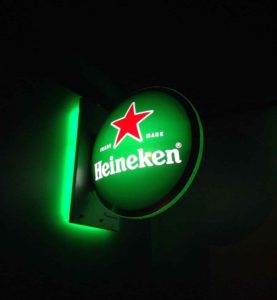 Attention Seeking – You'd want your enterprise to get all the attention as best as possible. This is because getting attention is one of the powerful actions in gaining more traffic and selling more products. The UCT(Asia) offered branded pub bar sign is a great tool to boost the attractiveness of your bar.
You need to give your brand the attention it deserves, Start now!
Long-Term Investment – Although pub bar signs are not the most affordable out there, it is assuredly worth the investment. You do not want to go for promotional merchandise that gets retarded after a while, you want something that seeks attention and traffic into your bar on a long-term basis. You also want promotional merchandise that constantly provides quality visibility for your brand. If this is similar to the goals for your business, then, what are you waiting for?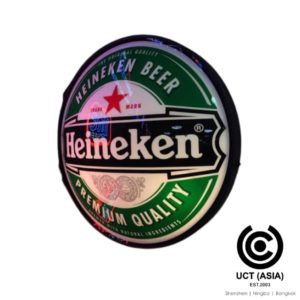 Target Customers Conversion – Regardless of how large a business is, it consistently aims to convert more target customers, as this means more sales and profits. The attractiveness of your bar and the level of excitation it gives to customers go a long way in acquiring new customers. The maximal usage of branded signs helps in great lengths to create more attraction for your brand.
What Can We Offer?
With several years of experience in the Beverage and Spirit sector, UCT(Asia) has gained expertise in the creation and design of marketing products that range between on-pack promotions, POS Displays, Corporate gifts, retail items, and point of sales Merchandise, all at an affordable cost.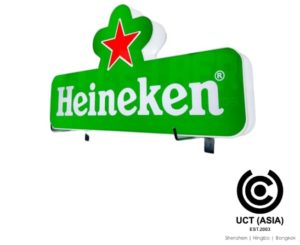 So, are you finally ready to stand out from your competitors? Or do you want to create an emotional connection with your customers with our durable promotional products?
Contact us today to create your branded beer cooler merchandise.