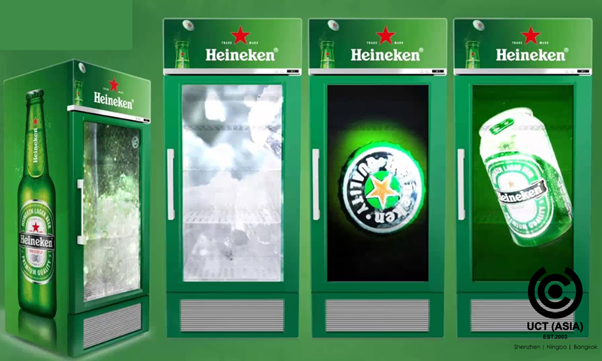 If you're in the drinks industry, then this post is for you. Today, I'll be talking about branded in-store refrigerators.
As we all know, drinks are best enjoyed when they're cold, which is why they're often stored in fridges. However, aside from serving as a means of preservation, these fridges can help you stand out from competitors in a very competitive industry. Want to find out more? Come with me.
Using branded fridges indeed requires a bigger budget, especially when you compare them to fridge stickers. So it's important to fully equip yourself with tips on how to use them to your advantage. This is why we've listed 4 tips on how to boost your visibility game with Branded fridges using Heineken's custom in-store fridge as a case study.
4 Ways To Boost Your Brand Visibility With Branded Fridge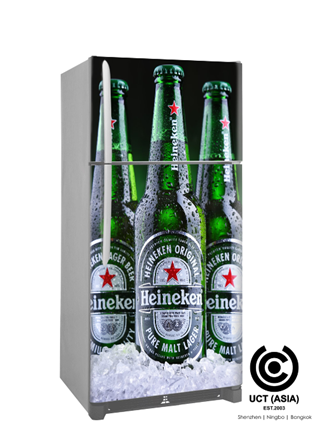 1. Maximise Space
Firstly, it's important to maximise all the available space on the fridge to your advantage. You can have huge fridge stickers take up the empty space on the fridge to promote your brand or other current promotions.
For example, in Henieken's case, they used a huge and attractive green star on the door. The beer brand used the sides to showcase other brand designs to further draw more attention from those angles.
2. Prioritise Quality
Quality is one factor that should be prioritized if you intend to win over customers who are spoilt for choices. The quality of your product or branded display generally influences customers' purchasing decisions.
Also, good-quality displays ensure longevity. High-quality branded fridges for instance would guarantee longer brand visibility.
3. Use Sufficient Openings To Tease
Another important tip is to ensure there's a sufficient opening designed to allow customers to see the drinks inside the branded fridge. People need to see what they're paying for, don't they? We can see this on Heineken's branded fridge which allows customers a look inside through a star-shaped opening.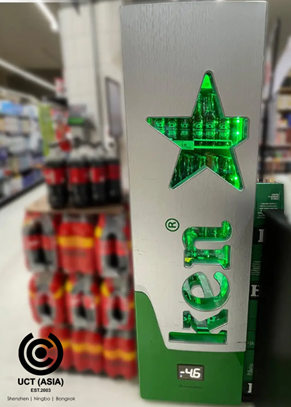 So, you too can utilise this strategy when designing your branded fridge to let your potential customers see the products available to them.
4. Use Proper Lighting
Finally, the design of your branded fridge is not complete without proper illumination. Proper illumination helps the customer have a good view of the products. It ensures that people can see the products even from a distance which helps bring potential customers closer just as it happened to our team at the store in Brazil.
Conclusively,
With the right planning, branded fridges are incredibly efficient promotional displays that could help you generate massive in-store visibility. Depending on the quality and strategy, it could help take your in-store marketing game to the next level.
You only need expert hands to help you. And this is where UCT (ASIA) comes in! Let us help you plan, design and strategize your branded fridge placement to massively boost your visibility game.
Likewise, we can also help you design your gift with purchase merchandise and provide creative marketing options for your brand.
Contact us now!