Jack Daniel's flask set with shots is a great gift to the drink fans. It's a gift with two stainless steel shot glasses and a flask funnel engraved with the brand's logo. It has the famous motto that has been famous since 1866, brightly polished with the saying, "Every day we make it, we make it the best we can."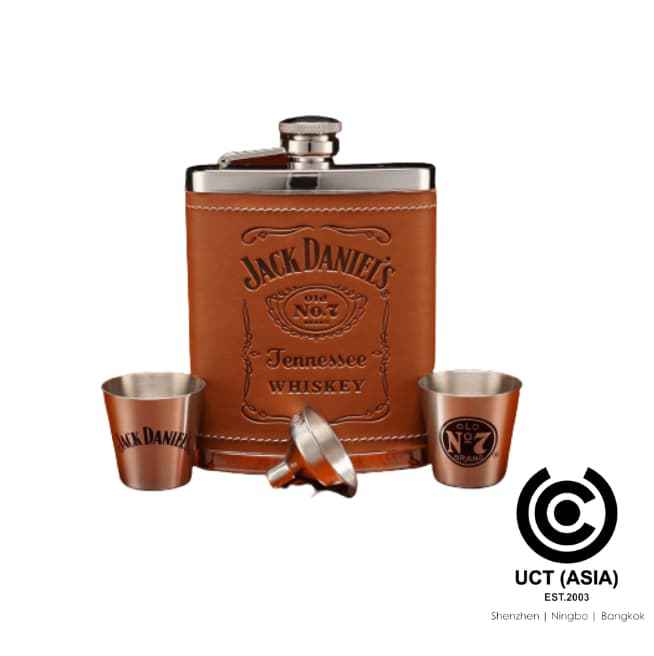 What to Learn From Jack Daniels Flask Set With Shots?
Drinking flasks has been with us, dating back as old as the stone age. Nobody can start the year it was invented. Although, the flask we see today was not used back then. The flasks at those times were made from animal skins and bladders.
So far, flasks are made from earthenware, wood, pewter, glass, plastic, and stainless steel like this Jack Daniels promotional product.
Flask has been with us, which shows how valuable it's for sipping alcohol. Good promotional products must be valuable items and serve a use. Therefore, if you are a brand in the same industry as Jack Daniels, consider a promotional product similar to a Jack Daniels flask set with shots not far from sense. It will make an impression that will last the same way the flask has been with us.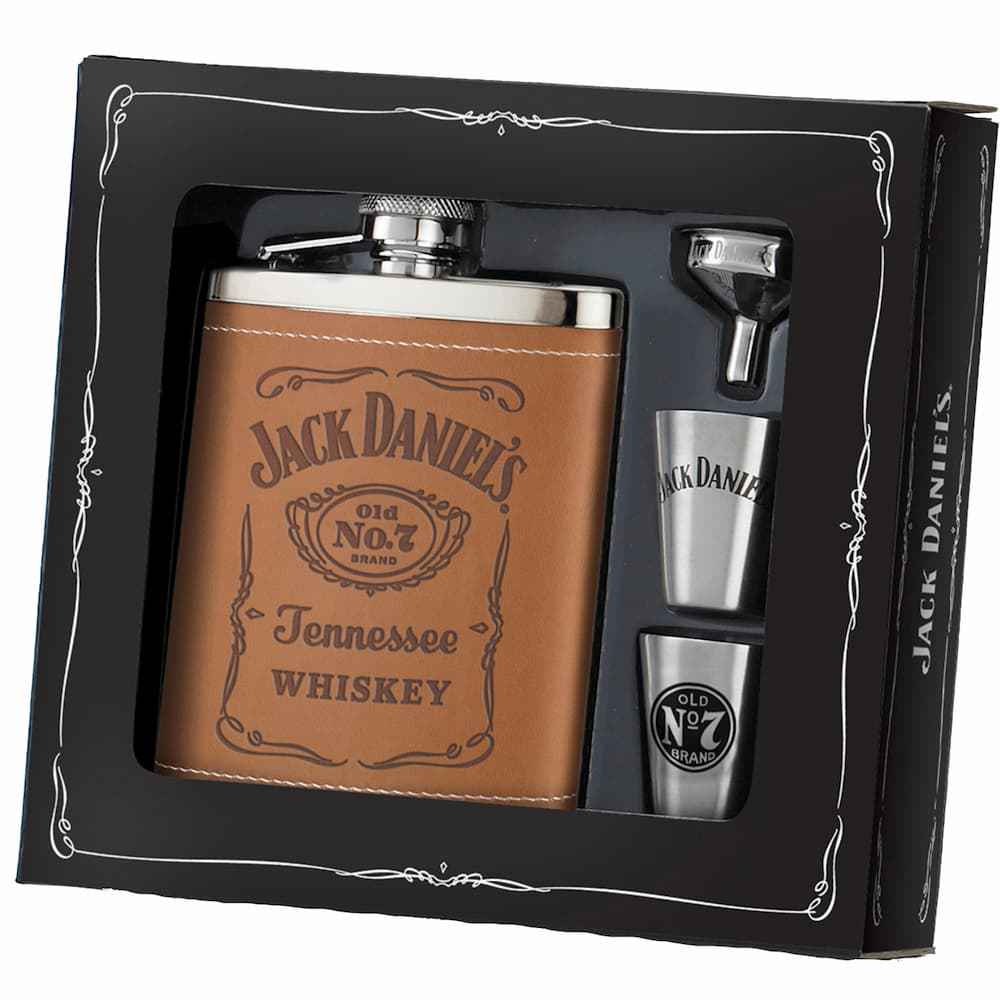 At UCT Asia, we are a team of professionals designing and manufacturing promotional items such as flasks. You will see results, especially when your logo or motto is like the jack Daniel flask set with shots.
We also noticed that Jack Daniel stainless steel shots that come with the flask make an effective promotional product.
Promotional Benefits Of Jack Daniel Flask With Shots
A flask is useful in carrying private alcohol everywhere and anywhere. A modern flask is a fancy beverage bottle similar to a pocket watch. We love carrying things in our pockets, such as a pocket wallet. A flask is an easy and practical way of storing your liquor in your pocket. Therefore, a flask set with shots is a good promotional product we can design and manufacture for you at UCT Asia.
Jack Daniel flask sets with shots are engraved with the brand's logo, which shows the promotional products are customizable. Therefore we can also assist you in imprinting your brand's logo to give you the impression your business needs.
How Can UCT Asia Help?
There are many ways we can come in at UCT Asia to assist your brand. Our top-notch marketing expertise, so we can guide your path in designing and manufacturing promotional products.
We have designed and manufactured for top brands since our year in the FMCG industry, and Flask sets with two shots are not beyond what will achieve for your brands.
Contact us today and let us expose your brand to the world.