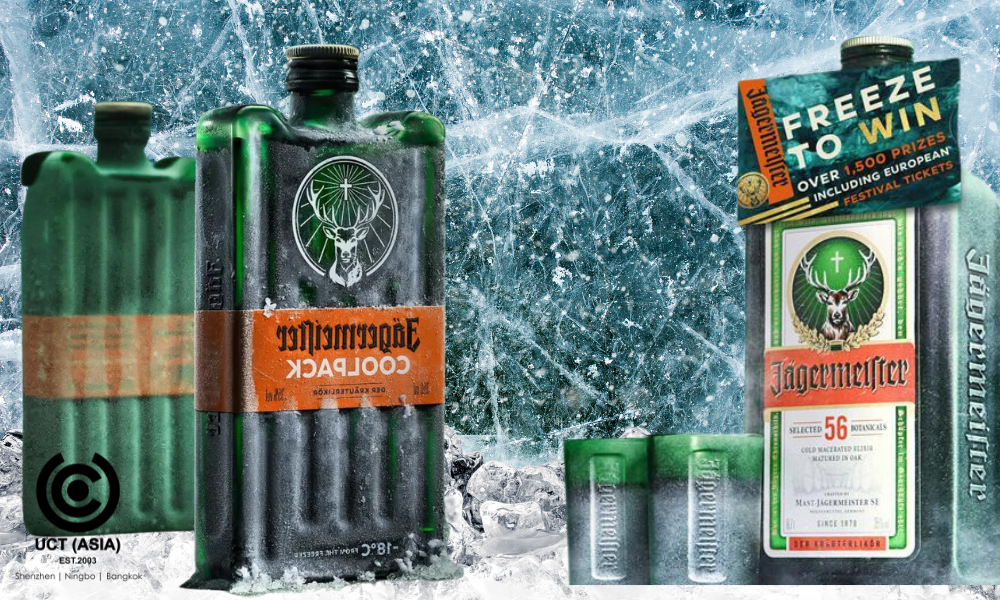 The big question is: given the fiercely competitive nature of today's market and the constant fight for attention by brands, what's your brand's unique strategy for staying ahead of the competition?
Well, we understand how difficult it can be sometimes to come up with innovative strategies. This is why at UCT (Asia), we're constantly seeking unique and effective marketing strategies to bring to you.
Today, we'll take a look at Jagermeister UK's 'Freeze to Win' promotion. This clever campaign is a great example of how to capture customer engagement and loyalty. Here are a few lessons to learn from Jägermeister's promotional strategy!
How Did Jägermeister Captured Customer's Engagement and Loyalty?
Customer engagement and loyalty are two of the most sought-after marketing goals. So, we have compiled 5 ways Jägermeister achieved it with this promo:
1. Unlocking The Thrill of Discovery
Jägermeister's 70cl promotional bottles come with a temperature-sensitive label. When stored in the freezer and chilled to a perfect -18°C, they reveal a hidden code. But how does this temperature trick engage customers?
This unique feature turns the Jägermeister promo into a mysterious interactive experience with an infusion of anticipation and excitement.
Customers are drawn in by the thrill of discovering the secret code.
2. Tapping Into The Desire For Instant Gratification
In today's fast-paced world, people crave instant gratification. The 'Freeze to Win' promotion caters to this desire perfectly. Consumers don't have to wait days or weeks to find out if they've won. As soon as they've chilled their Jägermeister to the perfect temperature, they can instantly discover their fate.
3. Offering a Range of Enticing Prizes
The 'Freeze to Win' promotion features a diverse range of prizes that are sure to appeal to a wide audience. From festival tickets to branded merchandise, there's something for everyone to covet. This helps to broaden the appeal of the promotion and encourages participation from a wider pool of consumers.
4. Reinforcing the Brand's Core Values
Jägermeister isn't just about winning prizes. It's also about educating consumers on the best way to enjoy the drink. The temperature-sensitive label serves as a constant reminder that Jägermeister is best served chilled to -18°C. This helps to reinforce the brand's core values of quality and authenticity.
5. Creating a Sense of Community
The promo fosters a sense of community among Jägermeister enthusiasts. As consumers share their experiences on social media, they are drawn into a shared conversation about the brand. This helps to strengthen the bond between Jägermeister and its loyal customers.
To Wrap It Up
By tapping into human psychology and offering a range of enticing rewards, the promotion has successfully captured the attention of consumers and boosted brand loyalty. You gain customer engagement and loyalty with marketing strategies like that of Jägermeister.
Let's Help You At UCT (Asia)!
With over 2 decades of experience, we only offer the best services. Our services include offering expert business and marketing solutions and delivering top-notch marketing campaigns for our clients.
We also help brands produce promotional products like innovative custom bottles like that of Jägermeister and many more.
Contact us today to get started!