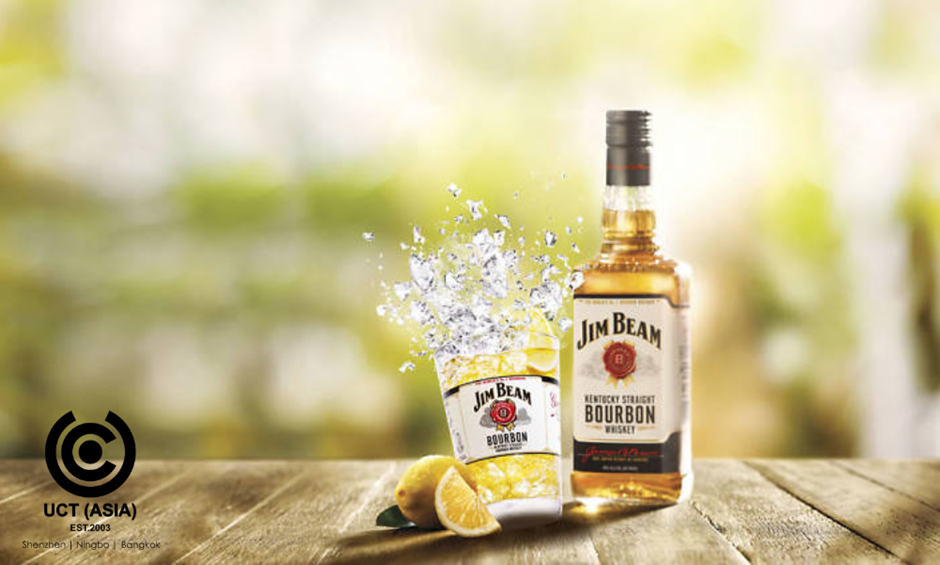 Every brand has one goal which is to be at the top rung of the ladder in their industry. However, due to several reasons, achieving this goal couldn't be more difficult. Amongst the challenges facing brands, competition between other brands tops the list.
To beat this competition, brands have to get creative and innovative with their strategies. If you run a brand in the liquor industry, you'd already be familiar with the struggle to create something fun out of the ordinary in a bid to stand out from the crowd.
There are several strategies to employ but today, let's take a look at customised games and how they can work as GWP items.
Jim Beam shows us how with this creative custom Jenga set.
Jim Beam's GWP Custom Jenga Set
Jenga was designed by British game designer and author Leslie Scott. It is a game that involves moving one block at a time from a tower of 54 blocks and placing it atop the tower. The last person to successfully remove and place a brick without falling the tower wins.
With its custom packaging design and brilliant on-pack offer, this branded gift set promotion by Jim Beam immediately piqued our curiosity. This pack includes a bottle of Jim Beam Bourbon Whiskey and a branded Jenga game set.
Top 4 Reasons Why Promotional Games Work With Liquor Marketing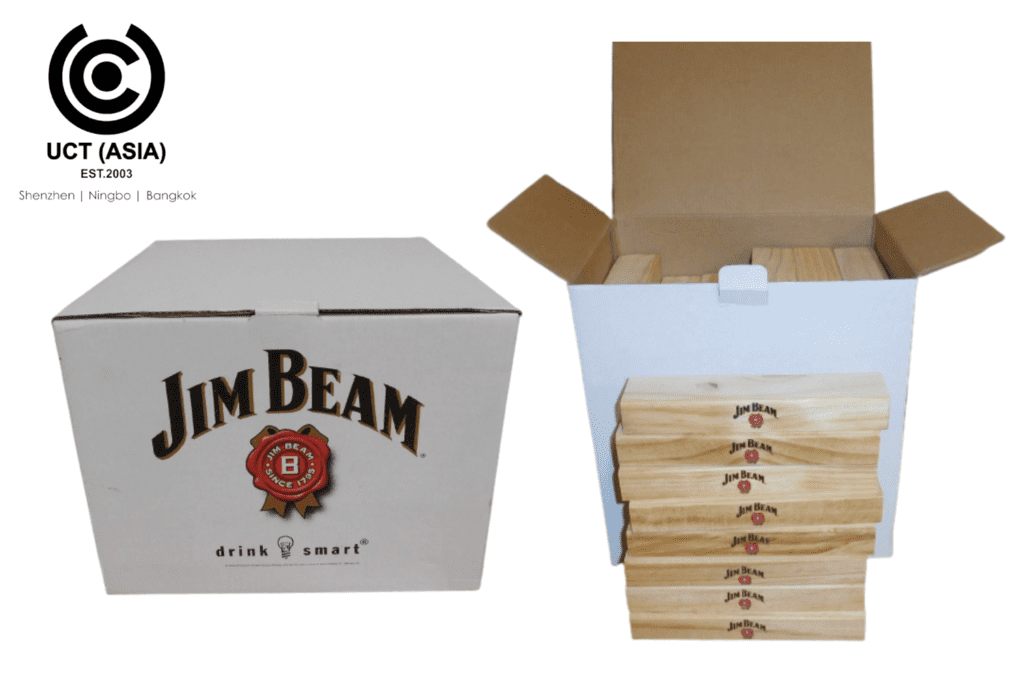 1. They're Customisable
Let's begin with the most important aspect which is branding. One of the benefits of using promotional games such as Jenga sets is that they're customisable. They allow you to choose any colour of your choice to match your brand image and have space to print your logo or slogan. This helps to broaden your brand exposure.
2. They're A Great Tool For Connecting With Your Customers
Games are generally memorable and can be a great tool to connect with your customers. You know how we connect our good experiences with the people we had them with? Yes, that's how your customers will connect the fun memories they had playing your branded games with your brand. This goes a long way to retaining them because they will always seek out your product whether they find them.
3. Everyone Loves A Valuable Gift
Everyone loves gifts. And you don't have to look too far to see why; people just love getting things without having to pay for them and it makes them feel appreciated.
One way to strengthen the relationship between you and your customers is by offering them gifts. Even better is when the gifts are valuable items that will be used repeatedly.
That's where custom promotional games like the Jenga set comes in. Customers will feel appreciated and will cherish the unique experience. In return, they'd market your brand for you by sharing their experiences with others.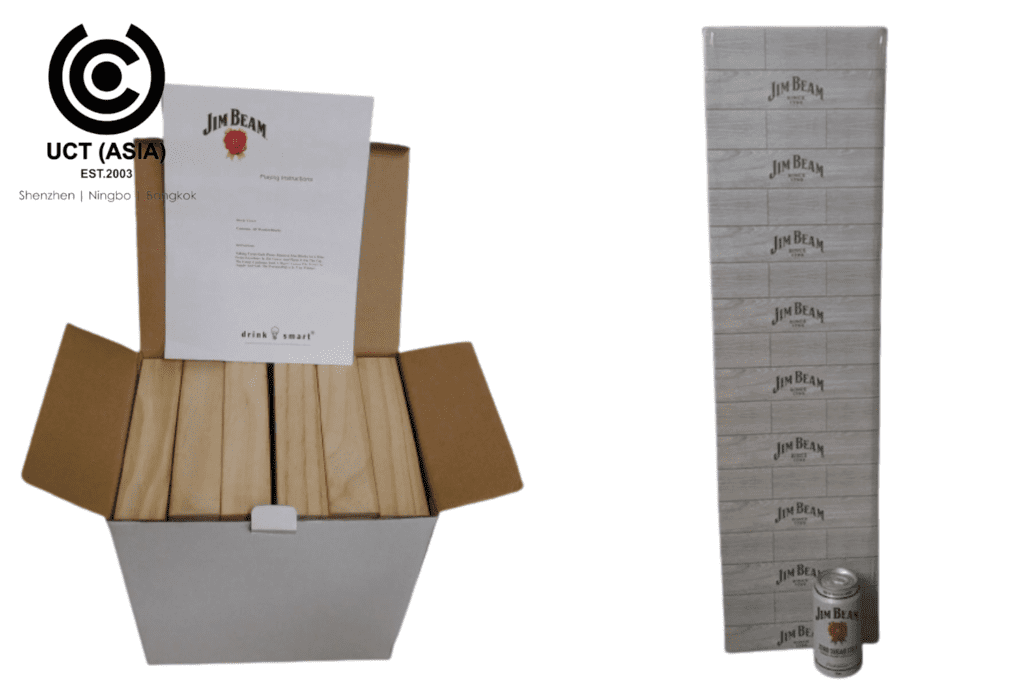 4. Games Are Engaging
When you use promotional games, you're getting your customers involved in your brand while they're having fun. The great thing is that your branding and message are present without even doing much.
Games are also ideal for engaging your customers at the stores.
In Conclusion,
Everyone loves freebies. Getting an additional item for free is always a good deal that's hard to refuse.
Customised games are entertaining and influence conversations between people, and that's why they're ideal for giveaways or GWPs.
How Can UCT (ASIA) Help?
At UCT (ASIA), we're always creating innovative strategies and ideas to make your marketing campaigns better. With years of working with brands in the spirit and beverage industry, we can definitely help you create the perfect promotional tool for your brand.
Together with our team of creative designers, we always guarantee top-notch products that will get people talking about your brand.
Contact us to get started today!