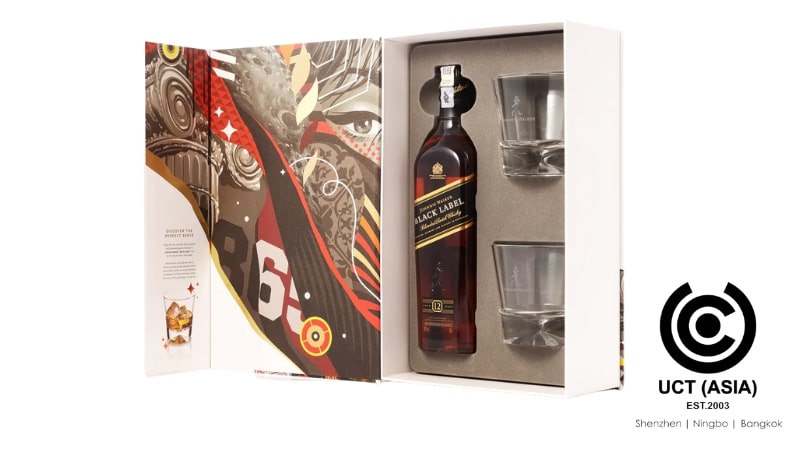 Glasses are the ideal complement for any liquor. Hence, the usage of glasses as promotional merchandise is common in the industry. Indeed, Johnnie Walker, the famous scotch whisky brand raised the bar between them and other drink brands by partnering with Japanese artist, Texa to produce this amazing drinks gift box.
Customers will get a drinks gift pack every time they purchase a bottle of Johnnie Walker Blue Label. In the gift box are two glasses as promotional gifts, with each designed to augment the distinctive taste of the liquor.
The fanciful packaging showcases the savoury flavours to be relished in the whisky.
4 Lessons From This Journey Walker Marketing Strategy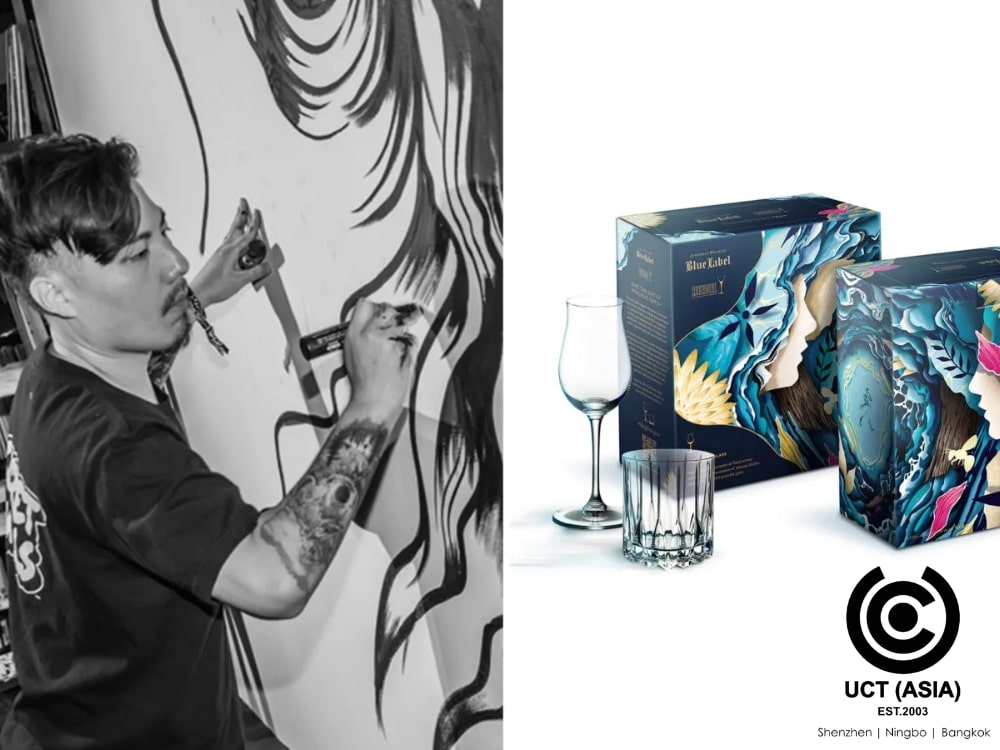 Still unsure whether to utilize a gift box in your packaging strategy? Worry no more because we have gathered, for you, 4 lessons from this collaboration that will encourage you.
1. Be Creative With Your Packaging
The first thing people notice on a product is the packaging. It can portray either a good or bad impression of the brand to consumers. Therefore, you must devote adequate time and effort to ensure you're creative with the packaging of your brand's gift box.
For that reason, Johnnie Walker partnered with a thriving artist to develop creative packaging that represents the brand's status.
2. Low-Risk Investment
Partnerships reduce the risk in investment for the involved groups because it ensures that you can key into a different market without incurring additional expenses and workload.
In this situation, Johnnie Walker's partnership with the artist elevated the luxurious value of the entire drinks gift box and introduced its customers to this designer.
3. Maximise Gift With Purchase (GWP)
Everybody loves freebies. It is a natural human trait. So, when people are offered promotional merchandise together with what they bought without extra cost, they naturally want to purchase the product.
Johnnie Walker, in this collaboration, offered a set of glasses that makes the product even more valuable and entices the consumer to buy.
4. Compel Quick Purchase
Whilst offering gifts with purchase is one way to compel people to buy your products, offering the gift for a limited time also has a way of compelling them to make hasty purchases.
Generally, people realize that the value of the product and the gift is top-notch, so they will be urged to buy in order not to miss out.
In Conclusion,
One reliable strategy for boosting your sales as a brand is by offering gifts with purchase, and by working with another brand in collaboration, you can reduce the cost of producing the promotional gift.
Furthermore, packaging these in a drinks gift box supplies a creative, ready-to-use feel to the promotion.
How Can UCT(Asia) Help?
With a wealth of experience in the spirit and beverage industry, we can help you manufacture and customise your chosen promotional product. Our team of creatives will work closely with your brand to transform your imagination into the desired product.
Don't hesitate to contact us today!