Getting new customers to purchase products isn't an easy task. It can only become easy by following the right route and creating the most creative campaigns. Choosing the right promotional merchandise for a creative campaign is key to creating enormous brand awareness about your brand. You may be wondering, "what benefits will my brand get from an increased brand awareness?" Relax and get the answers to your question in the rest of this article.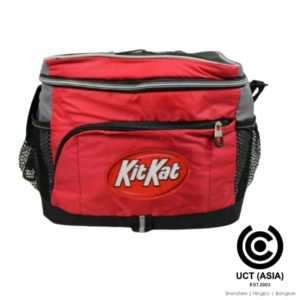 It was a pleasurable day in Florida, United States when we sighted the ingenious Kit Kat insulated cooler bag featured by UCT(Asia). It is important to note that UCT(Asia) has product design experts that can help you with bringing your creative ideas to reality. We also partnered with the most effective manufacturers and distributors in Asia to help in the successful creation of your campaign.
So, contact our team today, and let's get your next marketing campaign started!
4 Ways The Insulated Cooler Bag Improves Brand Awareness
Stirs New Discussion – The insulated cooler bag serves as the topic of new conversations, especially among women that are regular at supermarts. Spotting the branded insulated bag for the first time would stimulate curiosity and more questions would be asked, thereby stimulating the eruption of a new discussion. The start of a new discussion with your brand as the subject is an effective means of creating more awareness about your brand.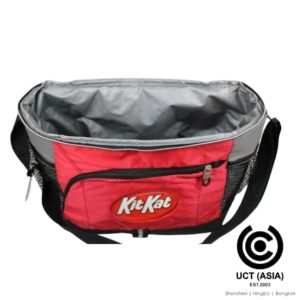 Advantage Over Other Competitors – Making a difference in the choice of marketing products helps to boost customers' retention towards your brand. Usage of common and regular promotional items in marketing may not be as effective as implementing ingenious and rarely used products like the branded insulated cooler bag. Asides from this, your brand stands out to customers, making your brand more known and remembered. Customers satisfied with your promotional cooler bag would also give recommendations to their friends, family and loved ones.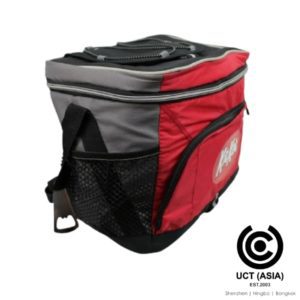 Long-lasting And Durable – The outer part of the promotional bag is made of durable and thick material that is sustainable and hard to tear. The inner layer is made of an aluminium insulative material that is also durable in nature. These ever-lasting materials will ensure that the cooler bag is used for a very long period. Therefore, your brand is given continuous visibility that is consistent with its usage. Continuous and consistent visibility of a brand leads to an accumulation of trust in the brand, boosting their confidence enough to purchase more of your products.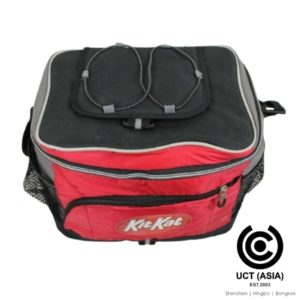 Applicable And Functional – It is useful for preserving the temperature of items. It can be used as a food bag or as a picnic bag to retain the heat of foodstuffs and liquids. It is a necessity for every event or organizational meeting to have food and drinks for enrichment, the insulated cooler bag will come in handy in preserving the heat of these food items. This attribute will make it a bit difficult for customers to dispose of, thus, giving your brand long-term exposure and marketing benefits.
In Conclusion,
Choosing the branded insulated cooler bag as your next campaign product will bring in more profit for your organization in the long run. So, make haste and take an action before your competitors see this creative and amazing promotional idea.
With several years of experience in the FMCG industry, UCT(Asia) is well versed in the various techniques and skills required to manufacture promotional items that give your brand the marketing boost it needs at an effective cost. We work with the best product designers and merchandise manufacturers in the industry. We also partnered with the finest marketing strategist and experts just to give you the best marketing directions you need for your business.
Contact us to rebrand your products today.