Moet and Chandon, more commonly known as Moet, is a fine wine from the French region of Champagne. It is one of the most popular and well-known champagne brands in the world, and uses a variety of promotional and point of sale items to promote its brand. Some of these items include Moet tables, Moet and Chandon DJ booths, Moet Ice Buckets and Moet Deck chairs.
Moet and Chandon has a long history dating back to the 18th century, when it was founded by Claude Moet. The brand quickly became known for its high quality champagne, and today it remains one of the most respected names in the wine industry.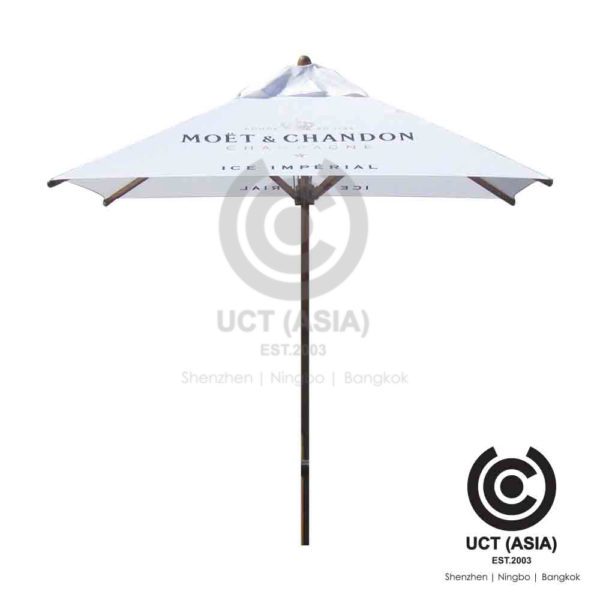 Amongst all of their Promotional Products the Moet parasol for bar and patio furniture stands out as a great point of sale item that can't be ignored in the marketing world. Branded parasols are incredibly used as a marketing tool to enable brands to boost their brand appearance and recognition. The outdoor look is important for any brand, and no wonder the Moet parasol is attractive and functional. A parasol is a form of umbrella that protects users from the sun and other elements.
Our team can help you design a matching parasol with your logo, marketing information, and color choice, useful in any weather.
The moet parasol is awesome for outdoor events, pubs, cafes, restaurants, and more—a practical means to drive sales and patronage from passersby.
Moet winery didn't overlook the leverage a branded parasol has. Apart from keeping the users dry, it gives ultimate brand recognition, and it's the main purpose of promotional items to act as a great marketing strategy.
Deciding on a promotional or point of sale item that is helpful and valuable is important when promoting a business. Parasol is a great desirable gift because it's used daily in restaurants or any social gatherings. Other promotional items such as mugs, pens, and shirts are also great due to their affordability but short usage and may be discarded sooner than the parasol.
There's no doubt that the Moet parasol promotion item is helping the brand. Your business can also benefit from branded parasols in the following ways:
• It's a useful point of sale merchandise
If a promotional item is not useful, your brand might not get the attention you are searching for. Parasol protects from harsh climatic conditions from rain or thunderstorm. Also, the hot and feverish sun is avoidable using the parasol. It's used all year round, regardless of the season or time, so as the product is being utilized, your brand gets more exposure.
• Parasol is long-lasting
Some promotion items are quickly discarded, and the parasol is not like them. It's a product that promotes longevity. As it continues to perform its designated purpose, for months or years, your brand goes on enjoying the exposure given. Like Moet's durable parasol, selecting a similar long-lasting item will provide higher and extended returns on investment.
Its cost-effectiveness makes it harder for any other promotional item to match the exposure and impression your brand will gather over the years.
It's waterproof and not susceptible to heat. It doesn't have an expiring time, and homes, hotels, bars, and restaurants can use it as long as they want.
• It has high visibility
Using Moet Parasol as an example, the logo is visible because the parasol is usually large. There is a lot of space for creative design. There are vast ways of designing a parasol without confusing the customers with unnecessary information.
Conclusion
Promotional items have been used over the years as a low-cost marketing strategy. The same goes with the Moet Parasol and other promotional items to attract and drive sales. For long-term growth, brands from small to big establishments use these tactics.
Contact us today for your promotional item that is stylish and also functional.