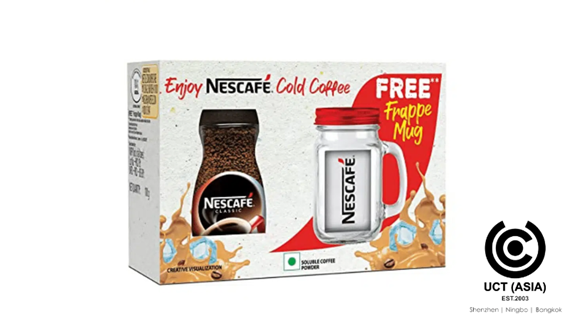 From the comfort of your rooms to the coziness of your offices, the unrivalled signature of Nescafe is non-negotiable!
Nescafe is a brand with worldwide acknowledgement in the coffee industry and known for its promotional blockbuster strategies. Still, this time, it's setting its identity on the crest of the market with its compelling and irresistible marketing campaigns!
This promotional marketing campaign is the epitome of benevolence and brilliance in trade. Nonetheless, in this promotion, Nescafe offers a gift in all its product packaging – a coffee jar and cup.
This excellent branded on-pack promotion from Nescafe consists of high-quality coffee cups and jars exclusively engraved with Nescafe's uncontested logo.
What Makes This Promotional Marketing Campaign A Hot Sale?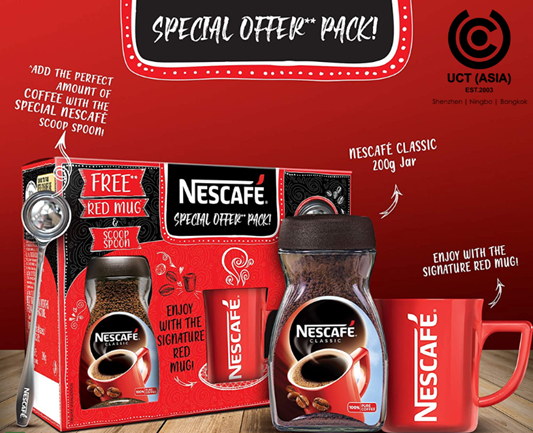 1. Appealing Customized Products Packaging
Customers love appealing packaging. Customized products are like magnetic fields that attract customers to make purchases.
However, custom packaging of gifts makes products appealing and therefore, customers can recognize a product by merely seeing it on display in a grocery.
A tremendous benefit of Nescafe's marketing campaign is the brief display of its product in a window box packaging.
Window box packaging is a perfect choice for this promotional idea. It allows for easy customization of products to varying sizes and shapes. As for Nescafe, its window box packaging resembles that of a coffee jar and cup.
2. Miscellaneous Benefits
The coffee jar and cup are imperative household items for other purposes than enjoying coffee.
The on-pack jar and cup can be used on the dining table or kitchen as a reservoir for water or another liquid. So we could invariably say that the Nescafe coffee jar and cup are multi-purpose items.
3. Instant Sales Ramp Up Through A Necessitated Urgency
Limited edition offer spikes the purchasing interest of customers. That means customers can only get these gifts for a particular time.
This promotional strategy is foolproof to skyrocket sales. This is because customers would want to hasten their purchases to get the gifts before they get exhausted.
To Conclude,
Discounts in sales are good promotional marketing strategies to scale up sales, but sometimes, they could toil on your profits and value.
That is because offering a product at a discounted rate would reduce your profit margin and damages your brand's reputation, and hence, associates your brand has been cheap.
This, therefore, comes with the need to augment your marketing campaign with promotional gift packs, which not only add value to your brand but also promote brand recall each time such products are in use.
Let's Help You At UCT (Asia)!
Are you tired of trying the same marketing campaign for your brand? Relax; we can help you grow your brand with our excellent marketing campaign strategies.
We specialize in promoting both newbies and already-established brands through our promotional gift packs, marketing snippets to ramp up your sales, eco-friendly packaging, window box packaging and many more.
Contact us today at UCT (Asia)!