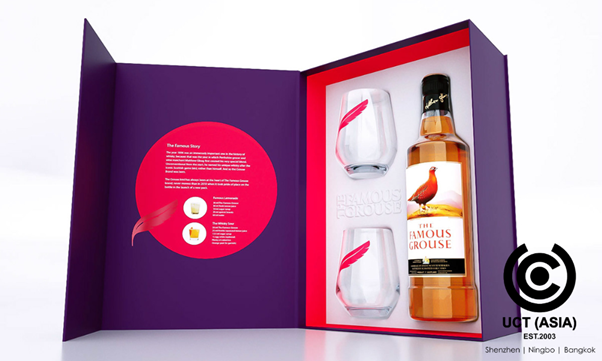 When it comes to your product packaging design, your customers decide if it's well-planned or not. As a result, it is important for you to know your customers and how they respond to your packaging. This will help you to improve the packaging of your gift set.
For alcohol brands like The Famous Grouse, it is important to deliver excellent gift set packaging and give your customers an exciting experience. Let's check out this remarkable example from The Famous Grouse.
The Famous Grouse, a popular brand of blended scotch whisky recently launched a branded gift set in the UK. This amazing gift set offers customers a special way of enjoying their favourite whisky. Not only that, but it also gives brands a chance to learn new and exciting ways to stand out with their marketing strategies.
What Are The Lessons To Learn?
1. Use Your Brand Name and Logo
The first lesson we can take from this packaging design is that using your brand name and logo is important. In our featured design, we can see The Famous Grouse's logo and brand name conspicuously printed on the front area of the packaging box. This makes it easier for customers to identify and remember the brand.
So, always remember to have your brand name and logo displayed on your packaging box!
2. Invest In Eye-pleasing Packaging Design
What people see most times determines if they will buy or not. People will likely buy a product that's pleasing to the eye than buy one with an uninspiring and boring design. This is why it is important to have a visually appealing design that can attract customers even from afar.
3. Keep Things Simple
While it is necessary to have an appealing packaging design, it is also important to ensure you keep things simple. One thing you notice about this packaging is that it is very simple. From the brand colours: grey and white to the glasses and the bottle of whisky, this design oozes simplicity, class, and elegance without unnecessary details or elements.
By keeping things simple, your product is allowed to really shine.
4. Ensure Your Packaging is Convenient
Your packaging should focus on pleasing your customers and making things easier for them. In this campaign, The Famous Grouse ensures that their packaging is stylish as well as convenient for their customers to carry.
They also showed creativity by using window box packaging that allows customers to see what's inside the package without opening it.
This helps to grab their attention and arouse their excitement.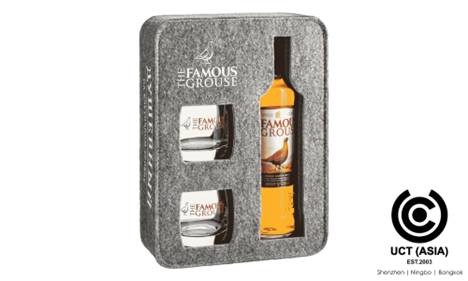 In Conclusion,
A branded gift set is always a great way to promote your brand. Offering customers the chance to buy more than one of your products at a time adds more value to them, and your packaging can't help give your products a unique feel.
If you want to produce a promotional gift set, then take a cue from The Famous Grouse branded gift set packaging.
Let UCT (ASIA) Help You
With decades of experience in the spirit and beverage industry, UCT (ASIA) is well-versed with the required knowledge, skills, and techniques to produce high-quality promotional merchandise that will give your brand a boost. We also work with a creative team of top product designers that will work closely with you to meet your design expectation. Experienced
Contact us today to begin this journey with us!