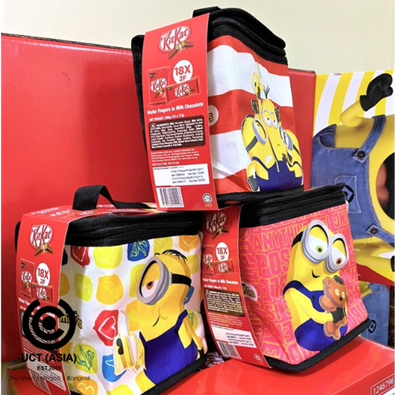 Everyone loves freebies, right?
Top brands understand this simple truth, which is why the competition to entice customers with attractive GWP campaigns is high.
Indeed, this promotion by KitKat at a supermarket in Singapore is a thoughtful and out-of-the-box idea. The chocolate brand, in collaboration with Minions, is giving out a glamorous insulated bag.
To get this high-quality bag, customers are to purchase 2 packets of KitKat products. This purchase rewards the customers while also offering them their money's worth.
Why We Love KitKat Insulated Bag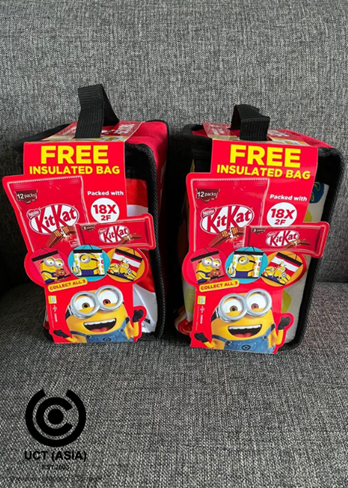 Including a high-quality product like the branded insulated bag is a fantastic idea as it effectively compels customers to take advantage of the chocolate promotion so as not to miss out. Here are 4 reasons why you should consider this desirable promotional gift:
1. Drives Sales
The main aim of every marketing strategy is to stimulate more sales. And promotional items are ideally the best option if you want to improve your brand awareness and inevitably make more sales.
The reason for this isn't far-fetched. Customers are constantly on the lookout for new products. So, to encourage them to leap at your offer, you have to be offering something that many others aren't. It could be a gift with every purchase or an on-pack merchandise. This is why this KitKat promotional campaign is a brilliant one.
2. Entices Customers
There is no sales boost without customers. And there will be no customers if you don't attract them. This is why this insulated bag with such quality and an attention-grabbing design is an excellent inclusion.
Additionally, KitKat also utilized a special in-store display to increase visibility.
Indeed, nothing persuades customers to buy a product more than freebies, especially if it gives them value for their money.
3. Practical Item
One of the main reasons why promotional products are still relevant in today's marketing world is their practicality.
A practical promotional item serves the customers for a long time, all the while promoting your brand in places other marketing mediums can't reach.
KitKat's GWP insulated bag is a practical item that will be used frequently. It can also serve a variety of purposes including that of a kid's food bag due to the design.
4. Customisable Item
Customisable items give you an edge because they can be tailored to fit your brand's identity and customer needs.
This promotion, for instance, sees KitKat use an animated character inspired by the Minions to promote their chocolate bar since children (and their parents) are seen as their target audience.
To Wrap Up,
An eye-catching display attracts customers and a valuable offer is a sure secret to boosting your brand. Try this marketing strategy in your next campaign!
How Can UCT (ASIA) Help You?
At UCT (ASIA), we're vastly experienced in product production and design. We can help you with your promotional gifts and POS displays. Our efficient team will ensure your budget is effectively maximised through excellent product sourcing and design services.
Get in touch, today!