Jameson is an Irish whisky brand blended by Irish Distillers, and of which the distillers have been a subsidiary of Pernod Ricard. It's one of the unique brands of the six major Jameson Distillery Bow St.
Many stores have boring displays to promote their businesses. An unappealing display drives few customers, but Jameson has an imaginative way of using attractive displays to attract customers. In-store displays like Jameson easily entice fresh customers, and it has always been the cheapest means of promoting a product. Jameson's display are great quality and help give the brand its well-deserved impression.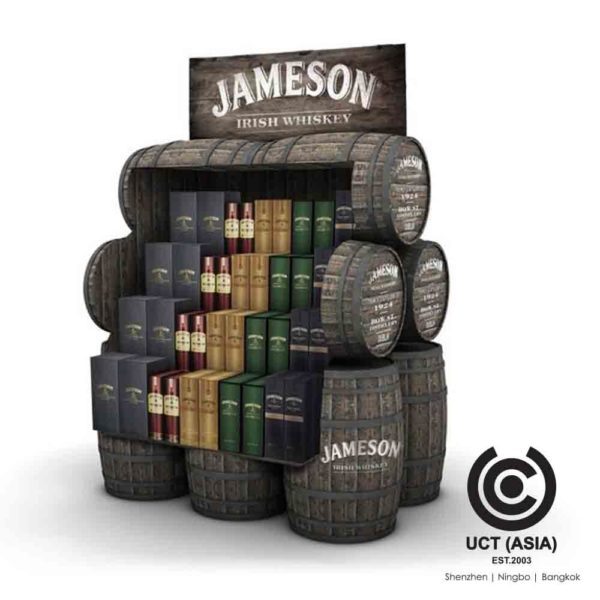 Working towards quality is what Jameson's drink cultivates. It's what makes them different from the other whiskey brands. Jameson's designs are displayed not only to promote their product but also to educate and update their customers. To differentiate your brand from other competitors, using a display such as Jameson will bring light to your brand. Therefore it's good to always learn from other brands.
A good display must balance the information or content being passed not to bore customers with unnecessary information. If the display says too little, the message may not be obvious to an average customer. Jameson displays always strike a balance, so their display does its job. According to Nexgen, human buying psychology is influenced by eyesight.
Creative promotion is the lifeblood of any brand. A ripe market needs to be empowered, and top brands go big on creative promotion for prospective and existing customers. Jameson has lots of promotion products, items and packages, so here comes Jameson Display; they are of different types and could be the one displaying one item, one that displays a similar item, the type displaying a related item and finally, the type showcasing a mix of items. Jameson used the display to promote its brand creatively.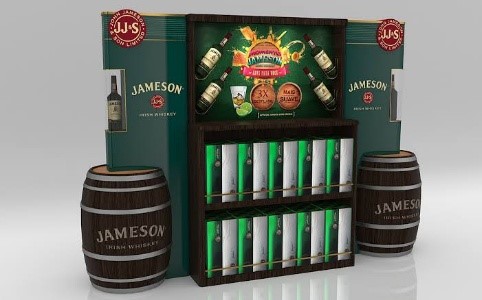 A good display idea in a good location in-store can accelerate purchasing goals. Displays boost sales and direct customers who are there for a shopping experience.
Here are the benefits a POS display gives brands:
• Shoppers can interact
Display successfully leads customers, which drives big interactions. It's an advantage that offline marketing has over online because physical interaction is feasible and mostly used through displays like the Jameson Display. Virtual world consumers have this sort of interaction and experience with products.
• Customers' attention is guaranteed.
Promotional displays in large format, unique shapes and designs grab shoppers' attention easily. It's eye-catching, motivating a shopper to reach for the product on display.
• Display promotional success can be predicted
When a display is creatively done, it can reach even more than a 300% success rate. The display creates brand experience and emotions and showcases products in a thoughtful design that encourages shoppers to go for the particular product.
Conclusion
Jameson, since the 19th century, knows how to drive customers. This whisky brand giant used to display in a significant place in-store or in other selling environments. In modern retail, a store's aura is vital in developing physical qualities that create a fascinating image to entice customers.
Contact us today for a display similar to Jameson's display. We create and design promotional items that can increase your brand awareness.