Grey Goose is a great vodka brand originating from France in the 1990s. The brand is now part of Bacardi's high end brand portfolio. A quality bar mat from the brand as a point of sale merchandise or a promotional product is great for brand exposure. It's bar equipment that has the brand's name and logo on it.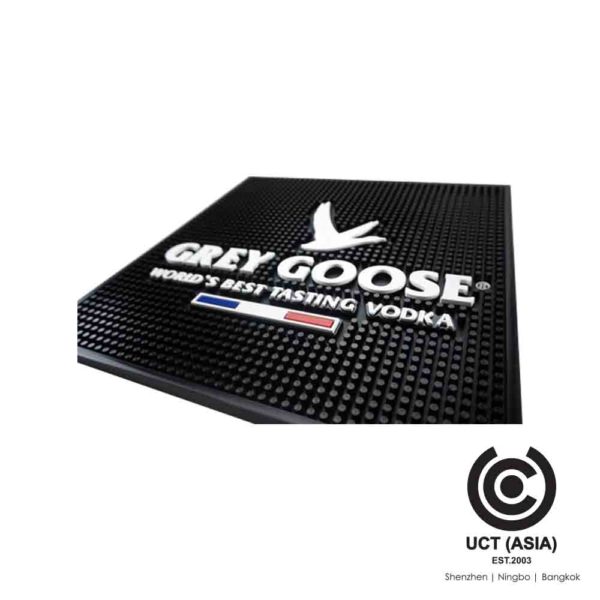 Why This Drink Promotion?
The design is top-notch. The brand's name and logo are printed easily noticeable.
Bar Mats are important for protecting people and drinks from falling. It helps render grip on wet floors so that water flows through its surface, enabling the liquid on the walking surface to dry up instantly. Bartop mats similarly can have a brand logo, and its major duty is to prevent spills when serving drinks. Every bar mat is made from an excellent rubber compound that has the quality of mold, grease, and oil resistance and handles water always. Bar mats ate clean by power washing, hosing down, or wiping.
It's also useful at home when making drinks.
Regardless of how clean, mindful or careful someone is, drink spills, especially during mixing. Therefore the bar mat can handle the mess.
Cocktail stirring doesn't grip on a wooden ledge the same way glass does on a rubber mat. Stirring with a bar mat makes the job easier. It's essential for any bar, whether big or small.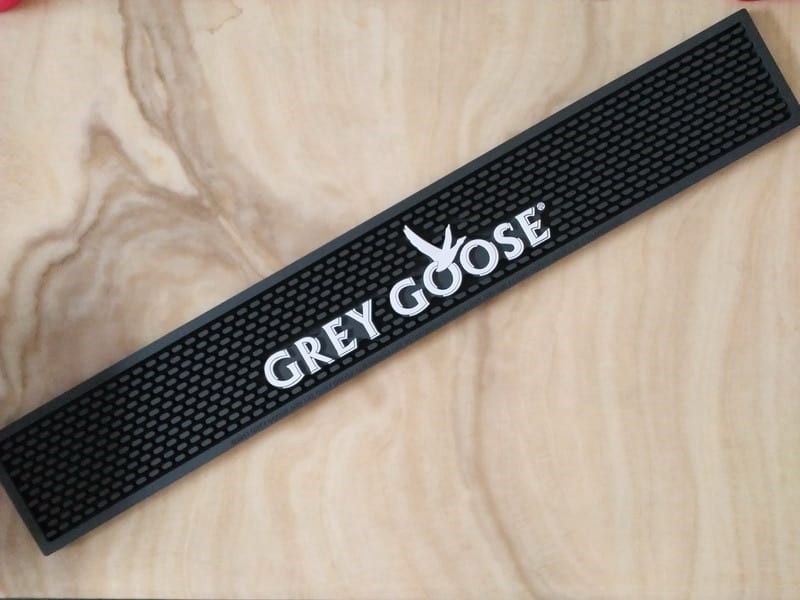 There is no doubt Grey Goose mat is a thoughtful way of marketing a brand because it sits on the bartender's side. Its uniform rubber fingers make it popular to avoid spillage everywhere. It's useful for the bartender, who places glassware on it and pours drinks. It's different from a bar mat, and the brand always has a logo.
Branded promotional bar mats are overlooked. This underrated item can do the magic you are looking for in a promotional product. Your business can benefit a lot from using customized bar mats from exposure to awareness, to mention a few. Let's expand more on its advantages to your drink promotion.
Taking advantage of a social setting is a nice idea when promoting your brand, and a bar mat display in such an atmosphere heightens awareness and recognition. It can play a banner role that includes all necessary information you want to pass to a potential consumer.
When seeking a cost-effective promotional product or point of sale item, considering a bar mat like Grey Goose is not offbeat. It's a product with longevity, and brands benefit from its long-term usage.
Emphasize Brand Product Portfolio
For instance, Grey Goose Bar Mat adds to the brand's product portfolio, a market that's not what the branding is known for. Learning from the top brand will help your brand when it comes to choosing a custom promotional item. It is another way of emphasizing your reputation through a helpful brand impression.
Conclusion
At UCT (Asia), we have a great understanding of product design. Our team is experienced in giving the client a range of exceptional promotional gifts they can pick from.