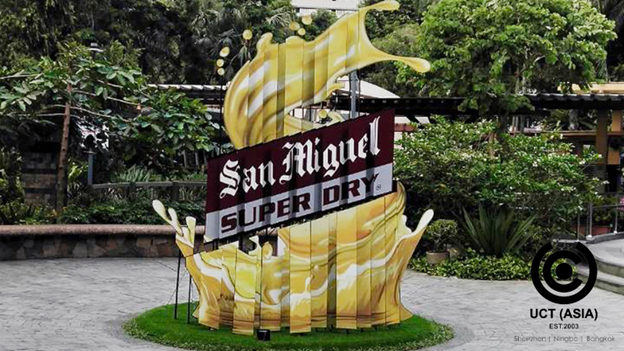 Anyone can own a brand, but not everyone can manage it well! That is why a successful brand must be strategic in planning its ways.
In a world where the free trade market is thriving, the ability to be at the top of the market lies in how effectively you portray and package your brand and products.
Promoting your brand fascinatingly and exceptionally is a key to conquering the unseen forces in a competitive market. Take a look at this promotional art installation by San Miguel in the Philippines; you will realize the uniqueness and benefits of this marketing model!
San Miguel brewery Inc, one of the largest beer producers in the Philippines, has illuminated and rekindled its brand's visibility in the Philippines with its premium promotional art installation.
What Must You Know About Promotional Art Installation?
The promotional art installation is a fantastic way of advertising and marketing a brand. However, before installing promotional art, you must consider some factors.
The place of installation is a crucial factor in considering promotional art installation. You must establish your art in a strategic location that all can view. Also, the creativity of your art installation is another feature that attracts people's attention. Your promotional art installation must be alluring and charming from a distance to promote the brand's visibility.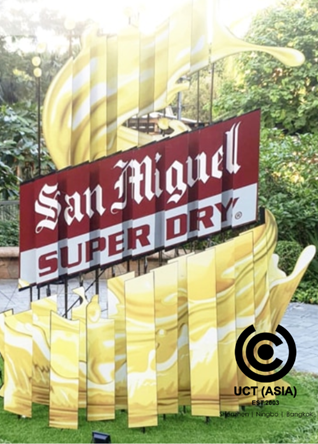 Taking into consideration of the time of display and action would help you know the type of art to install and the durability of products to use in its manufacturing.
Why It's Important To Leverage On A Premium Promotional Art Installation Like San Miguel?
Beer is one of the oldest forms of alcohol consumed by people to satisfy the pleasure of the moment. Beer companies are in a constant quest for more patronage due to the numerous competitors in the market, hence the need to do something different – the premium promotional art installation.
Below are some of the benefits of using a premium promotional art installation;
1. Illumination Of Brand's Visibility And Awareness
Creating a brand that catches customers' attention at a glance is an outstanding achievement in the marketing industry.
However, the beer industry faces the problem of too many competitors, and unluckily, you are not always present in restaurants or bars to promote your brand. Hence, the need for something that captures a broad audience.
2. Increase Sales
The goal of every brand is to strike gold! Indeed, it is possible to hit this gold, provided you will go the extra mile more than other brands of similar services.
San Miguel has carved a niche with its premium promotional art installation. Prospective customers can now have a snippet about San Miguel and its variety of products by just viewing the art installation.
3. Arouse Interest And Promotes Value
Art is therapeutic and aesthetic! For a customer to patronize a brand, such a brand must have arisen a customer's interest.
The marketing voice and approach toward customers is a tactical way to preach value to customers. A well-packaged brand promotes the brand's value and rejuvenates interest in prospective customers.
Aside from interest and value, promotional art installation beautifies a place with its surreal illumination and radiance, making brand offerings irresistible.
In Conclusion,
The benefit of a promotional art installation as a marketing tool is innumerable. That is why San Miguel remains one of the most sorted-after beers in the Philippines.
Let's Help You At UCT (Asia)!
At UCT (Asia), we can ease you of the arduous task of finding the most befitting marketing strategy for your brand.
We are constantly making efforts to promote brands worldwide with our excellent services like promotional art installations, marketing campaign strategy and many more benefits.
Contact us at UCT(Asia) today!