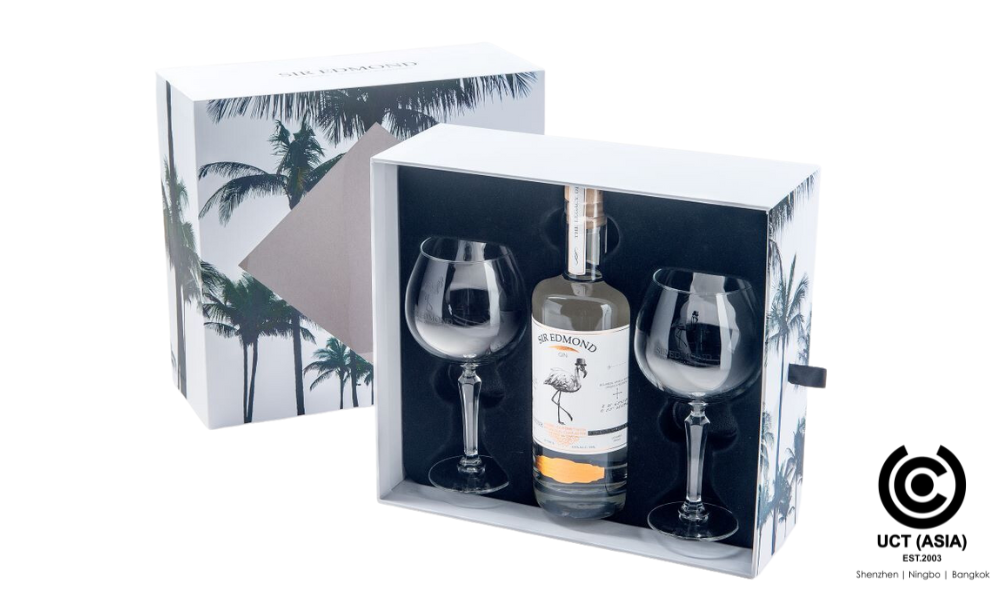 Are you in the spirit industry and ready to take your gin game to the next level? Then this post is for you!
As other industries grow, so does the spirit and liquor industry, too. This growth means the market will be saturated, with brands constantly seeking ways to stand out from the crowd. And one of the best ways to do that is with high-quality gift sets and bar merchandise.
Sir Edmund Gin is a brand that knows a thing or two about making a statement and taking a stand above the rest. Their gift sets and bar merchandise are not just beautiful, they're the perfect blueprint for brands looking to elevate their game.
A Closer Look at Sir Edmond's Gift Set and Bar Merchandise
Sir Edmond Gin is a premium gin that is crafted with the finest ingredients. Their signature bourbon vanilla infusion gives it a unique and delicious flavour that is sure to impress even the most discerning palate.
Sir Edmond Gin's gift sets and bar merchandise are designed to make the perfect gift for any gin lover. They offer a variety of options to choose from, so you can find the perfect set for any occasion.
5 Reasons Why This is an Authentic Way To Elevate Your Gin Game
1. Comprehensive Gift Set 
Sir Edmond Gin offers two sizes of gift sets to cater to varying preferences. The larger collection includes a full bottle of Sir Edmond Gin, two branded Copa glasses, two bottles of Fever-Tree tonic water, a cocktail measuring cup, a pourer, a bar spoon, and a garnish tray. It's like having a cocktail bar in a box, ready for your mixology adventures.
2. Simplicity with Style
For those who appreciate simplicity, the smaller gift set comprises two Copa glasses paired with a bottle of the brand's gin. What makes it special is the inclusion of a multimedia video card showcasing the brand's journey and an informative brochure. You'll not only enjoy the gin but also learn about its origins, and production process, and even get some cocktail recipes.
3. Perfect for Gifting
As Sir Edmond Gin Brand Manager Julia Keijzer points out, these gift sets are "perfect to give as a gift." They offer a complete gin experience, from glassware to gin and everything in between. They make ideal promotional products or gifts to impress your clients or associates.
4. Eco-Friendly Packaging
Crafted with eco-consciousness in mind, these FSC-certified gift sets align with your brand's sustainability goals. They are obtainable in physical stores and through online platforms in select European countries, making them accessible to a broader audience.
Harness Our Creativity
Your gift sets and bar merchandise are more than just a way to sell your products. They are an opportunity to create a cohesive and memorable brand experience for your customers.
At UCT (Asia), we specialize in designing thoughtful and innovative gift sets and bar merchandise that reflect your brand's identity and values. We work closely with you to create unique and eye-catching designs that will leave a lasting impression on your customers.
Contact us today to learn more about how we can help you take your gift set and bar merchandise design to the next level.