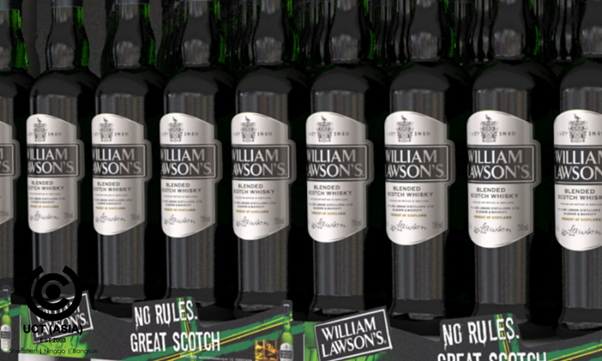 How you package your drinks bottle is an important factor for success in the liquor industry. Your packaging should be unique and be able to grab shoppers' attention enough for them to choose your product over several others in a crowded liquor store. With the right packaging, your brand can move from being unseen to being the most talked about brand.
In this regard, William Lawson's Scotch Whiskey shows us how it is done!
With its eye-catching bottle packaging design, the brand makes its scotch whiskey distinct from the rest and incredibly appealing for shoppers browsing the liquor store shelves.
Top 5 Ways This Makes A Brand Distinct
We absolutely love this stand-out bottle packaging idea by Willam Lawson. We love how it takes the shape of a Christmas tree, complementing the season, and how it fully covers the promotional product. Going forward, we'll bring you 5 ways this glorious bottle packaging makes a brand distinct. Ride with us!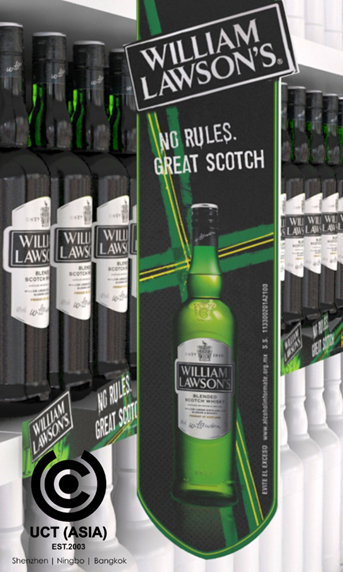 1. Simple, Yet Very Efficient
Often, shoppers' purchasing decisions depend on the physical outlook of the product. Most of the time, they want to take a closer look at what they're buying before making a decision. This is why packaging should be taken seriously by brands to ensure their products appear appealing to shoppers.
In this case, William Lawson utilized this visual cue by ensuring that its packaging catches the attention of new customers through a simple, yet efficient bottle packaging design.
2. Great Choice of Material
Another distinctive feature of this packaging is the use of corrugated cardboard. Corrugated cardboard is a popular packaging solution for various reasons, including its sturdiness, lightweight, flexibility, and customizability.
This packaging concept by William Lawson is a cut-out fit around the bottle, allowing exposure to the brand label and featuring a plastic zip to make opening easy. It is truly a one-of-a-kind concept.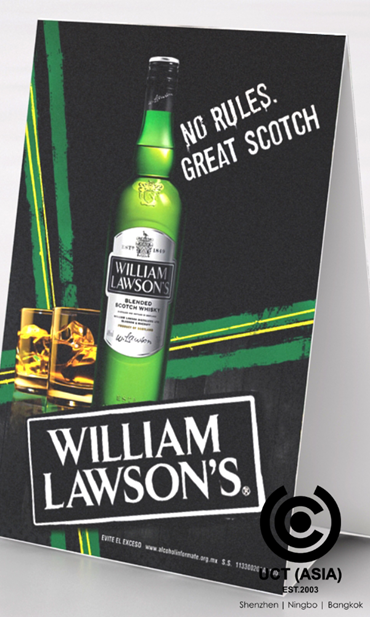 3. Appealing Design
Another thing that bears mentioning is that the attractive and festive bottle accessory perfectly complements the product. Unlike closed packaging, this design allows customers to inspect the promotional product before deciding to buy.
4. Gives The Bottles An Extra Lift
Although visibly different, the design reminds us of custom bottle neckers. Made to look like a Christmas tree, this glorious bottle accessory certainly made the promotional bottles the sight of attraction in the in-store display.
With its brilliant appearance and striking design, it is undoubtedly difficult for shoppers to ignore. We absolutely love how it gives an extra lift to the liquor bottles.
5. Showcases Brand Colour
Colors and logos are important aspects of branding. Hence, when designing your bottle packaging, it needs to bear your brand color and logo. With this packaging, William Lawson showcases its logo and brand color of green, making it easier for regular customers to recognize even from a distance.
In Conclusion,
Being innovative is important in today's competitive market; shoppers always search for something new and better. Hence, having a visually appealing design will help shoppers form a good first impression of your brand and products.
William Lawson's glorious liquor packaging is a perfect example. Knowing that a product's packaging is as important as the product itself, the brand has taken things a notch higher by creating this amazing packaging for its product that is perfect for the festive season.
How Can UCT (ASIA) Help?
At UCT (ASIA) we understand the significance of creating product packaging that suits your brand image. We are well experienced in the production and design of bottle packaging. We also work with the best creative designers in the whole of Asia to help create designs that fit your target market.
We would love to work with you on your next marketing project.
Contact us today!