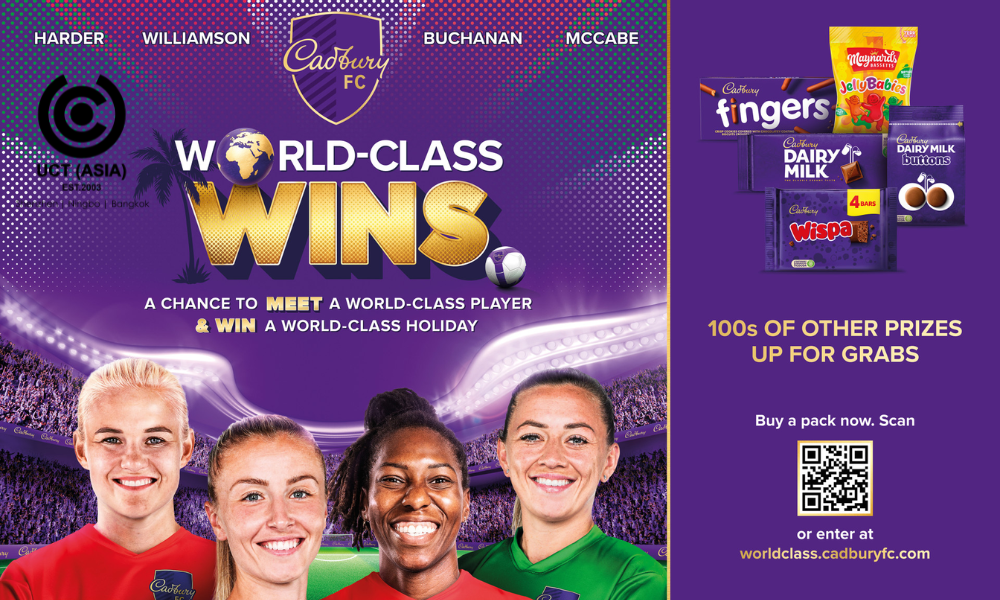 What happens when you offer someone a taste of something they really like? They're more likely to come back for more, right? The same is true for brands. When you offer your customers something valuable, they're more likely to be loyal to your brand and engage with you.
Cadbury FC's Prize Draw Strategy is a prime example of how to use valuable prizes to influence brand loyalty and consumer engagement. In this article, we'll find out more about Cadbury's strategy and look closely at how it influences brand loyalty and consumer engagement.
More on Cadbury's FC Draw Campaign
Cadbury's campaign features global female footballing stars such as England women's football captain Leah Williamson, Katie McCabe, Pernille Harder, and others.
To enter the prize draw, consumers must purchase a participating Cadbury product and register online. They will then be able to select the world-class player they would like to meet. Shoppers will find out instantly if they have won one of the runner-up prizes, which include match tickets, signed shirts, and Cadbury FC vouchers.
4 Ways This Influences Brand Loyalty and Engagement
By offering consumers the chance to win a summer holiday and meet one of their favourite female football stars, Cadbury is creating a sense of excitement and anticipation, giving consumers a chance to interact with the brand in a meaningful way, building positive associations with the brand, and generating publicity.
Here are 4 ways this campaign influences brand loyalty and engagement.
1. Inclusive and Exciting Participation
When you make your customers feel included and excited about your promotional campaign, it creates a strong and emotional connection. This makes customers feel valued and connected to the brand.
Allowing fans to choose and register the desired player they'd love to meet makes the experience engaging and personalized. This feeling that they're part of something really special builds customers that turn into brand loyalists and advocates.
2. Instant Gratification
When consumers enter a prize draw, they want to immediately know if they win. This gives them a sense of instant gratification and keeps them engaged with the campaign.
Cadbury used this clever strategy. Consumers are immediately notified if they win any of the runners-up prizes such as match tickets and signed shirts. This strategy helps to increase brand awareness and loyalty.
3. Creating Social Media Buzz
Word-of-mouth and social media play a crucial role in modern marketing. People are more likely to trust the recommendations of their friends and family than they are to trust traditional advertising.
By offering unique experiences like meeting football stars, Cadbury encourages winners to share their joy on social media. This brilliant strategy allows Cadbury to reach a wider audience and generate excitement for the campaign.
4. Fostering Emotional Bonds through Football
To influence brand loyalty, brands must create an emotional connection with their consumers. By aligning with football, a sport that often evokes strong feelings and loyalty, Cadbury creates a connection with the audience that goes beyond the material prizes on offer.
In the end, participants in the campaigns become a part of a larger community of like-minded people who share a passion for football and the brand.
Conclusion
Cadbury FC's Prize Draw Strategy is a clever and innovative campaign; a perfect blueprint for brands looking to grow a more loyal audience and massively create engagement.
Do you want to create a sense of excitement and anticipation in your next marketing campaign? Do you want a campaign that will fetch your brand positive publicity and engagement? Then, let UCT (Asia) help you!
We can help you create effective promotional campaigns and manufacture powerful promotional merchandise as well. Contact us today to know more!