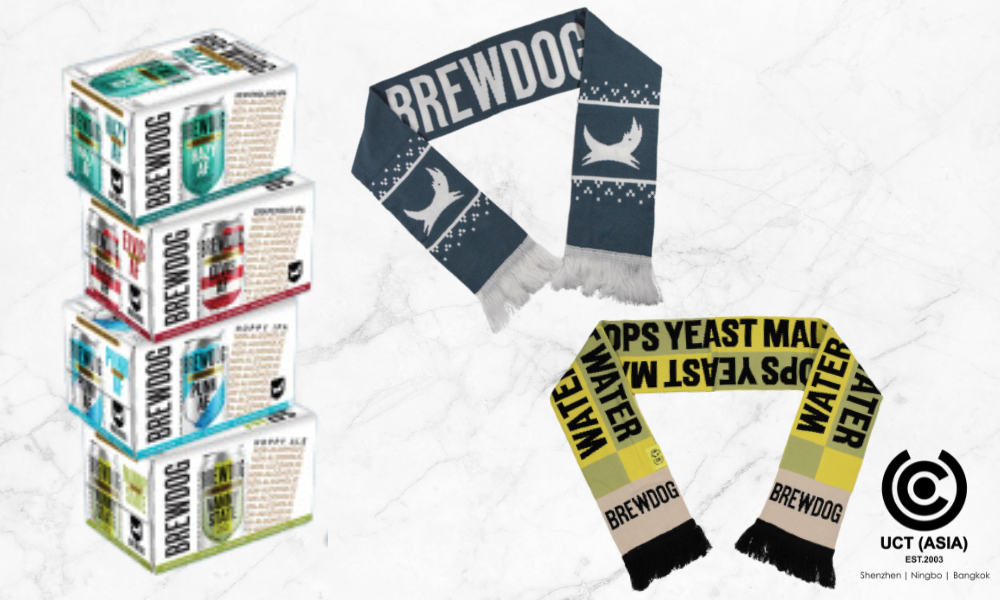 Gifts are powerful. They can connect us with others, show our appreciation, and make us feel special.
BrewDog, a popular craft beer company, is known for its unique and innovative marketing campaigns. One of their latest offerings is a free branded slate scarf with the purchase of any 12-pack of beer. This gift with purchase (GWP) is a fantastic example of how brands can use promotional products to grow their business and connect with their customers.
5 Reasons Why We Love This Fascinating GWP Idea
1. Unique Brand Visibility
A slate scarf is not the typical GWP item that you would expect from a beer company. This makes it more special and memorable, and it's sure to stand out from the competition.
Furthermore, With the Brewdog logo elegantly etched on the scarf, customers become brand ambassadors. Every time they wrap it around their neck, they're showcasing their love for the brand.
2. High-Quality and Stylish
The scarf is made from high-quality slate material, and it's designed in a sleek and stylish way. It's something that people will actually want to wear, which means that it will act as a walking advertisement for BrewDog.
3. Target Audience Relevance
BrewDog's target audience is young, active people who enjoy trying new things. A slate scarf is a perfect accessory for this group, as it can be worn for a variety of activities, such as hiking, camping, and going to festivals.
4. Sustainability
BrewDog is a company that is committed to sustainability, and the slate scarf is a reflection of that commitment. The scarf is made from recycled materials, and it's produced using sustainable methods. This is something that will appeal to BrewDog's environmentally-conscious customers.
5. Great Way to Show Customer Appreciation
A gift is always a nice way to show your customers that you appreciate their business. The slate scarf is a particularly thoughtful gift, as it's something that people will actually use and enjoy.
Valuable Tips for Brands and Retailers Looking to Create Successful GWP Campaigns:
Choose a GWP item that is relevant to your target audience and your brand identity.
Make sure the GWP item is high-quality and something that people will actually want to use.
Promote your GWP campaign effectively.
Set clear terms and conditions for your GWP campaign.
Overall,
Brewdog's free branded slate scarf is a game-changer in the world of GWP promotions. It's a win-win for both the brand and the customers, creating a lasting impression that extends far beyond a typical marketing campaign. In a world where differentiation is key, Brewdog has certainly raised the bar.
If you're a brand or retailer seeking innovative marketing strategies, consider the power of a compelling GWP like this scarf – it's a marketing triumph that you can't afford to miss out on.
Work With UCT (Asia)!
Harness our creativity at UCT (Asia)! We're the best hands when it comes to producing and designing promotional merchandise and innovative displays and packaging.
We also provide the best marketing solutions as well as effective marketing campaigns. Our services are excellently tailored to meet the specific needs of our clients.
Contact us today to get started!