If you own a brand and you're interested in growing your brand magnificently, then you need to bounce on M&M marketing's page and learn a thing or two lessons. M&M's brand is full of different varieties of promotional campaigns and has a lot of gifting ideas for their customers.
As we all know, M&M never runs out of interesting ideas for getting customers' attention and increasing sales revenue. M&M yellow notebook is another creative promotional merchandise made by this awesome company. The chocolate-producing company is a good leading example to other competing brands in the market.
M&M is a globally recognized brand that is manufactured by Mars Incorporated. They have grown internationally by implementing fun and engaging marketing schemes. They also create marketing strategies that function to convert qualified customers to long-term customers by connecting with them on a personal level. From the printing of personal characters on products to the usage of attractive colors that promote the magnificence of their product effortlessly. It is no surprise that their brand is blooming by the day.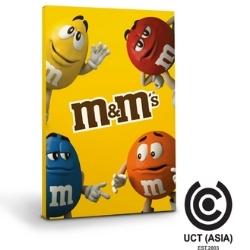 M&M yellow notebook is a perfect gift for loved ones who are studious and love to keep information on paper materials. Even though the world is digitalized today, we still have people who love to have their memories and knowledge penned down on paper. Why not gift them this attractive M&M yellow book on their birthdays, anniversaries, and special occasions.
Why This Yellow Notebook By M&M Is An Awesome Promotional Merchandise
Sleek Design – The design of a promotional product must stand out to effectively promote the brand. Nobody wants to purchase a product with an unattractive design. M&M yellow notebook's attractive color and design is one of the great features that makes his product exceptional. Especially with the personal characters and logo.
Helps To Improve Memory – Digitalization has taken over the world and we have people who are no longer interested in the use of paper materials in jotting information down, keeping memories intact by penning events down, and even for learning purposes. The notebook is an excellent option to retain information when learning and for registering special life occurrences.
Promotes accountability – Organization and orderliness are needed in every aspect of our lives. From our academics to our finances and our social lives. Many people find it easy to zoom off to the digital space and set up tasks on their virtual notepad. But we have to admit, it can't be compared to writing down those tasks and goals on paper material. It makes it feel more realistic and more achievable. It serves as a source of a constant reminder of your tasks and goals.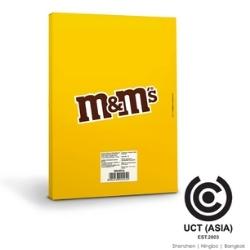 Benefits Of The Branded Yellow Notebook To M&M As A Brand
Long Term Brand Exposure – The branded yellow book provides M&M with a favorable brand image that stands the test of time. Once a customer purchases this notebook, there is a higher tendency for it to be taken to events, classes, and more places. From there, it gets more visibility, creates more brand awareness, and even excites the interests of new people. This is the best promotional merchandise to keep promoting the brand positively in people's minds without marketing.
Creates A Healthy Customer Relationship – keeping long-term customers goes beyond just marketing, there also has to be a personal connection to earn their loyalty. It means making sure that your brand has earned a higher percentage of their trust to recommend your brand and its credibility to their family and friends. The M&M yellow notebook is a perfect choice for promoting your brand whilst earning your customer's trust.
Contact us for a branded notebook design today. With several years of experience in the FMCG industry, we are well versed in the various techniques and skills required to manufacture promotion items that give your brand the marketing boost it needs at an effective cost. We assist our clients in every step of choosing the best promotional items and merchandise that works well for their brands and desired marketing goals.