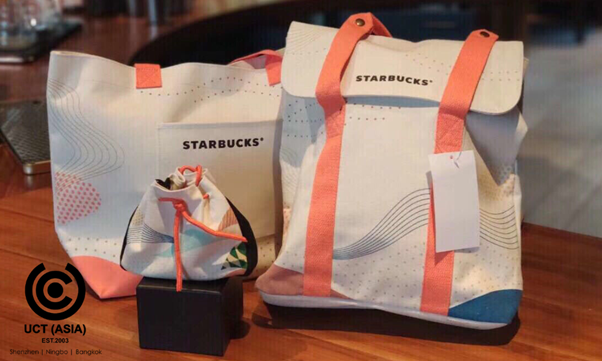 If you're looking for marketing tools to increase the visibility and engagement of your brand, then consider using bespoke branded bags.
The number of people travelling increases daily, hence these custom bags will make a perfect marketing tool. In this promo, Starbucks is giving customers these exclusive Zongzhi bags.
What Is This Promo About?
The exclusive bags on offer by Starbucks are Zongzhi-themed bags. The bags come in three unique forms which includes a small purse, handbag, and backpack.
Zongzhi is a traditional Chinese rice dish that is typically served during the Dragon Boat Festival. But how does this relate to the Starbucks-branded bags?
Well, the small pouch as seen on the POS display resembles the traditional rice dish wrapped in a triangular-shaped bamboo leaf. It is such a smart move by Starbucks to offer these bags since the Dragon Boat Festival, which it got its theme from, takes place every June.
Why Are Starbucks Zongzhi Bags The Ideal Choice?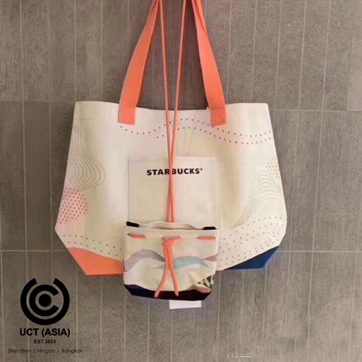 Although they're often neglected, custom bags are efficient promotional merchandise. Here, we have 4 reasons why they're excellent marketing tools.
1. They Are Great Mobile Billboards
When it comes to putting your brand out there, these bags are extremely effective. Therefore, with your logo printed on them, they can serve as effective mobile billboards once they leave your shelf.
Each one you give out can help take your brand to places even normal billboards can't take you. What's more? The bags have huge reusability which takes their value even higher.
2. Draws Interest
Using brilliant relevant colors or printing your logo on bags makes them far more attractive and ensures that customers will be proud to own and use them.
Plain bags are good, but using brilliant and relevant colour makes the bags far more attractive. Customers will be proud to use these bags due to their high quality.
In this promo, Starbucks' choice of pastel colour and Zongzhi theme design is an excellent strategy to pique the interest of shoppers.
3. Brand Messaging
Beyond identifying your brand through your logo, people also want to feel close to your brand. Hence, you can use the canvas on the bags for your brand messaging, communicating your unique value proposition to them.
4. Useful Product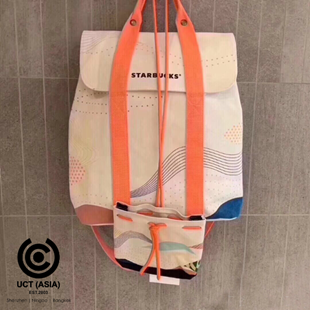 Aside from aesthetics, functionality is also an essential element for any promotional item.
Customers are easily attracted to functional promotional products. They feel they're getting value for their money when they receive highly functional products. The end product, therefore, becomes that they'll keep patronising your brand for more.
In Conclusion,
Do you want cost-effective promotional merchandise, these promotional bags are an excellent choice! Their versatility and functionality make them valuable meeting tools.
Do you want to take your brand up the success ladder? We can help you achieve that at UCT (ASIA)! We deliver quality promotional products, stunning POS displays, and eye-catching packaging for our unique customers.
Contact us right away if you need our help in any of these areas! We'd be delighted to help.