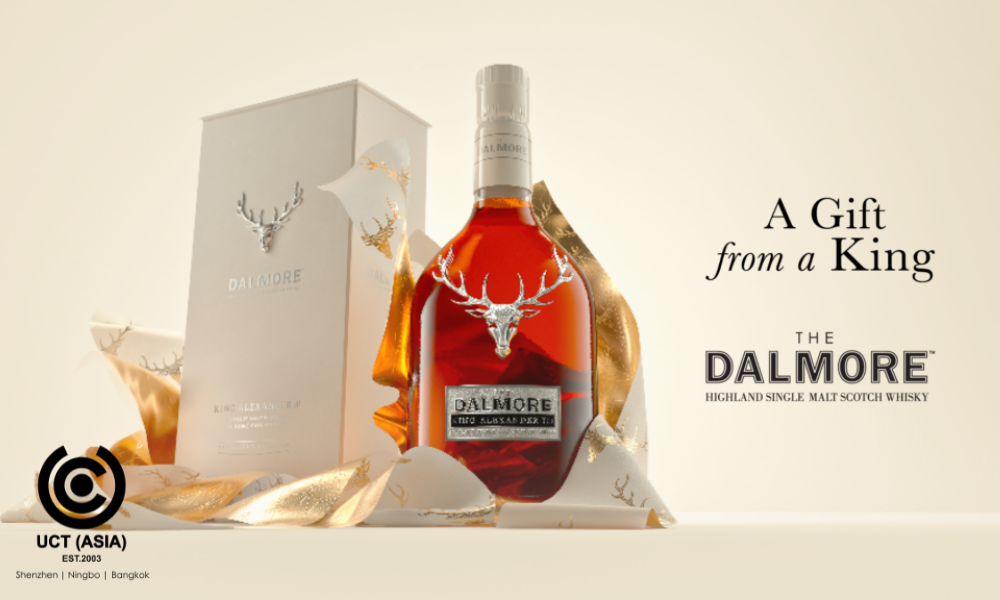 Have you ever imagined receiving a gift from a king? A luxurious, exquisite gift that is sure to impress and amaze? Dalmore's cream-coloured presentation box is just that! A gift fit for a king; so luxurious, it's almost like a work of art.
The box is made from the finest materials, including leather and gold foil accents. It opens to reveal a beautifully crafted decanter of The Dalmore's signature single malt whisky.
The box is shaped like a traditional Scottish whisky still, and it features a detailed carving of a stag on the top. The stag is the symbol of The Dalmore brand, and it represents the strength and resilience of the Scottish Highlands.
But what sets Dalmore's presentation box apart from other whisky boxes? Here we explore five things that make the showcase a true game-changer:
Unmatched Quality in Material Selection
Dalmore's presentation box is a masterpiece of craftsmanship, meticulously shaped from the finest cream-coloured leather and lined with silver elements. This choice of premium materials doesn't just enhance the aesthetics but sets a new standard for luxury and sophistication, making it truly one of a kind.
Timeless Elegance in Design
The design of this luxurious box represents a blend of elegance and simplicity. The clean, elegant lines and simple style create a timeless aesthetic that is as captivating today as it will be years from now. It's a display of sophistication that stands the test of time, making it stand out among others.
Thoughtful Functionality
Beyond its aesthetic appeal, this presentation box is thoughtfully designed to protect the bottle of whisky during transport and storage. It also has a built-in carrying handle that makes it easy to transport.
Exclusivity
Adding to its attraction is the exclusivity of this presentation box. Available only in the travel retail arena in Singapore, this rarity not only enhances its desirability but also positions it as an exclusive collector's item, making it a standout choice for whisky lovers and gift enthusiasts alike.
Crafted for the Art of Giving
The Dalmore's cream-coloured presentation box is the perfect gift for any occasion. Whether you're looking for a special gift for a loved one, a client, or a colleague, this box is sure to impress.
Additionally, the box is more than just a gift; it's an experience. When you give someone this box, you're giving them the gift of enjoying Dalmore's exquisite whisky in the most luxurious way possible.
Ready to Take Your Brand to the Next Level?
Are you ready to effect that next big change and take your brand way up? UCT (Asia) has got your back!
In our years of experience in the industry, we've maintained an excellent standard, offering top-notch services specially tailored to meet the needs of our clients.
At UCT (Asia), the interest of our clients comes first every day. The growth of your business is our priority every day! Our services include limited-edition gift sets, Point-of-sales displays, premium promotional merchandise and so much more.
Contact us today to get started!