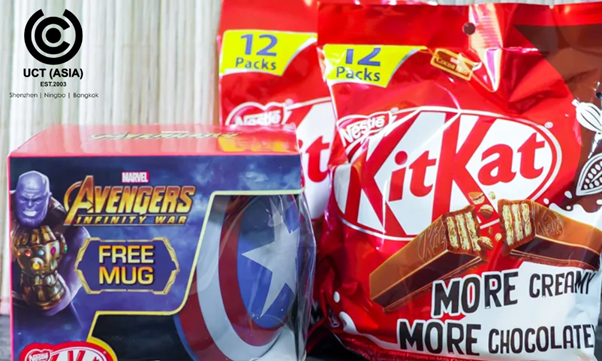 If you're looking to compel people to buy your products, then you should be trying gift-with-purchase merchandising. This technique is quite popular amongst brands in different industries including the confectionery industry where KitKat is a leading light.
Gift-with-purchase marketing is a tried and tested method of boosting sales and reaching more people; however, this is only when it is done right!
Here's an excellent example from KitKat.
In this promotion, the chocolate brand in collaboration with the Avengers is giving customers innovative Avengers-themed mugs for free. The mugs come in 4 Avengers-themed designs which include Captain America's shield, Thor's hammer, Thane's gauntlet, and Hulk's fist. Customers simply have to buy two KitKat Share Bags and they'll get one of these exclusive mugs for free! However, the offer is valid while stocks last.
The designs and sturdiness of these mugs make them items that everyone, especially devoted fans of the Avengers, would like to have in their collection.
What Makes This Impressive?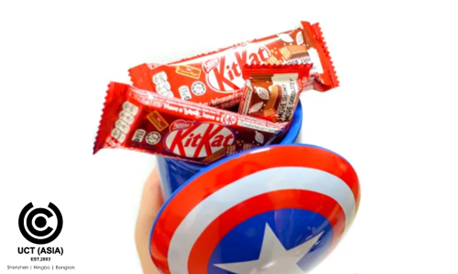 1. Collaborative Marketing
Collaborative marketing is simply a strategic partnership between brands willing to align their resources and interests to increase sales and influence,
boost brand exposure and minimise costs.
In this campaign, for instance, KitKat's collaboration with the Avengers is aimed at promoting KitKat's Share Bags and the launching of the new movie – Marvel's Avengers: Infinity War. The two brands are world-beaters in their rights and as such would benefit from each other's influence.
2. Custom-Designed Mugs
Promotional products help you stay unrivaled. These products help you stand out from your competitors as it means that they can't be found anywhere else apart from you.
This takes us to the next thing we love about this campaign. Designed to look like the Avengers characters, these sleek and stylish mugs put the brand front and center!
3. High-Quality Incentives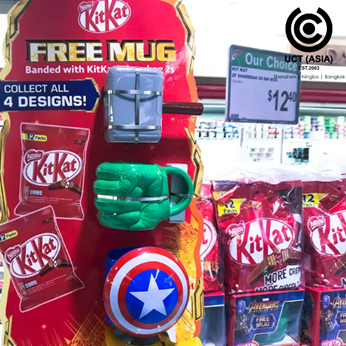 Incentives generally drive buyers to make purchases, oftentimes impulsively. Hence, offering a great incentive is one of the best strategies to encourage people to engage with your brand. This is because people love to get free things.
The offer of an Avenger-themed promotional mug when they complete the purchase of two KitKat Share Bags will certainly be seen as "worth the money."
4. Creates Urgency
Shoppers are generally excited when they feel they're getting a good deal, especially that limited-edition offer. This is basic customer behaviour.
With Kitkat's Share Bag only available "while stock lasts," customers will be enticed to buy the product so they don't miss out on the exclusive mug that comes with the purchase.
In The End,
What a classy campaign by both KitKat in collaboration with the Avengers! With this GWP campaign, fans of both brands will certainly love to purchase the chocolate product in order to get a mug representing their favourite character in their darling movie.
Do you want your GWP campaign to have a similar spark and excitement? If yes, why not let us help you at UCT (ASIA)? We have the needed expertise to help you launch a marketing campaign of any kind for your brand.
Want to know more? Contact us today!