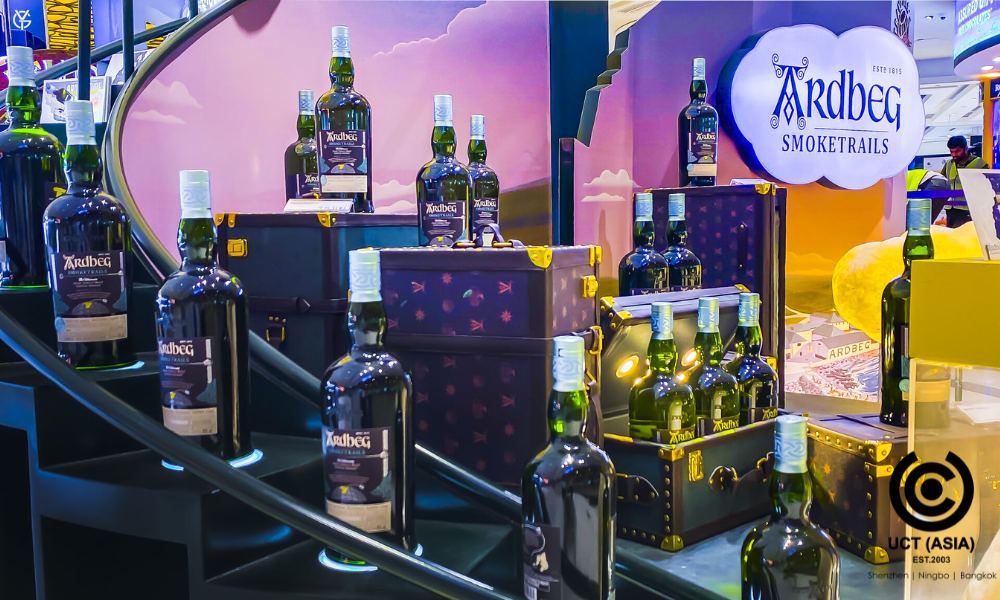 Liquor drinks sold at airport duty-free shops fall under high-end products. And now more than ever, the liquor drinks sector has become fiercely competitive with the introduction of new liquor products in the market. As a brand looking to succeed under the tough climate of airport duty-free, a continuous evolution of ideas and concepts is necessary.
Do you need more ideas and looking to add more firepower to your marketing arsenal? Then, you're at the right place. In this blog, we'll explore how a world-renowned brand achieves success in travel retail promotion.
4 Reasons Why This Promotion is Worth the Hype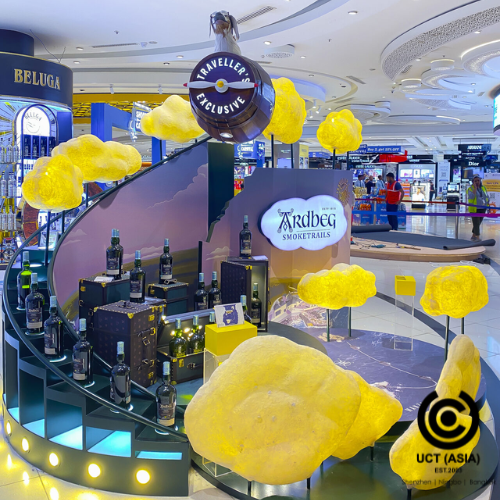 In partnership with Mumbai Duty-Free, Ardbeg offers exclusive Ardbeg Smoke Trails Manzanilla Edition Whisky to travellers seeking unique experiences and treasures. This exceptional whiskey which has stirred excitement in the liquor industry is crafted with a blend of uniqueness and luxury and is a testament to Ardbeg's craftsmanship and global impact.
But is it truly worth the hype? Let's find out as we explore the reasons behind the buzz.
1. A blend of Charming Flavours
The first step to creating buzz around your product is to offer a product that earns the consumer's trust through quality. A great marketing campaign for liquor brands begins with a good drink product, and a good drink starts with a blend of magical flavours.
At the heart of Ardbeg's Smoketrails Manzanilla Edition Whisky lies a blend of flavours that captivates consumers. The whisky, known for its smoky flavour, also contains the Manzanilla flavour, a combination that makes it unique.
2. Elegant Bottle Design
If we learned anything from this travel retail promotion, it's that your bottle design holds a vital place in creating a marketing buzz for your liquor product. Firstly, it is often the first thing consumers see before they taste the product. Secondly, an innovative and creative bottle design sparks conversation, which is essential in creating marketing buzz and driving sales.
Ardbeg's bottle design is an exceptional piece of art and craftsmanship. It showcases the brand's willingness to stand out from the crowd. On sighting the bottle design, it became clear why the product has enjoyed so much buzz at the Mumbai duty-free shops.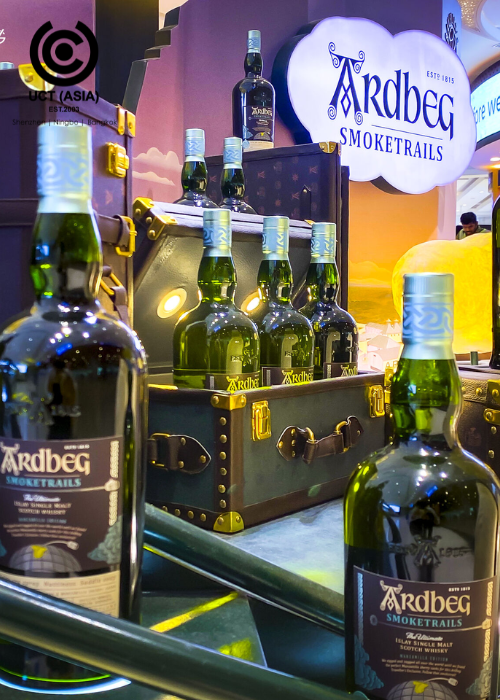 3. The Allure of Scarcity and Exclusivity
Want to create a marketing buzz around your product? Then, you can utilise the powerful effect of scarcity and exclusivity. Ardbeg's creation of urgency, scarcity, and desirability around the whisky product by emphasising its limited availability is a significant reason for the buzz the promotion is enjoying.
4. Creating an Unforgettable Shopping Experience
Customers are willing to pay good money for a memorable shopping experience. To them, it's not just about the product itself; it's about how you make them feel when shopping for your product, the fun, and the sensory and immersive experiences.
These set your brand apart and give your product massive publicity. Ardbeg's whisky promotion follows the path, so it's no surprise the product enjoyed so much buzz at Mumbai duty-free shops.
In Conclusion
Ardbeg's Manzanilla Edition whisky promotion demonstrates the power of a limited edition strategy. Its elegance, captivating bottle design and display, and ability to create an unforgettable experience combine to give it well-deserved hype.
Harness Our Creativity
When organising the ideal promotional strategy for your product, it's important to let the best hands handle it. And there's none better than UCT (ASIA) in that regard in Asia!
Our expert team can help you create the perfect promotional campaign suitable for your product or brand. With years of experience in the industry, we know what it takes to create a marketing campaign that will generate massive buzz.
Contact us today to get started!