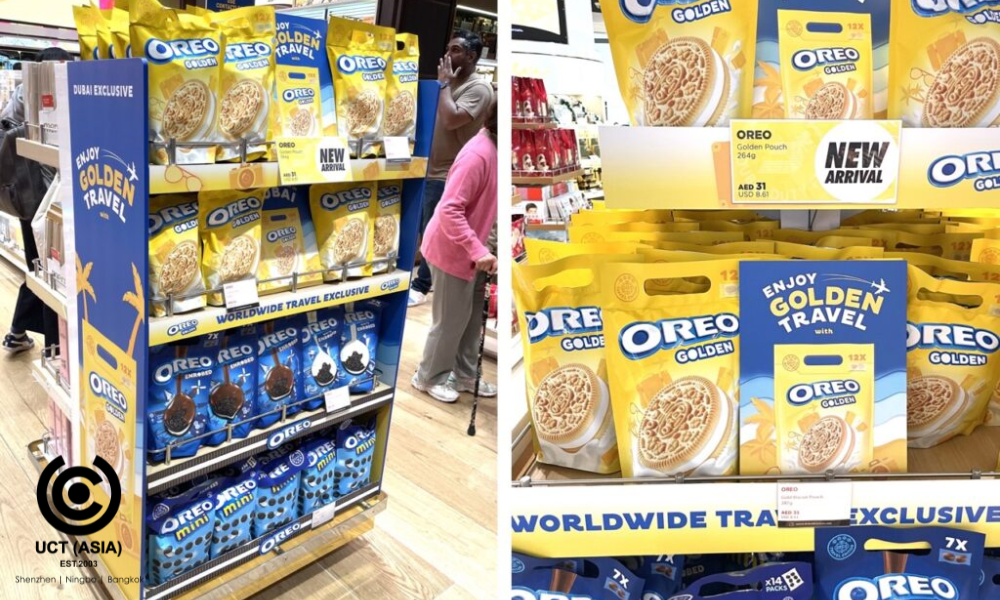 How do passengers pass the time while waiting at the airport to board their flight? Well, people often just sit and enjoy the beautiful scenery. In contrast, others browse the shops, often shopping from the pool of unique brands within the airport. With thousands of passengers travelling each day, there's a real opportunity for brands to connect and effectively captivate this huge market audience.
In trying to capture the attention of travellers, brands must utilise effective point-of-sale marketing, and this is where Mondelez WTR's exclusive Oreo Golden Launch comes in. Come with me!
Oreo came up with a new version of the yummy Oreo cookie called Oreo Golden. The introduction of the special cookie, which features a sweet vanilla flavour, also marks the launch of a new travel pouch. Inside each pouch, travellers will find two packs of the special cookies.
But that's not all. Mondelez WTR's collaboration with Dubai Duty Free brings out the shine in Oreo Golden Cookie. They're giving out a free third bag to anyone who buys two packs of these cookies. How cool is that?
Why is This a Game Changer for Travel Retail?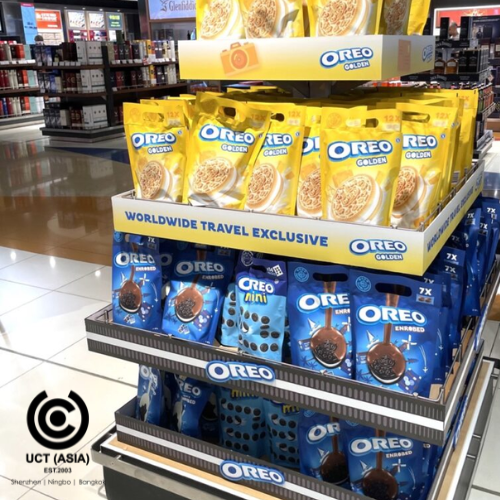 This exclusive pre-launch collaboration sets the tone for something even more spectacular in the future. Let's find out why we think it's a game changer in the travel retail industry.
1. Functional Packaging
Indeed, the first and most important function of any packaging is to protect the product inside. However, your packaging can be more. Your packaging can be designed to offer better convenience, grab customer attention, and pass information. The Oreo Golden packaging satisfies all these.
But there's more! The Oreo packaging also provides added value to the customers as they can serve other purposes even after consuming the cookies. This is what makes this packaging special!
2. Engaging POS Unit
One of the many differences between the travel retail environment and the domestic retail sector is that the former has a shorter time frame to attract and engage customers and make sales while also fighting tooth and nail with several other brands for the same thing.
Considering this factor, your point-of-sales unit must be integral to your marketing strategy. Take this creatively designed POS display by Oreo, for instance. The display, which embodies the brand's vibrant colours of bright yellow and blue, acts as the permanent face of the brand to customers. The striking display attracts attention and helps Oreo leave a lasting impression.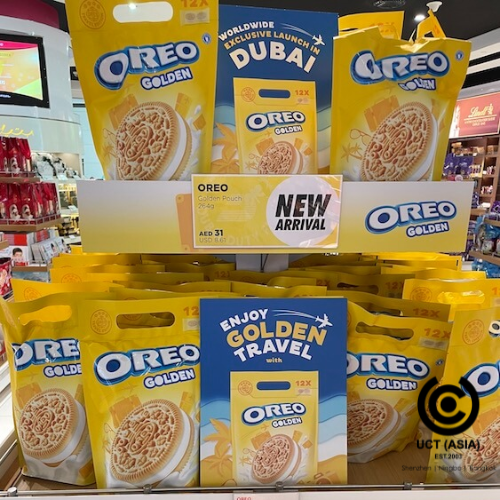 3. Dynamic Collaboration
A dynamic collaboration is sometimes all you need to spark your promotional campaign. When brands join forces, unique ideas are born, and creativity becomes the order of the day.
This promotion enjoys the creativity and ingenuity of the dynamic duo of Mondelez WTR and Dubai Duty FREE. "We will continue to excite customers by bringing fresh innovations," were the exact words of Mondelez WTR'S marketing director.
Final Thoughts
Having been in the industry for decades, Oreo shows that it doesn't just lead when creating delicious cookies but is also good at drawing up effective marketing strategies. This travel retail promo proves that. Hence, Oreo is a perfect inspiration for brands looking for their breakthrough in the confectionery industry.
What Can UCT (ASIA) Offer?
If you plan to run a travel retail marketing like this, UCT (ASIA) can help you make it happen. We have experienced product designers who can help you with your design needs. We can also help produce your promotional gifts and all POS display units.
Contact us immediately, and let us work our magic!