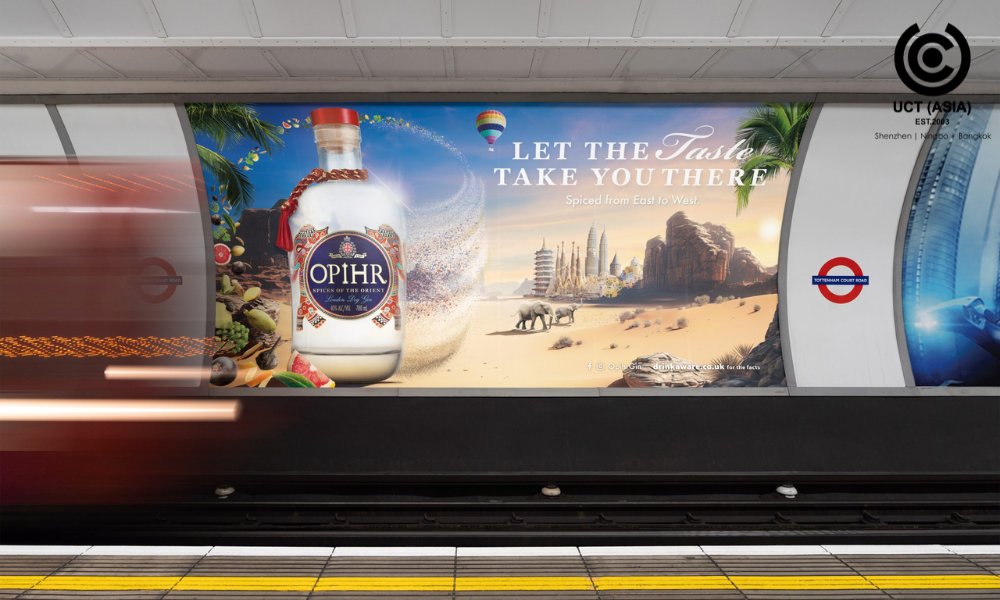 Let's delve deeper into the world of Opihr Gin, shall we?
You see, one can't help but admire the legacy of this iconic brand. Established in 2011, it has been a symbol of adventure and discovery. But in today's competitive market, even the most prestigious brands need that extra touch to stand out. That's where the Opihr Gin's captivating visual design and giveaway campaign comes into play.
Want to find out more? Come along!
Opihr Gin's Campaign: What to Know
Opihr Gin is launching a new campaign called "Let the Taste Take You There" in global travel retail at London Heathrow Airport Terminal. The month-long campaign will feature a digital 'spin to win' wheel where travellers can win prizes, including a safari trip for two worth £18,000.
Passengers can also sample Opihr Spiced London Gin at a dedicated bar on-site and purchase the product in 1-liter bottles.
Why Do We Love This Concept?
1. Interactive Engagement
Want people to remember your brand? Then, engage them using fun and memorable concepts that allow them to explore your products at their own pace.
The "Spin to Win" wheel is a fun and engaging way for travellers to interact with the brand and learn more about Opihr Gin. It also gives them a chance to win exciting prizes, including a safari trip for two.
2. Seasonal Relevance
Timing is crucial in marketing. It's about meeting your audience when they're most ready to engage with your brand.
Opihr's campaign strategically launches during the peak travel season. This is like opening an ice cream stand on a hot summer day – it aligns your product with what your audience desires at that specific time. Recognizing when your customers are most receptive to your message and tailoring your campaigns accordingly can significantly boost their effectiveness and impact.
3. Prize-Worthy Incentives
Offering amazing prizes, like a luxurious £18,000 safari for two, is a clever way to get people's attention. This approach not only entices potential customers to want to try the product, but it also shows appreciation for loyal ones. Grand incentives like this safari trip can create strong bonds, make people more loyal to the brand, and get people talking about it. In marketing, it's a reminder that great incentives can yield significant results.
4. Strategic Brand Partnership
Partnering with a prestigious brand like Abercrombie & Kent is a strategic move for Opihr Gin. Abercrombie & Kent is known for its luxurious safaris and its commitment to providing exceptional customer service.
This partnership allows Opihr Gin to tap into Abercrombie & Kent's customer base and reach a new audience of potential customers who are interested in luxury travel. The partnership generates excitement and reinforces the luxurious and adventurous nature of the gin brand.
In Summary,
It's about creating unforgettable moments. With Opihr Gin's remarkable safari adventure, you're not merely offering a prize; you're delivering an extraordinary experience. Why settle for the usual when you can take it up a notch?
Poised to Take Your Brand Up a Notch?
Ready to elevate your brand to new heights? Then let UCT (Asia) help you!
At UCT (Asia), we offer a wide range of services to enhance your brand's presence, including creative design, marketing strategies, promotional products, and innovative solutions to help your business grow. With our years of experience in the business, you can be sure to get only the best services.
Contact us immediately to get started!